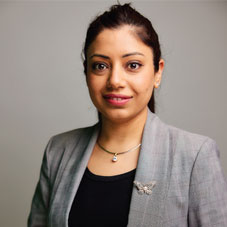 Choosing a career is one of the most critical and impactful decisions in a student's life. Advances in dental research and technology make dentistry an inspiring and enriching profession. Though it takes years of dedicated training and expertise to get a bachelor's degree in dentistry, many colleges fail to offer the required practical approach to dental education both in substance and method. As a result, many students are exhibiting a desire to pursue their education or career in dentistry abroad. These students or professionals face numerous challenges which might lead to experiences that are unpredictable. To mitigate these unexpected and challenging experiences which can be Personal, Social, Financial, or psychological Kanikka and Dr. Deepesh Sanduja (B.D.Sc University of Melbourne), established Dental101 an initiative to provide education & training programs in dentistry and consultation services for overseas and Australian Dental graduates who aspire to settle and work in Australia.
Kanikka has a strong passion for teaching and sharing knowledge, which is evident in her dedication to her role at Dental101. She strives to create a positive environment for the candidates and consistently motivates them to persevere in their journey. She also provides guidance in personality development, counselling, and English exam preparation and empowers them to successfully integrate into Australian culture.
Since over seven years, Kanikka has been leveraging her excellent communication skills and empathy to make lasting impacts on the career and life of many individuals with dentistry as their profession. Let's hear it from her.
How would you define Dental101 as an organization and its current position in the market?
Dental101 is an education and training initiative to facilitate overseas dental professionals to acquire skills and experience that
are helpful in clearing the Australian Dental Council(ADC Australia) examinations successfully. We started from scratch and made it to the level where we are now recognized as one of the Leading Pioneers of Dental Education in Australia twice. Our ability to innovatively craft solutions for aspiring professionals has made us an industry leader in a short period. This has been evident in our constant evolution by introducing our Equipment arm (Dental and Medical)­ XCLEARVISION (XCV). Dental101 was born through the hardships and challenges that my husband faced when he moved to Australia as Dental graduate. In addition, our Passion project is `ACADEMY101' where we help and guide recent graduates through Continuing Education/Mentoring programs ­ Academic and Non-Academic and help them in getting recruited.
We aim to play a key role in providing guidance & assistance to students & professionals so that they have a hassle-free journey toward achieving their goals
Give a brief account of the training facility and the courses you offer.
We are a team of practicing clinicians which include Graduates from Melbourne University and ADC graduates who all share the common passion of imparting knowledge. This enables us to offer criteria and scenario (Real Life Cases)dependent methods to help professionals achieve their aspirations and be Exam Ready. We have partnered with the best clinicians for us to help deliver the relevant training. We have both online and offline sessions which include full comprehensive courses, hands-on courses, and Exam like mock tests. These courses are an opportunity for candidates to practice and enhance their skills and prepare them to be great clinicians in the future.
Academy101 offers continuing education with short and Medium Term curated courses that have Hands-On components also. Our dedicated 'JOB READY PROGRAM' enables New and Recent graduates confidently navigate the working Professional world with ease.
Tell us about your leadership approach. What are the guidelines or methodologies you follow as a leader?
I believe in creating a positive and motivating environment for my team where they can learn and grow. My leadership approach involves modelling, facilitating, and purposefully influencing positive emotions that encourage people to excel in their work. I encourage teams to discuss problems, empower them to make decisions, and implement processes that address complex issues. I believe in the concept of learning from mistakes and using those experiences to solve future problems.

What is the future destination you are heading towards?
My husband and I aspire to take dental education to the next level. In the process, our primary aim is to provide necessary educational help to anyone who approaches us whether a student, an overseas dentist, or practicing clinician in Australia Dental101 is a call away to help them learn new skills which will enable them to step up in their professional journey and make a difference in their lives. We aim to play a key role in providing guidance and assistance to students and professionals so that they can be amazing clinicians in the future.

What advice would you give to budding industry leaders?
Too many people quit too soon. They say they want to be successful, but as soon as they get outside of their comfort zone, they give up. My advice for aspiring industry leaders is to be unstoppable and keep working to achieve their goals despite the challenges of life. I have always believed that failure always gets us a step closer to our success and help us expand our life. They must have a positive mindset and start from where they are and what they have.

Kanikka Arora, CEO, Dental101
An academic achiever, Kanikka has a graduation and post-graduation degree in foreign language from Delhi University and has conducted a research project on the Learning Styles of Students. With over 15 years of teaching and curriculum designing experience, she along with her Team, is leading training programs in dentistry and preparing overseas candidates to secure a career in Australia.

·Hobbies:Gardening, Cooking, Playing, & Badminton
·Favourite Cuisine:Mexican and Indo-Chinese
·Favourite Book:The Buddha and the Badass
·Favourite Travel Destination: London