Jim Varghese AM: A Reformer, Leveraging Powerful Leadership Strategies To Make A Difference At The Business & Community Level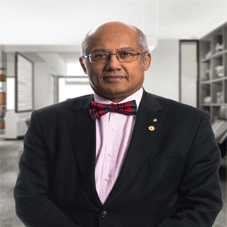 Jim Is The Immediate Past National Chair Of The Australia-India Business Council. He Is Chairman And Owner Of The Leadership Company Qld Which Specialises In Organisational Transformation And Mentoring. He Is Also The Chancellor Of Torrens University Think Group And DBS Which Is Well Known For Innovation, Industry Partnerships, And HighQuality Research. He Is A Member Of The Australian Institute Of Company Directors. Jim Has Served On The Council Of The University Of Southern Queensland, The University Of Queensland, Queensland University Of Technology, And Victoria Institute Of Technology.
Any successful organisation is an interactive combination of performance, congruent relationships, and alignment
Apart From That, Varghese Is Also The Male Patron Of The First Nations Puuya Foundation Lockhart River North Queensland And An Active Leader Of The Indian Diaspora In Queensland At Both The Business And Community Level. He Is The Chair Of The Gandhi Salt March Company Which Delivered The Successful 'Power Of Peace' Festival Over The Last Five Years. This Accomplished Leader Is A Highly Regarded Independent Reviewer Who Has Successfully Completed Consultancy Review Work With The Federal And State Governments. Recently In 2022, He Was Appointed As A Member Of The Queensland Government Independent Remuneration Tribunal.
Jim Is A Person Of Great Intellect, Ideologies, Influence, And Reputation. CEO Insights' Editorial Team Had An Exclusive Opportunity To Engage In A Conversation With The Eminent Leader. Below Is A Snippet Of The Same.
How Has Your Path To Success Been And What Is Your Success Formula?
I Possess 30 Years Of Experience Starting At The Bottom Of The Ladder In The Public Sector And Working My Way To The Top Of The Hierarchy. Moving Forward Requires A Lot Of Patience, Determination, And Self-Belief. I Have Worked For 16 Years In The Private Sector, Commencing With The Springfield City Group, As The Chief Executive There For Four Years Then Moved On To Be The Director, And Created A Very Successful Management Consulting Business The Leadership Company Qld, Which Collects Fees And Charges From Consulting Assignments And Directorships. So, This Company Supplements The Work I Do With Springfield City Group. Springfield City Group Also Pays My Company For What I Do For Them. So, My Path To Success Has Been Self-Reliant, And I Do Not Intend To Stop Until My Personal And Business Outcomes Are Achieved. I Have Successfully Learned Over The Years To Identify The Key Relationships Needed To Deliver Outcomes. I Make Sure There Is A Successful Alignment Of How I Work While Receiving Feedback And Nurturing Continuous Improvement Of My Capability.
How Would You Define Springfield City Group As An Organisation? How Has Been Your Association With The Same?
Springfield City Group is the master developer of Greater Springfield and has been instrumental to the master planned community's outstanding success. Our vision for Greater
Springfield is driven by innovation. We are also conscious of making a lasting and positive contribution to both Greater Springfield and the broader Southeast Queensland community.
Philanthropy And Promoting Social And Environmental Sustainability Are Integral To The Way We Do Business, And Solve Challenges Innovatively, Scientifically, And Ethically.
The City Of Springfield's Innovative Nature Is Seen As A Unique Blend Of Suburbia And HighTech Industries. Surrounded By Tranquil Lakes, Parks, And Plentiful Bushland, Greater Springfield Is The Only Master Planned City In Australia Built And Driven By The Private Sector To Create Public Value. In 2022, Springfield Celebrated 30 Years Of Prosperity With A Population Approaching 55,000 And A Predicted Growth Rate Of Six Percent Per Annum In The Next 20 Years.
The power of artificial intelligence, digital connectivity, and tools (such as Mind Hive) will become essential in capitalising on business opportunities in every market sector
I Have Enjoyed An Engaging Relationship With The Owners Of Springfield, Both As Chief Executive And Now As Chair And Executive Director. I Have Been, Together With Other Executive Leaders, Promoting & Maintaining An Active Relationship With The Indian Community And Business Organisations In Springfield, Queensland, Australia. We Are In A Very Exciting Stage Of Development With Unprecedented Public And Private Sector Investment Interest In Healthcare, Education, And Technology.
The 75 Percent Owner Of Springfield City Group, Dr. Maha Sinnathamby, Is An Outstanding Global Visionary, And I Have Been Fortunate To Absorb And Understand His Powerful Dictum Of, 'Stop Not Until The Goal Is Achieved'.
Bob Sharpless, The 25 Percent Owner, Has Demonstrated The Power Of Complementing His Business Partner's Vision With Hard Nosed Corporate Assessments And Strategies. This Is A Great Case Study Of How Opposites Can Create Extraordinary Value By Working Together.
Enlighten Us With Your 'Three Frames' Leadership Approach To Success. Share Some Significant Pointers From Your Innovative Approach With Budding Industry Leaders Who Are Set To Create Benchmarks In Their Respective Fields.
Three Frames Is Based On The Fundamental Observation And Evidence That Any Successful Organisation Is An Interactive Combination Of Performance, Congruent Relationships, And Alignment (Structure, Systems, And Capability Corresponding With The Business Outcomes). Three Frames Is A Unique Management Approach Developed From Management Practice Rather Than Theory Which Will Assist In Implementing Business Outcomes And Associated Targets By Systematically. Providing Evidence That: The Risks Associated With The Relationships (Internal And External) Integral To The Agreed Business Outcomes Have Been Fully Addressed There Is A Harmonious Alignment Of Reengineered Structures To Suit The Agreed Business Outcomes; Congruent Systems Are In Place Or Planned To Be In Place To Support The Agreed Business Outcomes And Finally, There Is The Right Capability In Place Or Plans To Exit Any Mismatched Competency Or Introduce A New Capability To
Support The Agreed Business Outcomes.

To Bring This Approach To Practice, One Could Commence Work And Immediately Implement The 'Three Frames', Using The Performance Frame, Specify Recommended Business Outcomes, Then Translate This Into Measurable Outputs And Targets; Using The Relationship Frame, Identify And Map Key Relationships Congruent To The Delivery Of These Outputs And Targets. This Also Involves Promoting And Nurturing A Positive Culture That Enables Productive Relationships With Clients. Using The Alignment Frame, Audit The Alignment Of The Current Structure With The Delivery Of Agreed Outputs And Targets. Audit Each Management Function For Systems Congruence With Agreed Business Outcomes And Recommend Practical, Cost-Effective Measures To Develop And Implement Systems That Are Fully Congruent With The Delivery Of Agreed Key Outputs And Targets. Work With Clients To Audit And Assess The Capability Of Staff And Officials To Ensure Congruency With The Delivery Of Key Outcomes.

Achievement Plans (Kpis Or Performance Improvement Plans) Which Encompass All Elements Of Three Frames Business Outcome Expectations Can Be Prepared And Regularly Evaluated On A Scale Of One To Five Against Performance, Relationships, And Alignment. My Advice To Industry Leaders Would Be To Follow 'Three Frames' For Success And Score At Least Three Out Of Five In Each Of The Frames. The Interaction Of Performance, Relationships, And Alignment In Such A Dynamic And Measurable Way Delivers Excellent Outcomes While Significantly Reducing Business Risk, Improving Financial Profitability, And Enhancing The Social Capital Of Any Organization That They May Be Reviewing.

Going Forward, What Are The Changes In Market Behaviour That You Anticipate And What Are The Opportunities That You Fore¬see?
The Marketplace Is Significantly Changing In Work Practices (Working From Home), Greater Appreciation Of Supply Chains, And Adjustments To Changing And Threatening Geo-Political Landscape Associated With Conflicts In Ukraine And Taiwan And The Impact Of Covid-19. The Formation Of The Quad (The Alliance Of The US, India, Japan, South Korea, And Australia) Is Symbolic Of These Changes. The Power Of Artificial Intelligence, Digital Connectivity, And Tools (Such As Mindhive) Will Become Essential In Capitalizing On Business Opportunities In Every Market Sector. A Close Study Of The Supply Chains Of Every Relevant Industry And Associated Products Will Become Mandatory To Identify Opportunities And Profitability.

Jim Varghese AM, Director, Springfield City Group
Jim Holds The Formal Qualifications Of A Bachelor Of Arts With Honours In Contemporary Australian HistoryAnd A Bachelor Of Divinity From The University Of Queensland. He Also Holds A Master Of Busines Administration And A Diploma In Education From Melbourne University. He Is Known For Leading Extraordinary Change In Both The Private And Public Sectors Of Queensland & Victoria And Bringing Original Leadership And Strategic Thinking Into Organisations.

•Awards & Recognition: Jim Is A Fellow Of: Certified Practicing Accountant (CPA), Australian Institute Of Management, The Royal Institute Of Public Administration And The Australian Marketing Institute. Jim Is A Member Of The Australian Institute Of Company Directors.

He Was Also Awarded An Honorary Research Fellow By The University Of The Sunshine Coast And Appointed An Adjunct Professor At The University Of The Sunshine Coast.