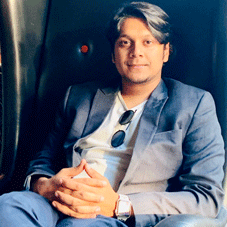 Bags play a very important role in our daily lives all the time. These days, there is a large variety of stylish bags available in the market, one can choose any of them as per their choice. But what defines a perfect bag? Some people stick to a traditional backpack, others a stylish tote and some people opt for a chic small backpack that can hold pretty much any cosmetic product. But the class which leather bags offer to its holder can never be matched with any other. Bags have historically been both the carriers of secrets and the signifiers of power & status. Carrying a classy aged leather bags can be fashionable and fun. Offering exactly the same is Kompanero, a Kolkata-based luxury goods & jewellery products provider. Kompanero is a brand that offers a range of leather bags with a distinctive weathered look, vintage appeal and a contemporary design inspired by the concept – Leather being a timeless companion. The firm not only considers its work as an art but ensures to craft such a quality product that ages as well as an heirloom.
Kompanero was founded in 2014 with a clear aim of offering high-quality leather bags to the consumers. Since then, with a dedication towards handcrafting desirable and marvellous masterpieces, the firm is crafting top-notch as well as beautiful bags & accessories. With such offerings, the firm has etched its name as one of the leading manufacturers of luxury leather bags & accessories in India. In an indepth conversation with CEO Insights, Indranath Sengupta, Director, Kompanero, speaks about the organization's origin, its unique aspects and its journey so far.
Brief us about the birth of Kompanero and its distinguishable aspects.
Kompanero was founded by me and my father (Aloke Sengupta) as a family owned business. The brand's journey originally began in Bangalore, when, with a passion for leather & natural sustainable materials, my father began experimenting, with putting leather
bags through an ageing process just like wine. The result was the signature distressed Kompanero look, for which we are renowned in the industry and our customers are in love with today. Our creations are born from ethical, sustainable practices and materials. We oppose the use of synthetic materials and this reflects in all aspects of our design be it our products or our packaging or auxiliary materials.
All Kompanero products are put through an ageing process that lends the weathered aged look to the bag, making it feel like an heirloom at the time of purchase itself
Our brand's ethos relies on 'vintage appeal' and 'craftsmanship'. All Kompanero products are put through an ageing process that lends the weathered aged look to the bag making it feel like an heirloom at the time of purchase itself. We are also extremely passionate about artisanship and include intricate levels of handcrafting in most of the products. Alongside, we have a network of 700+ skilled artisans who ensure that each piece is stitched, painted and weaved to perfection. Also, Kompanero is built upon the pillars of conscious capitalism, sustain ability and social responsibility. So, these are some of the factors that differentiate us from our peers in the industry.
Tell us about your offerings and the product portfolio. Which one will you consider as the flagship product?
The array of products that we are dealing with comprises of exquisitely handcrafted leather handbags, backpacks, messenger bags, portfolio bags, trolley bags, men's as well as women's accessories, jackets and footwear. If I have to consider just one product as the flagship then, I would say that our bags are what people lust for the most, but other categories are not far behind.
Besides, our 'weaves' are extremely popular in the market. We have different varieties of woven bags that no other brand has been able to replicate. Apart from weaves, we have some bags such as 'Macrame', which are 100 percent handwoven by our skilled artisans and are unique & one-of-a-kind.
How do you ensure the best quality and design of your products?
Quality is of prime importance to us. We are in the slow fashion business and believe in crafting products that will not only last long but even get better with age. Hence in order to have tight control over the quality of leather, we have invested in our own state-of-the-art tannery. Most of our products are made of vegetable-tanned leather. Not many in the industry can claim that though!

Talking about the design, we have a strong team of designers who collaborate with Italian and Spanish designers, hence all are designs are relevant to European trends. We design over 300 capsules per year which is an enormous number.

Throw some light on your online & offline stores along with your distributor networks.
With 27 exclusively owned stores in India, Kompanero is present across major cities like Mumbai, Delhi, Bangalore, Chennai, Kolkata and more. We recently launched a flagship store in Covent Garden, Central London. Our products are available in 1000+ selling points across the globe, out of which we retail in 350 boutiques in Australia. Apart from that, Kompanero is also listed on Amazon, Flipkart and Myntra.

Tell us about your CSR activities.
We have a handcrafting unit set up at Ramakrishna Mission in Kolkata, where we train visually and auditory challenged girls on different weaving techniques and outsource a part of our bag-making process to them. Moreover, every year, one percent of Kompanero's annual sales go towards supporting these girls, contributing to our mission to make the world a better place for them.

What is the future roadmap set for your company?
We have plans in place for rapid expansion, with seven stores being launched within the next three months. By 2025, we aim to open 100 exclusive brand outlets(EBOs)in India and 25 international EBOs across fashion capitals around the world.

Key Management:
Indranath Sengupta, Director
An engineer turned entrepreneur, Indranath is a leader with strong will. After working as analyst for three years in the IT industry, he started his own startup Kompanero with a quest to create something unique.

Location:Kolkata

Offerings:Handcrafted leather handbags, backpacks, messenger bags, portfolio bags, trolley bags, accessories and more