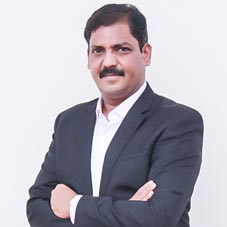 Late 90s and 2000s were the years when Indian banking was experiencing a sea change. While foreign lenders like Citibank had introduced 24/7 banking by rolling out automatic teller machines (ATMs) with the tag line 'Citi Never Sleeps', Indian origin private banks were catching up on the pace to change retail banking through credit cards and corporate accounts. Many management executives, team or project leads, back then in the banking industry, were transforming drawing board concepts into reality. Having worked in an environment that had the challenges of a startup but the backing of large established brands, these executives took a leap of faith to step into an exciting, though more uncertain, world.
Meet Krishnan Vaidyanathan
Having started his banking career in 1991 with ANZ Grindlays Bank, Krishnan Vaidyanathan is one of those few bankers who had the opportunity to work on Information Technology when digital world was in its infancy in India. With interest in tech operations like Data mining, he started working on options of using that data for various banking operations and business development.
Over the years, Krishnan continued to work on his technical knowledge while manoeuvring through the banking world. In 2001, he shifted to HDFC Bank in their newly set up credit card department and got the opportunity to be part of the core team to launch their first credit card in India. Such experience added a feather to his confidence which subsequently moved ABN Amro Bank to onboard Krishnan in 2002 with the responsibility to be part of the core team to launch their credit cards in India and to build and implement their credit card loan origination, collection and fraud control systems.
This integration of technology and business helped garner many accolades over the next few years, eventually leading him to be selected for Credit Risk Management Department of Deutsche Bank by 2005. Couple of years later, he was elevated to the position of 'Director' as Head of Credit Risk Management for their retail bank, managing all types of loans including personal loans, home loans, business loans, and working capital loans etc. Meanwhile, Krishnan was supporting launch of credit credits and lending products in few other countries including China.
The Road to FinOlet
Amidst all the success, Krishnan took a pause to introspect and thought to himself that he needs a change. He says, "In 2014 at the age of 46, though I was doing pretty well professionally, I realised things were becoming routine and monotonous and I did not want to spend my life waiting for next big thing to happen. That was the time, I decided to break the ceiling and work towards a much bigger goal".
In an endeavor to empower the Young India, Krishnan established an education company. For 4 years,
he spearheaded distribution of software certification programs in association with HP, Microsoft, Redhat etc. on a Retail Model, enabling easy access to such quality training and certification programs to all students. It was an enriching and fulfilling stint but Krishnan's desire to do something to help people at large and to pursue his passion kept pushing him to think out of the box. That was the time, when the idea for FinOlet started taking form & shape.

Krishnan is a Graduate in 'Chemistry' and post graduate in 'Management; but, as he iterates, his real qualifications came through his professional career and experience. According to him, this is 'How to use power of Digital world' towards changing the face of traditional banking particularly retail services.

Explaining the loophole in the financial inclusion strategies, Krishnan said, "The traditional way of retail banking has created a big anomaly in terms of reaching out to lower economic strata of our society. Despite so much demand getting generated in, that segment still largely remains under served or un-served due to limitations of traditional banking which by and large both public and private banking industry in India still continues to follow".

Fuelled by Krishnan's objective to give the delivery of retail banking services a new shape, FinOlet was born to pursue this goal and direction. Through FinOlet, a unique phygital platform has been created whereby people at large even in the smallest towns and house lanes can go to a neighbourhood store (who are appointed as Merchants of FinOlet) and apply for personal loans, business loans, home loans, credit cards, and other retail financial services.

A massive reach to the hitherto unserved segment of the society is the biggest motto as well as advantage for a company like FinOlet. Besides creating most cost efficient platform and system to generate and maximise the business profitability, serving this segment of society through effective delivery system also fulfils Krishnan's desire and duty of giving back to people what he got in his life both in terms of achievements, knowledge and experience.

Through the Rough Terrains
First 12 months of business for any startup is always a tough and it makes it even worse, when you are faced with a pandemic like COVID. Like any other startup, FinOlet too had its own share of challenges. The disbursement of loans etc. is still a big challenge due to bank's/NBFC's hesitation emanating out of stricter financing norm due to challenges faced by them due to pandemic. However, FinOlet remained focus and used the lock down phase to onboard over 3000 merchants through digital medium and enhanced its principal firms and product offerings.

A significant challenge is to educate the potential customers to move from their old traditional ways to technology based network and this requires lot of handholding. People quickly see the convenience of the system. This can be judged from the fact that within a short span of one year (despite the havoc played by Covid 19 situation), FinOlet has been able to bring 5000 merchants onboard which have the potential and capacity to cater to 50K potential customers a day. FinOlet in due course will evolve as a neighbourhood financial super market offering various financial services including Loans, Insurance, money transfer etc.

FinOlet has tied up with 40+
Commercial banks / NBFCs / Fintech firms to provide various financial services.

The biggest strength of the firm is the technology platform created to input the data through its merchants, which after initial assessment by FinOlet's expert team is passed on to Banks/NBFCs to provide their final decision within 48 hours. Post this, service disbursement takes place immediately. With the support of one of the Fintech firms, FinOlet is also able to achieve disbursement of Micro Loans as low as Rs. 10000-100000 within a day without the need for any paper work.

The Driving Force
The FinOlet stands tall on the able shoulders of its workforce. Krishnan says, "My staff is my strength and also my guide. What keeps me always going is my conscience that reminds me constantly that my product providers, my merchant partners, my customers and staff should always get the best out of FinOlet. My strong optimistic nature stops me from giving up whenever I am frustrated and makes me stand every time I fall".

"What fascinates and challenges me all the times is to help to improve the life of each and everyone around me, be it staff, family or friends or society. This challenge keeps me aiming for higher goals, create economic value and then grow the same", adds Krishnan.

Running ahead of time, strong conviction, self-faith, trust in almighty and staying ahead through continuous technological improvement, growth/ expansion of the business are key to success of modern day's business. Thinking, deciding and then acting upon it is a continuous process for Krishnan Vaidyanathan.

The People Factor
Success comes with hardwork, more so, with the love & support of one's family. Krishnan too accredits his success to his family. He says, "My family is my pillar of strength and they always supported all my decisions irrespective of challenges associated with it. When I took the decision to plunge into entrepreneurship journey, my family not just supported me, but gave me the much required confidence. There is hardly any work-life balance in a start-up, so is the case with me. Incidentally pandemic situation and consequent lock downs provided the opportunity to work from home, though for an entrepreneur, work is his life 24x7. Late night and early morning work is routine and my family has coped up with it very well. They have been very supportive and are equally excited about FinOlet. In fact my son who is just 22 years old helps me on tech front including sometimes creating advertisement graphic designs."

Krishnan is also backed by a good team in areas of appointment of distribution channel, financial product providers and in digitally processing the requests received. However, being a start up requires Krishnan too, to get involved in all the activities right from testing of software, data management system, appointment of merchants, negotiations and finalisation of agreement terms with the product providers etc. Gradually, FinOlet is recruiting more and more professional to enabling him to get more time to work on expanding FinOlet beyond Tamil Nadu. The goal is to have foot prints of FinOlet all over India in next 3-4 years.

The Founder & CEO of FinOlet, Krishnan Vaidyanathan concludes saying, "My simple philosophy of life is – 'There is only one life and I am going to make every moment of it count'".