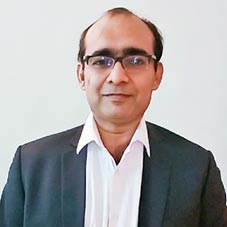 SabPaisa is the world's first hybrid online + e-offline payment platform and it is a rapidly growing company in the payment domain. The company has India's 1st Hybrid Payments Platform that not only simplifies payments collection but also deals with subscription payments. As of now, SabPaisa has processed transactions worth INR 22 Billion. Owing to the quality and efficiency of their services, the company has been able to build a positive reputation in the industry and create a niche for themselves in the market.
The company is headed by industry stalwart Pathikrit Dasgupta and in an exclusive interview with CEO INSIGHTS, he talks in detail about SabPaisa's operations.
How has been SabPaisa's journey so far and what challenges did you encounter during this journey?
SabPaisa's journey so far has been amazing. Not only do we have satisfied clients but with efficient products and services, SabPaisa has been given recognition and awards. SiliconIndia Magazine in March 2019, honored us with, The "Top 10 Most Promising Payments & Merchants Services Providers". Plus, we won the Start-up India award for the most innovative payment platform for 2018.
Also, we are a PCI-DSS, DIPP, GOI & IIMA certified innovative payment-collection platform. Major banks like Bank of India, Indian Bank, IDFC First Bank, and Bank of Baroda have already white-labeled our products. We are changing the way financial institutions, hospitals, government bodies, e-commerce companies, schools, colleges, universities, councils, and trusts collect money and data from their clients and customers.
SabPaisa is among the fore-runners in innovating Product landscape to
leverage various business opportunities. We are augmenting features and services in our product suite. We are launching new products that target the Micro Market segments.
Kindly throw some light on the various online/offline payment services that you offer. Also, explain the unique benefits that customers can avail from these services?
SabPaisa is the only payment gateway whose checkout page has all payment options: from online options like Cards, Net banking, UPI and Wallets to offline options like e-Cash, e-NEFT & Bharat QR. With SabPaisa, our users' payment collection setup becomes online with zero manual work, whether the customer pays online or offline. Payment data travels instantaneously that is viewed in a single report, whether it's UPI or Cards, Cheque or Cash. We also enable merchants to automate their payments and reduce operational costs through our Future Ready Products.
SabPaisa is the only payment gateway whose checkout page has all payment options: from Cards, Net banking, UPI and Wallets to offline options like e-Cash, e-NEFT & Bharat QR
No more entering data manually or emailing excel sheets back and forth, no more reconciliation ache. No more turning customers away because they pay differently, whether it's an 18-yearold from Kashmir or a 70-year-old from Cochin. Our story is not only multiple successful product launches but also the validations from our merchants and we take pride when merchants say that our products never fall short of their expectations.
What additional benefits do your company's payment & merchant services offer to consumers that make it stand out in the prevailing competition? Explain your USP
As mentioned earlier SabPaisa is the only payment gateway with a checkout page that has all payment options like Cards, Net banking, UPI, and Wallets to offline options like e-Cash, e-NEFT & Bharat QR. Besides
this, SabPaisa has one of India's most advanced subscription payments platforms. Operational cost and other inefficiencies are brought down by advanced features such as health check for all mandates; one platform for processing all modes of payment mandates, whether NACH, Net banking, Debit Card, Credit card, UPI; and API driven status updates as compared to SFTP based excel file transfers among many others.

SabPaisa Payment Suite also comes with an inbuilt dynamic form builder. With QForm any simple or multistage form can be launched within minutes with zero coding. SabPaisa Payment suite can help the customers to go live in the shortest possible time period. We have also employed some of the most well-known tools and standards of the cybersecurity industry to fortify our users' payments and make them impregnable.

Are you coming up with innovations or up-gradations to enhance your existing portfolio? Also, what are the future plans of the company?
Yes, we always adopt the latest tools, techniques and approach to upgrade our existing portfolio. We are using data science for making better decisions in our business and for our customers. We are also combining automation technologies with artificial intelligence to avoid repetitiveness and to improve our compliance, quality, and speed. As far as our future plans are concerned, we will be launching SP E-pos App soon which is going to revolutionize the ease of Payments, Recon, Banking, and other BFSI transactions for SMEs. We are also aiming to achieve 300 percent EBIDTA growth in FY 2020-21 and we are also striving to reach the 40 Billion mark by the end of 2020-21 Fiscal.

Pathikrit Dasgupta, Co-Founder, CEO, and CBO, SabPaisa
He is a proven business leader, entrepreneur, and business strategist, with close to 21 years of professional experience. He started his career with a leading IT Training Company in the year 2000, followed by other esteemed organizations. He started his second entrepreneurial journey with SabPaisa in the year 2015. During 21 years of his professional journey, he has developed deep expertise in Sales, Channel Management, Strategy, Planning, Hiring, Training, and Team Management.