Padmaja Chunduru: Providing Right Direction To Her Team For The Development And Execution Of Planned Strategies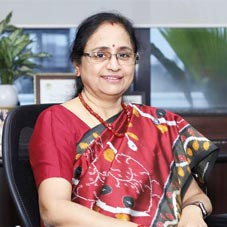 Began her career as a Probationary Officer in 1984 with SBI, and gained rich experience with important assignments in India and USA. Padmaja Chunduru gathered a wide range of exposure in Banking which spanned across the whole gamut of operations from Corporate Lending, Retail Operations, Digital Banking to Treasury and International operations.
In 2018, Padmaja Chunduru was appointed as the MD and CEO of Indian Bank and along with her team, she has successfully steered the merger of Allahabad Bank into Indian Bank amid the Covid-19 pandemic challenges. CEO Insights interviewed Padmaja Chunduru, where she enlightened us with her personal and professional journey.
What were the initial challenges that taught you the basic lessons of managing diversified functions of large organizations? Also, how did you manage to achieve the success that you had in the later phase?
I experienced the 'buck stops here' very quickly as MD and CEO. The need for a comprehensive strategy with buys from all sides was very clear, which I achieved by creating cross-functional committees and teams that worked in tandem. A conservative approach to either retail banking and leading a company will be an obstacle to growth, explaining further about risks and rewards, a more qualitative risk-to-reward approach to risk management and growth needs to be developed. My exposure to a different and more challenging Banking Regulations in the US, as Country Head of SBI, had taught me about a more pragmatic approach towards risks and managing them for successful and sustainable growth in banking.
How does your vast experience in Finance & Banking help you to chalk-out efficient business modules at Indian Bank?
Our plan should concentrate on development and focus on growth, my understanding of this approach helped me to lead and coordinate with our staff so far by knowing the strengths and core competencies.
As MSMEs are one of the key customer segment of Indian Bank and our core strength is on customer service with a personal touch. The Indian Bank's Growth and success of Indian Bank lies in the success of our key customer segment and it has become critical with new-normal from CoVID-19 situation. With support from our Central and State Govts., we have introduced multiple products and services focusing MSMEs. Bank has tied up with IITM-IC to finance the MSMEs nurtured by it. We have also initiated a business mentoring Program "MSME Prerana" to educate MSMEs. These will ensure inclusive growth of Indian Bank in the coming years coming out of this challenging situation with more vibrance and energy.

Also, the last 2 decades have dramatically changed the banking industry and our customer business. Digital technologies are always disruptive and bring a rapid change along with challenges and now this pandemic has brought more people under technology unlike ever before. Having worked globally, I could easily understand the need for customer-oriented user-friendly digital products, for which Bank recently launched the one-time mobile banking app - Ind Oasis. Mobile Banking and related technologies will enable growth opportunities for our bank to reach last rung of customers of Indian Bank. Our Bank will focus further on Digital technologies and will be one of the front-runners who will embrace such technologies in banking industry.

What is the USP of your services that segregates you from several other competitors in this finance domain?
We aim to achieve accessibility and, hence, the price of product delivery is particularly customer-friendly. Later, a highly robust and agile Software infrastructure and an Omni Channel make it easier for consumers to switch and continue using physical to digital channels. Finally, Ethical banking remained our highest priority, and we are a favorite banking partner in this bank-wide community.

In your professional journey so far, which are the milestones that bestowed your utmost satisfaction - both as an individual and as a CEO?
With steer guidance from MoF, Indian Bank has successfully integrated Allahabad Bank with no dislocation or hassles to end customers of both entities. We have not only ensured business functions and the merger of services, but the employees and organization
cultures are integrated as well. This has been well supported by our internal HR process alignment across various areas. At this juncture, I would like to thank my employees (both from Indian Bank and erstwhile Allahabad Bank), for this success. Secondly, the US operations of SBI are key to the Banks' international presence and image. As Country Head (US Ops), I was able to resolve certain critical issues through continuous interactions with regulators. This combined with a focus on business that was more of US and non-India based, brought the necessary heft to the office.

Do you participate in any mentorship programs or give keynote speeches in conferences & seminars to share your industry insights with your peers?
Yes, I participate in webinars and keynote speeches, where I share ideas about banking and the need to sensitize small entrepreneurs about bank innovations during this pandemic. I was a part of an interactive session recently at Assocham on bank's "perspective on onetime restructuring", a webinar on "Quantitatively eased facilitation and credit risk with ICC", a Path Forwards organized by the Indian Chamber of the SMEs on Business, Finance, the SME Sector and Investment. This allows the industry and individuals to better understand their banking needs and handling business numbers or their accounts. This was the founding block for Indian Bank's recently launched Business mentoring program "MSME Prerana". Also, I am very keen on mentoring women employees too. Recently, as part of Diversity and inclusion efforts, Deloitte South Asia Leadership has initiated the first-ever quarterly Guest Speaker Conversation Series 'Inverse' -Inclusive Conversation, in which I happen to launch the series as the first speaker.

Padmaja Chunduru, MD & CEO, Indian Bank
Being an alumni of Andhra University College of Commerce, Padmaja Chunduru has completed her Post Graduation in Commerce and CAIIB. Her commerce background has definitely helped in a comprehensive encompassing the areas of Financial Accounting, Company Law, Corporate Governance and more. Prior to Padmaja's current role as MD and CEO at Indian Bank, she has served 34 years at State Bank of India in different roles like Relationship Manager, Deputy General Manager, General Manager, Country Head, and Dy. MD for Global Markets and Digital Banking.
Location: Chennai