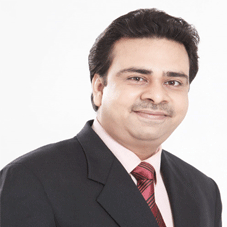 Civica is an innovation leader in smart software that helps the public services of the future, Committed to customer service excellence, and above all, puts its people first.
Civica recognises that their employees are not only their number one asset, but a key differentiator in the markets they serve. They constantly review their people policies and practices to meet the diverse and ever-changing needs and expectations of their colleagues; ensuring that they sustain their position as an employer of choice.
Working as part of Civica's global People & Organisational Development (P&OD) team, Maunesh Bhatt heads the P&OD team responsible for the Group's growing Vadodara operation which now includes 750+ colleagues. Maunesh's extensive experience, strategic insights, and hands-on management style has enabled him to make a significant impact within a very short timeframe.
In a recent interview, Maunesh shared details of his education, career, and achievements; excerpts from which can be found below.
Can you tell us about your educational and professional background and how this has helped you so far?
Completing a Postgraduate in human resources, and multiple certifications, including MBTI and FIRO-B, as well as being an OD certified professional; have collectively provided a strong foundation and evolved my understanding and ability to effectively manage people and organisational development. During my career I've also had the opportunity to work in a variety of industries which has been a very
enriching experience and given me a 360-degree view of an organisation, as well as helping me to connect and empathise with a diverse range of people.
What initial challenges did you face when joining Civica and how did you overcome them?
I joined Civica at the height of the COVID-19 pandemic in June 2020, a time of complete lockdown. My induction was held virtually as all our employees were working from home. That was certainly a first in my career, and a stark contrast to face-to-face experiences of the past. That said, for me it was an interesting and enjoyable experience. Once I'd completed Civica's virtual induction and onboarding programme, I realised just how agile we can be and that by being bold enough to take new, previously unthought off approaches, we can still achieve the same results. Most of all I learnt that when you have the right people with the right attitude, supported by the right policies and processes, you can achieve anything.
Our people are our strength and differentiators, which is why we continuously invest in them and in our culture. We are committed to making a difference and delivering better outcomes for our customers
How do you manage employee productivity and multiple services transactions?
At Civica we focus on providing our people with a genuine sense of purpose and belonging - we always put our people first. Our people are our strength and differentiator, which is why we continuously invest in them and our culture and are committed to making a difference and delivering better outcomes for our customers. We also recognise the value of ensuring our people feel heard and can continuously provide feedback. Our quarterly pulse surveys, annual ENPS survey and structured listening boards allow us to continually gauge how our people are feeling and gain a realistic
insight into their employee experience so we can continue to ensure that Civica remains a great place to work. It also ensures that they feel supported and well informed.

Can you tell us about one of the transformational initiatives you've undertaken at Civica and how technology has enabled this change?
We've recently rolled out one of our own solutions to automate some of our people processes and enable colleagues to manage their personal details, including pay and annual leave, as well as recognise and praise their peers for a job well done. We continue to take employee feedback on board and are developing the software behind our existing HRP solution to enable our P&OD team to work even smarter. By eliminating timely manual processes, including employee records, training data, recruitment applications etc., our people can be more agile and resourceful than ever. This approach is also enabling us to get better insights into different types of data, provides us with a holistic view of Group KPIs and allows us to proactively make informed decisions.

During your professional journey to date, what milestones are you most proud of?
I get enormous satisfaction from seeing my colleagues grow and building a cohesive team and working environment where they can bring their true self to work and excel. Over the years many people have approached me for guidance and mentorship, and I've felt very privileged to be part of their journey. As Head of P&OD, it gives me immense joy and a great sense of pride to see the entire organisation growing and knowing that the people processes and support are in place so more and more leaders can take on greater responsibilities, show their commitment to the Civica and increase their competencies.

Maunesh Bhatt, Head of People and OD, Civica India
As a senior management professional, Maunesh focuses on people policies and practices that cater to diverse organizational needs. He brings 20+ years of impeccable business building and people management experience across industries.