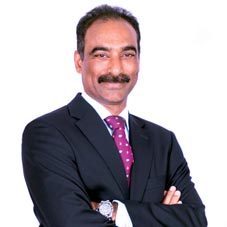 Successful business leaders constantly define, redefine and evolve the success stories of businesses and enterprises. In India, a lot of young entrepreneurs are striving to establish successful business ventures and always look up to industry leaders who have been significantly contributing to the growth bandwagon of their respective organizations and the industry as a whole.
Speaking of which, Thimmaiah Napanda, CEO and Managing Director at Meritor India and also the V.P for India and Australia region, is one such acing business leader in the automotive and manufacturing space. Thimmaiah is responsible for leading and managing the overall business for Meritor's wholly owned subsidiary and JVs in India and Australia. The responsibilities include development and execution of a business plan to grow revenue and profitability that encompasses – managing, organizing, coordinating and promoting sales, increasing the company presence by means of joint ventures, application engineering centers, technological innovation, product sourcing and development, acquisitions and green field expansions.
Thimmaiah possesses over 25 years of experience in Automotive Industry at various capacities, out of which 15 years as manufacturing & operations leader & 10 years as overall business leader at Indian companies, joint ventures & multinational organizations.
He oversees the businesses by leading and managing the Leadership Team at both the regions for driving sales and marketing, manufacturing, operational Excellence, supply chain management, procurement, direct material optimization, quality, finance and accounting, IT, human resources, engineering and aftermarket at whole of ASEAN with P&L management.
Being responsible for complete management of the businesses' different facets, driving the organization towards growth and world class manufacturing capabilities and delighting the customer has always been his forte. He does this by ensuring that customer requirements for quality, cost and delivery are not just met but always exceeded expectations while ensuring profitability & growth of the business.
Prior to Meritor, Thimmaiah was Managing Director at Honeywell Turbo & Honeywell Transportation System, Pune for 8 years. Thimmaiah Napanda tells us about the exciting journey and how well the company is poised for growth by offering topnotch solutions.
Tell us about Meritor to whom you have been significantly catering for over the years.
Meritor, Inc. is a leading global supplier of drivetrain, mobility, braking and aftermarket solutions for commercial vehicle and industrial markets. With more than a 100-year legacy of providing innovative products that offer superior performance, efficiency and reliability, the company serves commercial truck, trailer, off-
highway, defense, specialty and aftermarket customers around the world. Meritor is based in Troy, Mich., United States, and is made up of approximately 9,300 diverse employees who apply their knowledge and skills in manufacturing facilities, engineering centers, joint ventures. In the Asia Pacific region in particular, we have facilities in India, Australia, Singapore, China and Japan.
Meritor India is known for its axles, braking and suspension systems for on-highway, off-highway and military applications. We are currently the largest independent drive axle manufac turer in India and have manufacturing facilities in Mysore, Jamshedpur, Hosur and Pantnagar. We have an aftermarket distribution centre in Pune, with over 120 retail outlets across the country. We also have our aftermarket presence in Sri Lanka, Bangladesh and Nepal. Our world class engineering centers are located in Bangalore and Mysore.
We are the largest leading independent axle manufacturers and second largest brake manufacturers in India
Tell us the major facets & achievements about your professional journey that you would like us to highlight in the article.
One of the key achievements is developing & executing Mission 18, a four year business strategy (2014- 18) focusing on revenue, profitability, quality & reliability and people development initiatives. It was a huge success multiplying the revenue & improving profitability in a short span of around 4 years, a strong vision, clear strategy and seamless execution by being able to bridge the traditionally broad gap between strategy and execution made this a success. Symbolizing the successful growth attained over the past years and laying down the blueprint of the company's focus on growing to the next level, we have recently launched Mission 25 strategy. This business growth strategy focuses around six pillars namely - growing revenue, enhancing profitability, manufacturing excellence, customer satisfaction, product strategy, and highly engaged work force.
Another key achievement is transforming the 40 years old organization to a world class level in terms of culture – be it people development, customer engagement, or new product development. Driving a customer-centric and people focused culture across various facets of the organization like manufacturing excellence, customer satisfaction, research focus and results orientation is the key to this transformation. The technology transition that is taking place currently is also part of this transformation. It involves modernization of the manufacturing facilities in all aspects from infrastructure, software, operational systems, Industry 4.0 to digitalization.
What are the major challenges that you have witnessed in the automotive space?
In the automotive industry, the demand fluctuation is very high and nobody knows what is going to be tomorrow's demand situation. There is no such thing called as systematic & fixed order and demand management. This calls for the manufacturing setup to have the flexibility and agility to adapt to the end market requirements and customer demand. Our major USP has always been flexible & agile production & delivery management
system that meets the customer need. Also, with the evolving regulatory requirements that impact the customer demand, the speed at which we develop new products and respond to the customer is very crucial. We have an extremely good engineering setup, including the R&D, test & validation capabilities.

What are the differentiating factors that shine out your company from the rest of its peers?
We are the largest leading independent axle manufacturers and second largest brake manufacturers in India. Our engineering capability is best in class where we engage with the customers at a very early stage to provide the solution during the product development stage itself. Our vast product portfolio spreads across commercial vehicle, Industrial & Military segments. Our philosophy of consistently investing in R&D & new product development activities irrespective of the market conditions keeps us ahead in the game. 4 factories & 78000 Sq mts of world class manufacturing setup give us an edge when compared to our competition.

Lastly the major differentiating factor is our people, we have very highly motivated & engaged people who always look forward to continuous improvement across all areas, and they continuously strive for the next level of performance in whatever they do.

How have you been keeping your company abreast of the current technology trends? Also tell us about the stringent quality checks that the products are run with.
We adopt a process called built-in-quality, which means during the product development stage the quality aspects are taken care in the design & process, so that the end product comes out defect free. We have recently built a new state of the art assembly facility incorporating the industry 4.0 concept to digitize the manufacturing. Furthermore, addressing the need to eliminate operational silos, we have interlocked and connected every station. Also the entire maintenance of the factory is controlled and operated digitally. If anything goes wrong in the manufacturing process, people will come to know up-front through mobile apps; thus giving a proactive approach towards problem solving.

What is the future road map for Meritor?
During the new product development activity, our focus is to enhance the performance of the product, improve the reliability & reduce weight. Every product that is being developed goes through an optimization process which uses optimization software that helps in determining the right amount of material at right location while maintaining the design requirement.

We are also working on various products and solutions offerings in the e-mobility space. Meritor globally rolled out the new Blue Horizon brand that encompasses the emerging platform of advanced technologies centered on electrification, efficiency, and connectivity solutions for heavy and medium-duty commercial vehicles. Blue Horizon will offer a product pipeline that meets accelerating global demand for efficiency, connectivity and electric solutions across multiple applications. Employee engagement & development is one of the main focus for the organization, we work towards making our organization future ready from employee perspective as well, thus providing high level of learning & development opportunity which ultimately results in employee motivation & satisfaction.