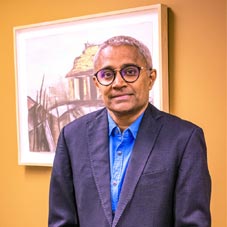 Leaders are role models and are people who incorporate great strategies to stay relevant in the world of business and there is indeed a lot to learn from their journeys. They are experts in business strategy, macroeconomics, analytics, technology, risk management, talent acquisition, retention, and whatnot. A particularly fine example of such a versatile talent is Ramesh Babu, the Managing Director of Velan Valves India.
With 30 years of rich expertise, he forms the most accurate picture of a great leader. He is almost a superhuman in his ability to communicate an inspiring vision, to design an effective corporate strategy, and consistently achieve performance targets, all while ensuring each employee knows that he/she truly matters to the organization. Carrying the experience of working in managerial roles with giants like TVS Motors, and Sanmar Engineering Corporation, he has made Velan Vales India an exceptional place in integrity, intellect, drive, emotional intelligence, organizational culture, and operational skill-sets.
The impressive story of this industry maven showcases the importance of being an open-minded learner and putting the employees first. Ramesh's immense capacity in creating a human first culture and getting to know each employee at a personal level while effectively managing the complexities of the company's operations is truly inspirational.
The following excerpt is an exclusive conversation between Ramesh Babu and CEO Insights that briefs his role as a Managing Director and his strategies that drive the business.
Walk us through your education and professional background.
I am a Production & Industrial Engineer from REC Allahabad and later I pursued my master's in Engineering Business management
from Warwick University. I was the Vice-chair & chair of the CII – Valves & Automation Division for 4 consecutive years and I'm currently, one of the founder members of the Association of Valve & Actuators Manufacturers in India. Apart from this, I am a Certified Lean Six Sigma Black Belt.
My career started off as a Management Trainee at TVS Motors. I was associated with Sanmar Engineering Corporation for 20+ long years. Today, I am glad to be part of Velan Valves leading its Indian Business.
Kindly tell us about Velan Valves and its offerings. How did your journey begin with the company?
Velan is a Montreal-based leading manufacturers of industrial steel valves. Conceptualized by our founder A.K Velan in 1950, the company is recognized as a torchbearer in quality and innovation. It continues to leverage advanced engineering capabilities and innovation to create hard-working valves that meet critical industrial needs in the areas of power generation, chemical and petrochemical, oil and gas, pulp & paper, mining, cryogenic, and ship-building industries.
The significant Y-O-Y growth in sales and profit illustrates our ability to combine revenue growth through execution skills, process improvements, effective training, and motivation
Velan offers one of the most comprehensive product offerings available from any valve manufacturer. All of Velan' valves are designed and manufactured by having quality at the core and by incorporating many unique design features for environment friendly performance, simple maintenance, and total cost of ownership.
I joined the company in 2011 as our first hire in India. My journey with the company began when they approached me for setting up a Greenfield project to kick-start their Indian operations. I was part of building the Indian operations right from buying the land, getting approvals, funds, putting forth an HR structure, hiring people, technology transfer, training and making the place fully operational.
The initial years were spent in building the Brand equity of Velan Valves India, with support from the principal offices in Canada.

Highlight your responsibilities at Velan and your contribution to developing an excellent team.
As a Managing Director, I am responsible for the end-to-end operations of the company in India. Personally, if I must pick the best contribution from my side till date,it would be the high performing team of professionals, I was fortunate to bring on board during my tenure. As a person with a high degree of technical skill and managerial capabilities, I always focus on motivating the team as they are the asset for our growth. We provide ample opportunities for our employees to rise and shine. The significant Y-O-Y growth in sales and profit illustrates our ability to combine revenue growth through execution skills, process improvements, effective training, and motivation.

What makes Velan different from other brands? What is your vision in further establishing its eminence?
Nothing can beat Velan's Quality! The tagline 'Quality that lasts' says it all. Among the several commodity valve manufacturers, Velan stands out as a niche producer. We are a premier brand and the goto destination when it comes to serving the demands of critical applications.

With all the efforts of the employees of Velan India, and with best-in-class offerings, we are well established in the Indian market. Velan India is now a Global manufacturing hub for Velan Inc, for multi turn valves. Gearing up further, we aspire to expand globally and increase both our top-line and bottom-line in the years to come.

Ramesh Babu, Managing Director, Velan Valves India
Inspirational Business Leader with over 30 Years of Experience in Manufacturing and Operations. With the right blend of head & heart, he is a person who perfectly embodies Robert Ingersoll's Quote " We rise by Lifting others"

Hobbies: Gardening, Reading, Binge Watching TV shows.
Favorite Destinations: Montreal, Canada& Florence, Italy
Favorite Cuisine: South Indian - Dosa & Coffee
Hack For Focus: 45 minutes of everyday walk

Headquarters - Montreal, Canada.
Locations - Canada, USA, Germany, Italy, China, Portugal, and India.