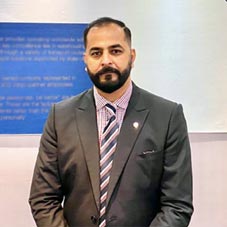 As per a global research across 60 countries, the main attributes that a leader possesses were revealed as integrity, charisma, positivity, dynamic, decisive, effective team building, problem solver, inspirational and many others. Achieving these attributes is no piece of cake for any leader. It requires the culmination of years of hard work, dedication, passion, grit and experience to etch a positive impact in the lives of different people as well as the industry on the whole. Rajiv Singh, the beloved Manager Director of cargo-partner Logistic India Pvt. Ltd., is one such business leader who holds over 23 years of rich experience in sales, trade lane management, key account and P&L management in the logistics industry across the globe. He positively influences people to go above and beyond the norms to build solutions and ensures seamless execution and focus on continuous improvement to deliver a world-class customer experience. Today, he oversees cargo-partner India, an end-to-end logistics solutions provider that outshines in the marketplace with systems like SPOT that can trace and track effectively.
To learn more about the inspirational journey of Rajiv, delve into the following excerpts of an exclusive colloquy between him and CEO Insights.
How has your journey been so far in the logistics industry?
I kick-started my career as a sales executive in 1997 for a freight forwarding company in India. It was in 1999, I moved to Hong Kong, after which I experienced enormous success in my career. Even the company I was working for outclassed as the front-runner in the market with huge market share and visibility. From there on, I've witnessed a series of turning points in my career. One of them was being appointed as the Commercial Director for a European 3PL and managing their North Asian portfolio including China, Hong Kong, Taiwan, Korea and Japan. It was here I learnt a great deal about
people from diverse backgrounds.
The second biggest turning point was building the whole team for freight forwarding division in Asia Pacific at one the leading US based integrators - growing a six-member team to 125 in seven years. Yet, I was looking for a job role that allowed me to manage operations for a freight forwarding company and cargo-partner India made it come true. I believed India's logistics growth story to be promising while a lot of my knowledge gained from overseas work experiences would fetch success to an already successful firm like cargo-partner India.
What were the major challenges that you faced and overcame?
Challenges were galore right from overcoming the cultural and language barriers when I moved into a new location, existing financial crisis, evolving customer expectations, and many others. Yet, sheer grit and perseverance to excel in and contribute to the logistics industry kept me going! Even during the current COVID-19 pandemic, we have been facing challenges in terms of cost, speed, and reliability and also to stay competitive in the marketplace.
Rajiv ensures seamless execution and focus on continuous improvement to deliver a world-class customer experience
Walk us through some of your biggest milestones.
Building a market share of three percent from zero in a multi-billion dollar air freight forwarding market overseas during the early part of my career, creating a world-class team during my tenure with the US based integrator that truly believes in the company's vision, and scaling cargo-partner India to newer heights even during COVID-19 through my learnings to deal with SARS in Hong Kong and other crisis – my biggest milestones! For the road ahead, we are investing volumes into our people, systems and technologies to reach our customers' expectations.
How do you stay abreast of the latest trends and advancements in the logistics industry?
Our customers have been the best source of information for us about the current and future of logistics industry. We aim to make things faster and simpler by swiftly adapting to market expectations, innovating on solutions and
delivering them in a fast and cost effective manner, and associating with our carriers' partners who are into security, automation and optimization of processes. Besides, I'm an active member of Air Cargo Forum India wherein I discuss about the pain points of our customers with a few key players in the market with the ultimate objective of creating a seamless experience for our customers.

Do you participate in seminars or conferences?
During the present COVID-19 period, I have had the opportunity to share my experiences of how logistics service providers can handle the pandemic and surge ahead. Earlier, I've conducted virtual webinars for My Logistics Gurukul and was also an active speaker in many public forums which brings suppliers and customers together.

How has your family supported you in your career?
My biggest pillar of support is my family who have always kept-up with my extensive travel plans and long working hours while managing everything at home. My children are quite independent & smart. They all motivate me to do what I aspire!

Rajiv Singh, Managing Director, Cargo Partner
Rajiv is a logistics veteran currently responsible for P&L management, operations, activities, functions, success and growth, at cargo-partner India. He also closely works with a group of experts globally on building end-to-end e-Commerce solutions across Asia Pacific, Europe and India.

Favourites:
• Hobbies: Watch & Playing cricket (I was a Captain for a club in Hong Kong ), travelling & exploring different cultures and I enjoy baking carrot cakes !
• Cuisines: Indian and Thai
• Travel Destination: Whichever place which brings me, my family and closest friends together.

To The Budding Leaders:
You should aim to become a coach and infuse enough confidence in people around you who believe in innovating and challenging the normal so that they are able to build cost-effective, award-winning solutions for customers. Always strive to create an environment where people can be creative, innovative and challenge the norms. I practice and preach Abdul Kalam's saying - 'Let success be yours failure be mine'. Three very important pillars of success - Integrity , Passion & be open to learning always!