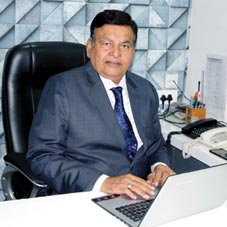 With the brutal strike of deadly COVID-19, the world is taking hygiene as no longer an option but a crucial necessity. Our take on adopting better sanitary habits along with the use of disinfectant and environment-friendly products can ensure a safe and healthy ecosystem for us and our future generation. Envisaging this obligation as an opportunity, Microgen was established in 2007 with a mission of driving the Indian disinfectant industry to the pinnacle of success by the virtue of its scientifically proven disinfectants and cleaning solutions aimed at reducing harmful effect to patients and the environment. Recognized as a frontline combatant in the field of infection control, Microgen owes its success to the scientific product development, educating the market with the latest technology and addressing the customers' requirements with the most effective measures and methodological solutions.
In a vivid interaction with CEO Insights, Dilip Parekh, Managing Director of Microgen reveals some interesting facts about the company depicting the journey it has endured since its inception and its future expeditions.
How has your company's journey been so far and what challenges did you encounter during this journey?
The Indian disinfectant industry was being governed by conventional and outdated technology. After enormous R&D, we introduced a newer molecule in the disinfectant market place which was innovative and keeping in par with the world's standards of disinfection. This tough call of introducing a new molecule paid its price and reward and once the product received acceptance, Microgen as a brand became a routine feature for various healthcare institutions. Sustaining the gestation was the key, and to literate and uplift the traditional concept of the market was enough motivation for us. Also, that made
us sure of being on the right track and since 2007 to the current date, we are yet to offer the best.
What opportunities do you foresee in the current infection control system industry, and what are your strategies to make Microgen leverage the best of this business opportunity?
India is galloping in the direction of the Global economy, so is the awareness in the healthcare segment. Day by day hygiene has become the key and center of mind to almost every young Indian. India is a young country where 50+% of the population falls under the age bracket of up to 40 years and that too all educated and learned. The mindset of these young Indians, they know, what is value for money. This gives an enormous opportunity of growth in almost every industry and the overall economy.
Our products and service offerings range from pharmaceutical hospital care, disposable apparels, along with disinfectant and antiseptic products
Elaborate on the various infections control services that your company offers, highlighting on your flagship service.
Being a business house for more than a century, our roots in conducting ethical business are embedded to the core. The blending of traditional business ethics into a professional corporate image along with human touch has benefitted us in achieving enormous strength to accomplish a respectable position in the disinfectant industry. Our products and service offerings range from pharmaceutical hospital care, disposable apparels, along with disinfectant and antiseptic products. Starting from flagship product to any variant of disinfectant, all the range of our product basket starting from surface and environment, hand hygiene range, high-level instrument disinfection to body antiseptics has attained its milestone in its respective arena and is achieving its niche place in the eyes of the valued customers.
What are your methodologies in approaching a business problem and what are your strategies to mitigate the risk factors involved? Enlighten us on the professional
experiences & expertise of your team of experts at Microgen.
The philosophy of Microgen is to lead from the front and we can proudly say that since inception to till date, not a single blemish occurred which proves to be the feather in the organisation's cap. Rock-solid and robust system driven Microgen possesses WHO GMP, ISO, EN, CE certified manufacturing facility and fantabulous dynamic marketing force. Thanks to colleagues, associates, and all those people involved in getting this structure in place and have managed to eliminate the slightest possibilities of error. A most versatile team, our talent pool is a mixture of seasoned and thriving young brigades who take every opportunity as their personal achievement.

Are you coming up with any innovations or up-gradations to enhance your existing infection control services portfolio? What is the future roadmap set for your company?
Microgen's pipeline is full of newer technology and many innovative products. Our R&D and F&D teams are always on their toes for launching newer products. In addition to the existing 30-40 products in the basket, an equal amount of newer range of products are all ready for coming out of the GLP certified R&D lab. Our dedicated team on R&D and F&D works 24x7 for the introduction of a newer product range. In future Microgen's aim is to achieve the image of being 'The Most Trusted' Disinfection Company in the market place. This is the vision that every Microgenite is preserving and nurturing too.

Dilip Parekh, CMD
Having a staunch diversified business house background for ages; Mr Dilip Parekh envisaged an out of box innovative opportunity for healthcare sector. Being an experienced and versatile entrepreneur, the chairman cum Managing Director Mr. Dilip Parekh demonstrated new dimensions in the Disinfectant Industry. His vision and skills paved a new chapter within the target audience in this niche market. His Business planning and strategic market research with on the dot implementation has given a newer outlook to the Industry and certainly the outcome and progression is to be relished for long. His dedication and passion have set many examples in the healthcare segment. His commitment from grassroots have made the organization secure a different league stature.