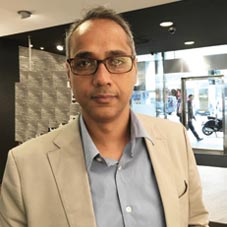 Today, hygiene and safety has become one of the most vital aspects for humans, irrespective of wherever they may dwell. For instance, factors such as the high incidence of hospital-acquired infections; the increasing number of surgical procedures; the growing geriatric population and growing incidence of chronic diseases among others have been strongly boosting this disruptive market. To make objects/surface/humans suitable for usability or reusability without contaminating one another, a complete assurance is expected. Speaking of which, Schülke India, with 130+ years' experience in Infection Prevention Chemistry is consistently offering a wide range of highly specific products, expert advice and reliable service across infection prevention, industrial hygiene and other products and personal services.
In conversation with
Deep Sharma, Managing Director
What are the major aspects about your expertise & experience in the Infection Control system that you would like us to highlight in the article? We would also like to have an insight on the way you run the company.
Healthcare Associated Infection (HAI) is one of the avoidable risks in healthcare facilities. According to published reports by ECDC (European Centre for Disease Prevention and Control) and CDC (Centre for Disease Prevention and Control, US), there are approximately 5 Million incidents of HAI every year in Europe and the US put together. Thus, resulting in 100,000 deaths directly linked to HAI and over 200,000 deaths where HAI is one of the reasons for the death. Although there is no published data on HAI from India, however, the above mentioned statistic can clearly show us the severity of HAI in India, where the infrastructure, resources, protocols are not as developed as in Europe and the US. Therefore, perfectly acting upon the situation, we put our business of Infection Prevention in the right perspective so as to put some sense to our mission statement, i.e., 'we protect lives, worldwide.'
How has your company's journey been so far and what challenges did you encounter during this journey?
We have had an extremely
successful journey since Schulke India was established 8 years ago. Today, we are one of the recognised leaders and knowledge partners in the Infection Prevention field. There are always challenges, i.e., when it comes to a dynamic policy environment, evolving market and competition, among others. But however, with a strong, clear and consistent strategy, we are not only able to overcome these challenges, but we are even trying to leverage the same to come out with much bigger and better opportunities.
Schülke India team is highly experienced and skilled professionals managing various critical functions from quality management, supply - chain, product specialist, scientific marketing
Kindly throw some light on the various infection control system services that your company offers, highlighting on your flagship service. Also, how do you ensure to maintain utmost trust and transparency while offering these services?
Schülke India is a global leaders in the Infection Prevention field with a 130+ years legacy. We are the pioneers and inventors across some of the ground breaking products and formulations, which have been helping healthcare professionals in fighting infections in healthcare facilities for several decades. Over several years, we have also gathered huge knowledge and experience in the effective ways to use the products for optimum results towards Infection Prevention; as we strongly believe that the success of Infection Prevention programs in a healthcare facility not only depends on the right product but also the way it is used.
One of the successful brands is Microshield™, which was introduced in India over 30 years ago. And till date, it's one of the most trusted products for healthcare professionals. We also run online and classroom based training programs via Schulke Academy. This program concerns how to get best out of Infection Prevention Programs in healthcare facilities.
What opportunities do you foresee in the current infection control industry, and what are your strategies to make Schulke India leverage the best of this business opportunity?
Infection Prevention practices in India are improving day-by-day, which is also aligned with our mission to protect the lives of healthcare workers and patients. With improving healthcare infrastructure, right policy push from the Government, growing insurance
coverage and awareness, the Infection Prevention market is expected to grow rapidly in India, hence forward.

Moreover, as one of the leaders in the Infection Prevention industry which brings the required expertise that one can trust, our utmost responsibility has always been to ensure growth with continuous investment in new products and services for our customers.

We have been introducing 2/3 new products every year on average, and we will continue to do so, as we plan to bring the best of our products into India. This will significantly support healthcare professionals in India while fighting Infections in healthcare facilities; especially in these times of pandemic. Our training programs are always up to date with latest scientific developments and publications from various Institutions like WHO, CDC, JCI, NABH, among others. This helps our clients to significantly improve the quality of their Infection Prevention programs.

Tell us about your professional experiences, and also the expertise of your team at Schülke India.
Schülke India team is highly experienced and skilled professionals managing various critical functions from quality management, supply-chain, product specialist, scientific marketing, to name a few. We operate through three offices in India, namely, Delhi, Mumbai and Chennai, while our product specialists are located in more than 15 cities across the country.

Where do you see yourself in the near future? How are you updating yourself with the latest technologies/trends in order to make your company reach its future goals?
Schulke with its presence in over 80 countries, well-resourced R&D centre in Germany and collaboration with various Institutions and educational Institutes, has always been at the forefront of innovation and new developments in the field of Infection Prevention. In India, we plan to continuingly work closely with healthcare professionals to address India-specific needs of Infection Prevention in healthcare facilities.

Deep Sharma,MD
Deep Sharma is a Chemical Engineer from IIT Kanpur and MBA from FMS Delhi, with over 25 years of diverse experience in India and abroad, including the last 15 years in the leadership role. His diverse experience helps in contributing to the strategy of Schulke India.

Offering: Schülke brings its 130+ years of legacy to offer a wide range of highly specific products, expert advice and reliable service across infection prevention, industrial hygiene and other products and personal services strongly Leader professionals.