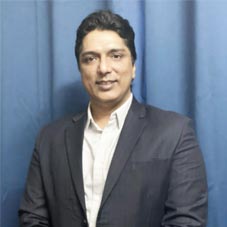 Transcending from B2C start-ups to deep tech ones, with higher socio-economic spin-offs, India has embarked on a potentially evolutionary milestone, developing Fin-tech initiatives to improvise the operational functions across industries. IT and finance leaders have a great deal to do in making such evolution happen. Representing a bold new proposition of finance, Mukesh Ranjan, CFO of Nsure Reliable Power Solutions is one such finance maestro driving the legacy of financial infrastructure innovation.
Today, when CFOs are expected to perform challenging roles with complete accountability of events across the financial operations within an organization- Mukesh has managed to effectively add value to the companies. Innovating and operating at the speed of agile, while always acquiring new learnings and experiences, at present he is a specialist in Corporate Finance, Treasury, Contracts & Procurement, Investor Management, Mergers & Acquisitions, Risk Management, Debt Structuring & Distribution, Corporate Banking, Financial Modelling, Client Relationship Management, Business Development and Team Management.
CEO Insights engages in an exclusive interview with Mukesh to further explore his successful endeavors. Here are the excerpts:
Delineating about your educational background and professional background, mention how it has helped you traverse along your journey so far.
My educational journey comprises of B.E. in Mechanical Engineering and MBA in Finance & Marketing. Where my Engineering background helped me to analyze the number crunching which is the essence of finance analytically, MBA lent me the perspective of understanding business in a sound manner and make right strategic decisions.
Starting off with the role of Relationship Manager in Bajaj Capital, I transmuted through various roles as Business
Development Manager at Nakia Financial Services, NR-RM at HDFC Bank, Deputy Manager & Manager at IL&FS Financial Services, Senior Manager at IL&FS Transportation, following Chief Financial Officer at Nsure Reliable Power Solutions currently.

Crisis strengthens the bonding between the employee and employer. With this philosophy, deploying around 13 years of my experiences I have been helping to create a job safety among my team members, keeping them intact without any retrenchment/salary reduction, even during the crisis of COVID. I cherish my evolution along the years, beginning with relationship manager to becoming the CFO.

For a relatively younger firm like ours (Nsure Reliable Power Solutions), my role is a blend of everything. As process keeps evolving everyday for which quick decision making is required keeping the financial parameters intact, I ensure to do things thoroughly supported by strong rationale.

What were the initial challenges that taught you the basic lessons of managing diversified functions of organizations? Also, how did you manage to achieve the success that you had in the later phase?
Learning is a continuous process of life and it keeps our mind agile. It is not necessary that one should know everything at hand in their early stint of career while joining any organization, but if the urge to learn doesn't cease out then sooner or later success will be embraced.

My endeavour to learn and grow higher led me to challenge the status quo and attain success eventually.

How does your vast experience in Corporate Finance, Business Control & Accounting help you to chalk-out efficient business modules at Nsure Reliable Solutions?
I think it's not about vast experience. As the year 2020 triggered the world with so many unprecedented events which were neither envisaged by any corporate nor by any individual. Even the annual budgeting became an obsolete parameter during this pandemic. We went slow on the expansion plan which will be surely an agenda for next financial year.

However, by spearheading the finance department, experience gives a fair idea on each and every facet involved in accomplishing our organizational goal followed by proper explication. By enhancing the budget on the safety norms for our workforce and addressing their concerns we have been able to
emerge as a more efficient and stronger team.

How do you go about the latest industry trends and technologies in order to steer your organization towards the zenith?
We have already showcased the adoption of technology by successfully implementing couple of projects in the Smart/Prepaid meter space with state utilities. We have also seen fast changing compliance & statutory obligation in last few years, and so have adopted it in our business. Our aim is to keep our business aligned with the latest opportunities available in the technology space. To monitor the industry trends, I refer to different business magazines and white papers published by authorities.

In your professional journey so far, which are the milestones that bestowed you utmost satisfaction - both as an individual and at Nsure Reliable Solution?
My journey with Nsure Reliable Power Solutions has been challenging from my earlier stint with corporates. Being a part of decision-making team for a young organization where hurdles are more prominent and the crux is to attain a desired result within the limited time frame, I attained utmost satisfaction the moment we achieved those results.

Family plays an important role in every person's life. How has your family supported you in your career so far? Also, how do you manage to balance between your personal & professional life?
Professional life follows a topsy-turvy path & will keep changing during the course of one's career, however, family act as a support system which gives us strength to withstand those stormy sea of life.

I always try to maintain a healthy correlation between personal & professional life by keeping myself flexible towards both.

Mukesh Ranjan, Chief Financial Officer, Nsure Reliable Power Solutions Pvt Ltd
Mukesh is a specialized finance professional with around 13 years of progressive experience in Corporate Finance, Treasury, Contracts & Procurement, Investor Management, Mergers & Acquisitions, Risk Management, Debt Structuring & Distribution, Corporate Banking, and many other areas.

Hobbies: Socializing, Weekend Cooking and Watching Movies.
Favourite Cuisines: I love Indian Cuisines, especially because of its variety and spread respective of regions.
Travel Destinations: Goa, Coorg, Ooty & Kumarakom