Jayaprakash Kalappan: Qualified Finance Professional With Over Twenty Years Of Comprehensive Experience In Finance And Administration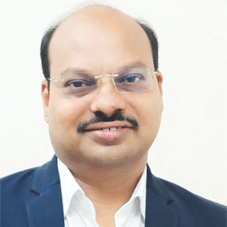 Paving his path through numerous obstacles and challenges to reach the pinnacle of success, Jayaprakash Kalappan toiled through ample hardships during his childhood which made him realize the importance of money and fuelled his desire to become a top finance professional in a well-recognized corporate to serve society at the maximum. After the completion of his Chartered Accountant professional course, Jayaprakash entered the Corporate world in 2001 and got introduced to different corporate culture, people and atmospheres. A qualified and Fellow member of Chartered Accountant, Cost Accountant and Company Secretary, Jayaprakash is adorned with more than twenty years of rich experience ranging from financial strategy, corporate financing, compliance, regulatory, merger and acquisition, risk management, legal, secretarial and strategic alliances in IT/ITES, Service and Manufacturing sector Industries.
Engaging in an exclusive interaction with the CEO In-sights, Jayaprakash Kalappan reflects on his professional journey till now along with the paramount details of his corporate career encumbered with experiences.
Give us a brief detail about your educational background and professional background and how has it helped you in your journey so far?
Born in a big family with 6 siblings, I have grown under the supervision of my mother, who was working for me for my day-to-day needs after I lost my father at the age of 8.During school days, I used to visit my Accountancy teacher's house after school hours for the evening study since I was residing in a home without electricity. From his guidance and direction, I came to know about the accounting professional courses such as CA,
CMA and CS. With the support of my eldest brother, the guidance of fellow seniors and my teacher, I was got an idea of these professions and was interested to complete all. My belief in – 'All jobs are temporary, only Profession is permanent' made me to complete and qualify the Chartered Accountant, Cost Accountant and Company Secretary professional courses.

What different roles have you been undertaking at Panasonic at present?
Engaging in many activities and equipped with strong board members who expertise in business operations, Panasonic has been leading in the market for past 30 years as a pioneer by the virtue of its leadership, vision, decision making and more. However, as a CFO & Compliance Officer, I have initiated many compliance-related matters to strengthen the operation and arrest the non-compliances. The enforcement on zero-tolerance compliance would be the top priory. I always focus on 3Cs (Compliances, Cash management and Cost control management) for better prosperity of the Organisation.

As the CFO of Panasonic, what are the key drivers that you deploy to ensure that the company's Finances are used appropriately to meet its short/long-term needs?
Cash management in an organization is a very imperative role for any CFO. In Panasonic, we are de-pending on day-to-day collection from our distributors and dealers. Though the Company has only one member in the treasury team, I could feel that it is the strongest treasury team, which I could see in my entire professional path. My day always starts with a short meeting with my Treasury head in the first hour where we usually discuss every rupee/dollar collection expectation and proposed payment plan for the day as well as the forecast for the rest of the month. The daily interaction and smooth coordination help me to meet the company's short-term as well the long-term needs.

How does your vast industry experience help you to chalk-out efficient business modules at Panasonic?
I am equipped with more than ten years of vast experience in the corporate finance and business control domain as Financial Controller and CFO. Working in the corporate finance arrangements, I effectively manage the day-to-day operations for efficient working capital requirement. The handling
the forex currency transactions through hedging and forward contracts, was helped the fund management very effectively. From the business control perspective, I help to protect the company from any costly and careless decision making especially at the time of any capital investment, fixing the product pricing and choosing the business partners. In my career, whenever the company is proposing any capital investment, I always do the feasibility study to ensure the return of investment as per the Company's benchmark. I have been also handled direct and indirect taxation, which helps me to take up Panasonic to the next level of efficient tax management.

In your professional journey so far, which are the milestones bestowed you with utmost satisfaction?
At the time, I joined in Panasonic, I was asked to initiate the process to settle the entire bank loan outstanding before 31stMarch, 2019, and present the healthiest Balance sheet at the year end. Though I had handled the cash and treasury management in my earlier organizations independently, Panasonic has provided a very good opportunity to challenging me to complete this task successfully. I have planned my strategies in such a way that it would be paid off all the bank loans before the year-end. This was the historical moment for Panasonic, as it became a Debt Free Company for the first time from the date of inception. That moment was unforgettable and exciting, bequeathing meimmense satisfaction in my 21 years professional career.

Jayaprakash Kalappan, CFO & Company Secretary
Jayaprakash is currently Chief Financial Officer and Company Secretary at Panasonic Appliances India Company Limited, Chennai, a Japan MNC. Prior to Panasonic, he was with R. Stahl Private Limited, a German MNC as Head Finance and Company Secretary. He was also previously worked with Lumina Datamatics Limited, an US MNC as Financial Controller and Company Secretary. He won the Best CFO - FMCG Award 2021 conferred by All India Association of Industries. He has also recognised as a winner of CFO100 Roll of Honour 2019, 2020 and 2021 Award for three consecutive years in the category of 'Cost Control & Management', 'Cash Management' and 'Business continuity and Resilience' respectively and CFO Story Award 2019 in the category of 'Cost Control & Management'.