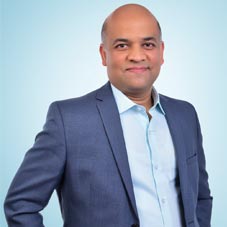 Responsible for spearheading the financial movements of an organization, the role of CFOs has evolved significantly over the past few years owing to the intervention of contemporary industry standards and technologies. Addressing the unconventional industry trends by prolifically leveraging his skills as a prominent finance professional to yield impeccable outcomes, NitinAgarwal has induced some inclusive innovations as the CFO of Volvo Cars, India. His charismatic approach of interacting effectively with executives, managers and interdisciplinary teams globally in the orchestration of organizational programs has acted as a prism to highlight his spectrum of professional proficiencies as a Financial Officer of one of the leading corporate conglomerates.
Engaging in an idiosyncratic interaction with CEO Insights, NitinAgarwal shares the imperious details of his journey as one of the influencing finance officers of the country.
Give us a brief detail about your educational background and professional background and how has it helped you in your journey so far
I come from a business family background and did my entire education from my hometown in Allahabad. Being a chartered accountant with experience of approx. 20 years (including my prequalification), my expertise across different financial domains has helped me intriguingly in my career.
During my professional journey, I have worked from scratch, starting from fundamentals to different financial dimensions, with the audit to the other side of the table, from private companies to MNCs, shifting my gears from business finance to business controlling, and many more. All these participations across different verticals enabled me to expand my horizon and overall learning experience.
As the CFO of Volvo cars, what different roles have you been undertaking? How do you ensure that the company's Finances are used appropriately to meet its short/long-term needs
My role in Volvo is no different than other CFOs as I work towards ensuring sustainable financial growth, act as a strategic partner, lead the company and support my CEO achieve the next level of growth. Apart from my core finance role I try to act as a business partner so that I can maintain the proper balance between our financial stability and also ensure enough profitability for my business partners. I strongly believe that in any company if the business partners are not profitable and growing, then it poses a huge risk on the company's future growth potential.
Patience, empathy and constant improvement helped me mange all the difficulty and challenges throughout these years
Primarily I ensure optimum utilization of money whether it is related to marketing spending, discounting on car sales, or other administrative expenses. All such activities should be planned to ensure the growth of the company, customer satisfaction, brand perception, business partner sustainability and finally employee satisfaction and their future growth. Secondly, I believe in a proactive approach and planning the future strategy as well as business growth to address the various short-term and long-term needs of the company.
What were the initial challenges that taught you the basic lessons of managing diversified functions of organizations? Also, how did you manage to achieve the success that you had in the later phase
Patience, empathy and constant improvement helped me manage all the difficulties and challenges throughout these years. Being a bit spiritual I have learned that if there is a problem then there must be a solution, so I need to just find the solution and not worry much about the problem. Climbing every step on the ladder of success I tried to remain myself and not act like someone else and this helped me being me.
As a CFO what are the strategies you put forward to align your
organization with your vision and mission
I think planning, executing and constructive reviews are the three common tools that helps me achieve my objectives. learn & evolve by trying new ways of working. Yes, at times we make wrong decisions but one who tries to do something new only fails. If you don't try anything new you will never fail.

In your professional journey so far, which are the milestones that bestowed you with utmost satisfaction
With lord's grace, if I compare where I am and where I was 20 years ago it's all very satisfying and fulfilling. From driving a bike to a car, from a small town to the capital city, building your own house, from a beginner to an expert, from getting a small stipend to a fulfilling salary, these are all the great milestones during my professional journey so far.

"Do participate in discussions with different industrial corporations, attend workshops, read journals and attend different professional networking discussions to keep a track of changes in"

How do you ensure to update yourself with the latest industry trends and technologies so that you could always steer your organization towards the zenith
I do participate in discussions with different industrial corporations, attend workshops, read journals and attend different professional networking discussions to keep a track of changes in policies, technologies and more. Volvo cars in India is doing extremely well and we have seen phenomenal growth over the last 5 years. We started assembling cars in 2017 and plan to expand our business with new products, a higher level of assembly operations especially in the area of electric cars.

NitinAgarwal,CFO
A chartered accountant with an experience of more than 2 decades, NitinAgarwal is currently functioning as the CFO of Volvo Cars, India. An accomplished and result orientated professional equipped with the expertise of leading high performance teams NitinAgarwal, holds a terrific record of efficaciously increasing efficiency and productivity whilst reducing costs and inefficiencies to his name. His ability to keep a level head at all times has meticulously enabled him nurture and grow a business, evaluate opportunities as well as risks and also deliver innovative solutions to challenges.