Muneeruzzaman Mohammed: On A Mission To Provide Immersive Gaming Environments Where Players Can Play, Learn And Connect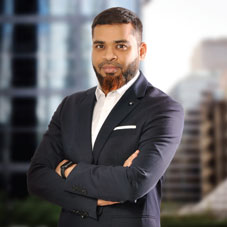 Modern technological advancements have allowed the gaming industry to expand its customer base and produce more games to meet growing demand. The industry has seen impressive growth over the past year and is estimated to be worth $1.9bn by 2025. As part of its ambitious transformation under Vision 2030, Saudi Arabia is emerging as a major player in the rapidly-growing esports and games scene through Savvy Games Group, which is on a mission to drive the long-term growth and development of esports and the broader games industry worldwide.
VOV Gaming, a Savvy Games Group company, which was formed in early 2022, has an exciting mandate to provide all citizens with access to the next generation of gaming and esports venues. Muneeruzzaman Mohammed is helping to drive VOV's mission as the company's Infrastructure Director.
Since starting his career, Muneeruzzaman Mohammed has collaborated with a wide variety of businesses, from multinational conglomerates to fledgling enterprises. For both new and existing infrastructure, he has a track record of lowering costs while simultaneously raising the return on investment(ROI) throughout the whole technological stack. Muneeruzzaman Mohammed has built a reputation as a great mentor and a creative, methodical, devoted, trustworthy, passionate, and dynamic professional during his career. Also, Muneer has technical and managerial experience in infrastructure Networks, Security, On-perm & Cloud multi-vendor solutions, Mobile APP & Web development, Cross-platform Integration, Retail and F&B technology solutions, and Digital Media & Broadcasting solutions.
Below is an excerpt of Muneeruzzaman Mohammed's exclusive interaction with CEO Insights magazine.
You possess over two decades of
experience. How has your path to success and what is your success mantra?
There is a saying by Conan O'Brien: Work hard, be kind, and amazing things will happen.
The lessons I was able to glean from my errors were invaluable in helping me become a better performer overall
Even though the beginning was difficult, my honesty and hard work paid off and I was given enough support by my colleagues and managers at every turn. However, the lessons I was able to glean from my errors were invaluable in helping me become a better performer overall.
I believe that working hard is the only way to achieve success. Also, keeping your mind clear and your attitude upbeat is crucial. Finally, if you want to succeed in the technology industry, you need to be able to respond quickly and effectively to any problem that arises in your firm.
How would you define VOV Gaming as an organization and its position in the market? What is the unique proposition that your organization offers to clients?
Games are a huge part of Saudi youth culture. And consumption here is fore casted to reach $6.8 billion by 2030.
VOV Gaming aims to unlock new opportunities for people of all genders, backgrounds, and skill levels by reconceptualizing the gaming experience through next generation venues and offerings. Gamers can use VOV's world class technology and facilities, which include state-of-the-art gaming PCs and an online community platform, to engage in various forms of play, including competition, upskilling, and socializing.
The first venue opened last year in Riyadh and there are more exciting announcements in the pipeline. It's important to say that at VOV, we are working to do more than just provide spaces for people to come together and game. We are striving to shape grass roots communities, create partnerships, improve well-being and develop new skills.
Could you reflect on some of the toughest challenges you have encountered in your journey so far? How did you overcome them and
what did you learn from them?
Managing people is one of the most difficult tasks I've ever had to do. I was able to get through this challenge by letting my work speak for itself and leading by example. Second, technology moves so quickly that you'll soon be left behind if you don't adapt. To triumph over this obstacle, constant training is necessary.

What drives you today as an industry leader?
My fascination with technology propels me ahead. The opportunity to apply cutting-edge solutions to critical business problems excites me greatly.

Going forward, what are the changes in market behavior that you anticipate, and what are the opportunities that you foresee?
Big data, the Internet of Things, machine learning, artificial intelligence, robotics, 3D printing, biotechnology, nanotechnology, renewable energy technologies, and satellite and drone technologies are all expected to drive the market as the industry adapts to the rapid pace of technological development.

Although data management is still difficult, cybersecurity will become even more important in the future.

Muneeruzzaman Mohammed, Infrastructure Director, VOV Gaming
Muneer is MBA with a dual major in Finance & Operations from S P Jain University- Australia (Dubai Campus). He has completed his Engineering in Electronics and Communication from Gulbarga University - India. Currently doing a Blended program for Professional Certificate in Technology at MIT – USA. Muneer holds CCIE Emeritus status, and certificates from Palo Alto Microsoft, ITIL, AWS, CEH, VMware, etc.

•Hobbies: I enjoy playing Cricket &Badminton.
•Favorite Cuisine: Indian & Arabic
•Favorite Book: Technology Books
•Favorite Travel Destination: Georgia (Country)

Awards & Recognition:
•Received Technology & Infrastructure - Leader of the year 2019 award by
Executive VP of Dubai Airports(Voted byT&I team).
•Received Team leader of the year 2018 by the Technology Operations Team.
•Received shooting star award for consistent performance in 2017.
•Received Emeritus Status from Cisco for maintaining CCIE certificate active for 10 years.