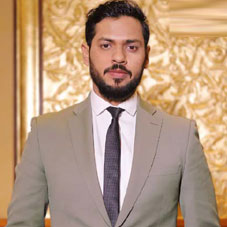 One of the most exciting parts of the information era is well-informed consumers. They never settle for just a product or service and constantly look for overwhelming experiences when ever they make a purchase. This immediately takes anything less than highlevel quality and customer service out of the picture. Focusing on the customer makes a company more resilient to the tune of even being able to sail amidst a violent, stormy pandemic. This embraces the story of Yolo Trading Establishment a Riyadh based consumer products distributor, and the man at the helm of the company, Abdullah Afzal (Co-Founder & CEO, Yolo Trading Establishment).
Established in 2019, merely months before the pandemic, Yolo gripped firmly on Abdullah & his team's business vision centered on mutual trust and customer centricity to navigate the global logistics catastrophe brought on by the pandemic. The company eventually came on top. Today, it is the sole distributor of more than nine global brands, including Godrej Cartini, Rashi, Falcon Life Style, Jaypee, Jaypee Plus, Bonjour, BBlues, Parware, and Cruxgamer, in addition to its in-house brand Yolo Fashion. The lion's share of credit goes to Abdullah and his team's decades of cumulative experience in importing and distributing.
Through an exclusive interview with Abdullah, CEO Insights explores more about his journey and the latest endeavors of the company.
What's the vision and inspiration behind the inception of Yolo? What was the gap in the industry that you wanted to fill, and what drives you today as an entrepreneur?
A satisfied customer is what drives me. The vision was always to become the best distributor in the region and beyond, with no compromise on the quality of the product, and to maintain customer-friendly prices while embedding trust and reliability with the name. We are a customer-centric company from top to bottom, and in turn, we make every business decision based on what the consumers want.
We are talking about a never ending process. The demand for our products is on the rise and making them available across the entire region through the right channels is the challenge we have taken upon.
Tell us about your leadership approach and the values & guidelines you follow as a leader.
The company and its employees are a reflection of the leader, and I have made honest and ethical behavior a key value, and it is well reflected in the team members.
I look at leadership as an honor and a vocation. There are many leadership styles there's no right and wrong. I think a great leader makes those around them better. Knowing your strengths and weaknesses helps diversify the team and get a well rounded portfolio of skills.
Active communication skills and transparency have been the key for
me in building trust among the team and improving overall morale. I always believe in my team and give them the opportunity to learn and grow it has always surprised me how much they can accomplish. Leadership strategy is about empowering others to do their best and take on new challenges. I have invested in their success and growth. When you are responsible for a team of people it is important to be straight forward.
We empower our employees to take the time to learn and infuse that into their work.
We are a customer-Centric company from top to bottom, and in turn, we make every business decision based on what the consumers want. Imagination is every thing
No organizational success story is complete without talking about the team. How would you define your team, their skills, and their expertise?
Our team has been the backbone of the company's growth. Starting from the management level, we have people with experience of more than a decade as Purchase Managers, Team Leads, Import Managers, Quality Controllers, Sales & Marketing experts, Operations Heads, and HR Directors. We are focused and aligned with the government's vision of 2030, to introduce and train more local talents and make them future leaders.
Our team has people from different nationalities and backgrounds, with expertise in their domain which has made the decision-making process very precise and led to the organization's growth and overall success.
There's ample opportunity to continue learning new skills or further developing existing ones. The company is well structured in terms of hierarchy and the fusion of inexperienced and experienced team members, which has broadened our approach to providing our customers with the best services and products.
In such a multicultural environment, developing effective relationships with diverse personalities has made the company's environment very joyful. The team members actively work as part of a team to achieve company goals.
What were the biggest challenges you faced while building Yolo's impeccable reputation in such a short period? What is the unique proposition that your organization offers to its clients?
As the uncertainty of covid looms around, our organization and team have established high level resilience in governance, revisiting and rethinking the supply chain crisis and response strategy and fostering a culture of resilience.
We always put the customers first. Delivering excellent Customer experience has been our primary goal. Starting from selecting products and services to customizing packaging, dual language content, best prices, and delivery of goods on time. We have built strong regional partnerships with major retail and wholesale outlets, ensuring that quality goods are easily accessible to our customers. As sole distributors of
the brands, the responsibility of constant supply with maintaining the prices has been a challenge, but our team is always one step ahead in planning and storing sufficient inventory to meet the market needs.

Global supply chains continue to undergo dynamic transformations powered by technology. How are you adapting to new tools/technologies?
The supplychain remains the biggest challenge and adapting to new changes is difficult. We effectively utilize various technologies, especially to reduce operating costs, provide visibility, and diversify the way customer needs are met.

We collaborate with our logistic partners to adapt to digital operations and to drive actionable improvements from data. Under standing the uncertainty post covid, operations are now more flexible and resilient enough to adapt and adjust in real time to changes in trade flows, new regulations, or trade tensions and other geopolitical movements. Overall the local and international fleet management and supply chain networks are more responsive to increasing customer requirements.

Supplier partnerships and ongoing risk monitoring are all needed to de risk the supply chain.

How do you perceive the changing consumer market behaviors and the constant demand for top-notch products? What are opportunities that you foresee?
The covid pandemic has been an eye-opener. The consumer mindset and behaviors have changed a lot ever since. The e-Commerce business has been on the rise, and the convenience of buying goods and services has become more accessible and easy. As consumers have adapted very well to e-Commerce and are experiencing the power of technology, a new way of global connectivity is emerging, driven by consumer curiosity and greater exposure to international brands and products.

The way forward is toward the digital future and technology. We are focused on making the overall customer experience tremendous and are constantly looking for ways to implement new changes to enhance the buying experience.

As the demand for products constantly increases, the challenge is largely about ensuring the supply chain is not disrupted. We have invested in warehouse facilities to ensure that we always have a healthy inventory of the products. We at Yolo continue to provide customers with the best products from all over the world at the best prices.

What are the new financial strategies that you are planning to deploy? At large, what are Yolo's future plans?
The overall cost of business has increased, and effective financial planning and management will be the key to growth in the years to come. Of course, a healthy cash flow and steady expansion will be our focus. Our management has laid out a customtailored plan looking at the specifics and prioritizing long term growth for a sustainable financial future. We are very flexible and are ready to adapt to the new changes, and a healthy balance between the short and long term strategy is our way to tackle the current situation.

We are dedicated to prioritizing the stability of the prices of the goods within the budget set.