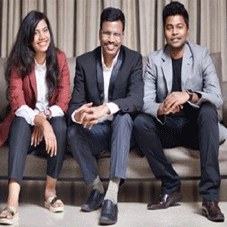 MyMedicalShop is a unique business organization that offers services like an online pharmacy, home lab tests and online doctor consultancy. The company aims to deliver the needs of the patients in an optimal manner consistently. "We started our company in February 2020 and our aim is to bring healthcare and wellness to every home across India and to give better service to our nation at affordable rates", says, Rajarajan Dhanasekaran who is the Director of MyMedicalShop.
In an exclusive interview with CEO INSIGHTS, Rajarajan talks more about his professional journey and the unique operations of MyMedicalShop.
Where are you positioned in the health & wellness industry of India? Also, throw some light on the categories of medical ailments that you cater to through your online pharmacy services.
Currently, we are positioned in the top 10 brands of digital healthcare industry and in the future, we are setting our goal to position ourselves in the top 3 players. We are growing and expanding our networks day-by-day which makes us to flourish in this industry. We are having the best team to make this venture successful and we have a wide range of medicines which include therapeutic, preventive care and personal well-being. These therapeutic medicines cover all the major and minor illnesses like diabetes, hypertension, fever, heart care, skin care, liver care, kidney care, infections, ear and eye, mental wellness and first aid. We have a separate team to check the medicines date for expiry, authenticity of the prescription and appropriate storage of medicine. We are getting the medicines from the most trusted suppliers across India.
What are the differentials factors of your services that separate you from your competitors in the market? Explain your USP?
Currently, we have services like
online pharmacy, home lab tests and soon we are going to introduce telemedicine and subscription module. In telemedicine, patients can have consultations over text, audio and video call from all specialist doctors and they can get their drugs from prescription at their door-step.
Our USP includes 1) Improved Accessibility- With the use of technology and access to the inventory of multiple stores at a time, MyMedicalShop can aggregate supplies, making otherwise-hard-to-find medicines available to consumers across the country. Retail pharmacies can only keep a limited inventory, which results in the consumer having to visit multiple stores to procure the medicines. Further, MyMedicalShop enables access to rural areas where there is limited presence of retail pharmacy. It allows the consumer to choose from a wide range of affordable generic equivalents for a particular branded drug, which is not possible in the current offline model.
2) Cost Advantage- MyMedicalShop offers genuine medicines at the best price available in the market. 3) Improved Patient Compliance and Education- We are providing value-added information to consumers, such as drug interaction, medicine reminders, and information on cheaper substitutes. This power of knowledge enables the consumer to improve compliance. 4) Express delivery- We are trying to deliver the medicines within 2 days to the customers. 5) No Marketplace- We do not provide any space for market place in our business model. Medicines which are getting dispatched to customers are from our own warehouse.
We are striving to improve patients experience across various domains more particularly in improving delivery timings, seamless medicine ordering experience, and improving product availability in both health and wellness categories
What are the latest technologies that you leverage to offer end to end services to the customers? Also, what measures do you undertake in order to avoid any errors in occupation?
We have our own website and mobile application which allows all smartphone users to purchase medicines easily through their mobile. All medicine purchases are stored digitally, making it easy to
track the supply chain, thereby decreasing the risk of counterfeit medicines, drug abuse, and self-medication. Orders are 100% documented with records of the prescriptions. Every order dispensed from our company has a valid bill and tax to the Government is paid in full.

Are you coming up with any up-gradations or additions to enhance your existing health & wellness portfolio? Also, what is the future roadmap set for your company? We plan to have tie-ups with hospitals, stand-alone clinics and individual consultants for appointments. We also have a plan to onboard registered consultants who provide e-consultation to the patients. This is very useful in remote places where specialists might not be available. We are using multiple technologies to deliver telemedicine consultation which includes 3 primary modes: Video, Audio, or Text (chat, messaging, email, fax, etc.)

Going forward, our primary objective is to in-crease the number of people we serve. In the immediate future, we are planning on launching online doctor consultation. I think it will greatly help to reach a greater number of people. We are striving to improve patients experience across various domains more particularly in improving delivery timings, seamless medicine ordering experience, and improving product availability in both health and wellness categories.

Dhanasekaran Mahalingam, Founder and Director, MyMedicalShop
Dhanasekaran is the brain behind MyMedicalshop. He is a successful entrepreneur who currently runs an educational institution called Sri ManakulaVinayagar Medical College and Hospital. Under his leadership, MyMedicalShop has carved a niche in the industry.

Rajarajan Dhanasekaran, CEO and Director, MyMedicalShop
Rajarajan has done Computer systems Engineering with Business Management from University of Birmingham in UK. Then, he became CEO of Indbazaar which is an omni-channel grocery chain started in 2015. Later, he joined as a CEO in MyMedicalShop. With sheer experience and knowledge in e-commerce industry, he is working towards making MyMedicalShop a great online pharmacy among the consumers.

Dr.NilaPriyadharshini Dhanasekaran, COO and Director, MyMedicalShop
Dr.NilaPriyadharshini has completed MBBS in Sri Ramachandra Institute of Higher Education and Research. Post this, she Joined as a COO in MyMedicalShop to explore entrepreneurial opportunities. She is striving to bring healthcare and wellness to every home across India.