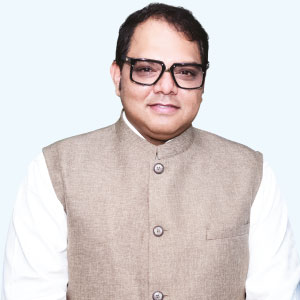 Muhammad Ali once said - "A man who has no imagination has no wings". A fascinating attribute indeed, imagination is what fires creativity, and creativity is what entices Nealesh Dalal (Managing Trustee, JD Educational Trust) to harbour the vision of enabling today's young designers to make their unique dreams come true. His dedication to excellence is infectious and the zeal for creativity has cemented JD Institute of Fashion Technologies as one of India's finest and oldest Art and Design institute with 28 learning centers spread across India. The institute is prominent in the field of Fashion Design, Interior Design, Fashion Communication and Jewellery Design, among several others, and stands as a shining beacon of quality education in Art & Design.
Going Beyond Conventions
"I have always believed that leadership is not a destination, it's a journey," observes Nealesh. With strategic thinking and a keen eye for the current trend, he is quick to observe the changing dynamics of the education as well as industrial sector. A frontier at the fashion horizon for 25 years now, Nealesh has witnessed numerous undulations and explains that with rise in social acceptance to new careers and collaborations, it is essential to stay in rhythm with the current trend and
raise the bar with respect to programs, international exposure (Institute has established successful alliance with Russian and Italian institutes) and technology advancement that would inevitably catapult the institute into the global landscape. A visionary at heart, he takes it upon himself to create an academic and culturally diverse student population who will scale to be global and productive citizens of the world of fashion and design. Their affable creativity is nurtured under Nealesh's headship and is one of the prime reasons behind the JD Design Annual Awards revolutionizing 'MAKE IN INDIA' with a twist of fashion as the students work intricately with artisans, craftsmen and artists to preserve and revive the dying arts of India.

As a leader, Nealesh affirms that it is his undertaking to empower students to culminate their uniqueness into reality and the institute plays into this vision by curating an exclusive job portal - Creative Careers for the students to ensure their social omnipresence and prospective growth. As a pioneer of arts and design education, the edupreneur strives to achieve constant innovation by imparting a cutting edge curriculum and deep industry network for which he benevolently credits the illustrious JD Institute alumni,occupying the highest positions in today's top brands. With an expansive experience as a volunteer in IFFW (Indian Film Festival Worldwide), MD in Oorja and many others, it comes off as little surprise that other renowned fashion institutes do little to deter him from raising the institute to dizzying heights and links progress with the need to constantly innovate, soul search & persuade people around him to think beyond the horizon, a truly unique characteristic that galvanizes the entire industry like no other.
Breaking Barriers
Having been a part of various seminars and talk programs, Nealesh likes to apply his mantra of instilling creativity and innovation simultaneously to those around him and quips, "I inspire my followers with my ability to sense, create change, and stay relevant". Stating the eloquent lines of 'Leadership is the capacity to translate Vision into Reality' by Warren G.Bennis is his way of influencing his team where he strives to empower and enable them while advising the need to master the fundamentals and art of patience. Unhesitatingly, Nealesh accepts that his weakness lies in acknowledging the challenges that the industry and his field throw at him with an inherent strength to overcome the unexpected and unpredictable challenges. Traveler by heart, he lays emphasis on travelling, exploring and expanding one's mindset to arm themselves with the ability to be malleable and unfurl the inspiration gathered back home. Assorted with multiple dimensions to his personality, Nealesh is an engineer by qualification with a zest for innovation, and has demonstrated his creativity at international and national shoots, making him adept to understand the design market.

Breaching the topic of the industrys current scenario, Nealesh points out, "The art and design culture prevalent in our country is diverse owing to our rich heritage, but the institutes present are negligible in numbers. It is our sole responsibility to guide and direct the youth-wagon on the right path". This array of attributes and commitment to progress propelled Nealesh and his team to be the proud recipients of Best Vocational Education Institute of the Year-Fashion Design at the 7th Indian Education Awards by Indian Education Congress, 2017, and Best Fashion and Interior Design Institute in India by India Education Awards, organized by Blind wink.