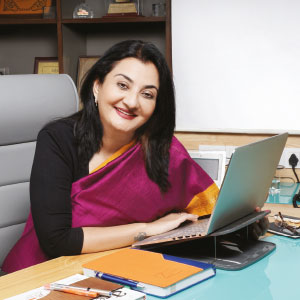 An average student spends around 35 hours a week in school contributing close to a 1000 hours per year. Shikha, a young parent is mulling over these statistics while on her way to pick her five year old son from his preschool and wonders if her young one is happy and comfortable there. Watching her child prance out of her school building, Shikha asks, "Beta, Ghar chalien?" (Should we go home?), to which the young tot innocently counter-questions, "Kya yeh ghar nahi hai?" (Isn't this home as well?). This statement immediately puts Shikha's mind at ease that she's made the right choice by admitting her son in a Kalorex school. Giving a child the homely comforts in a school environment and imparting a sense of familiarity is not every school's cup of tea, and the tall claims are taken with a lot of mistrust. However, Dr. Manjula Pooja Shroff, MD & CEO, Kalorex Group, disregarded these apprehensions and has successfully built the Kalorex chain of preschools on the very foundations of love, affection and homely warmth that would ensure the child's all round development.
Rising from surroundings where girl education was limited to high school, Dr. Manjula fought her way through societal norms and garnered degrees in Political Science and MBA from Delhi University and IIM Ahmadabad, respectively, and amidst these challenges, found her calling in the education sector. But her battle was far from over. Initiating her journey by establishing the first Delhi Public School (DPS) in Gujarat, she was challenging the common mind-set that condemned the coed mode of education and English as the medium of instruction. Being the mid-90s, the concept of business women was still uncommon and Dr. Manjula even had to resort to wearing traditional attire for acceptance. Initially, DPS was looked upon with great scepticism
and resistance, as it was perceived as being a snooty 'Delhi' brand and suffered low admissions rates due to this wariness and mistrust. But with her perseverance, sheer will power and support from the Gujarat government, DPS flourished under Dr. Manjula's leadership, with respect to which she states, "We bench marked the quality of education, a task which was absolutely challenging, but extremely gratifying as well".
Manjula beautifully balances her work life and health, and continues to persevere on her path to scale Kalorex to dizzying heights with staunch discipline
The Indian Royalty is a beacon of leadership and Manjula, a lady of royal descent from Odisha herself, justifies her lineage by successfully leading her 40 institution strong Kalorex Group with vision and due consideration for those who work with her. As a mother, she is well aware of the difficulties that come along with handling little children and essentially focuses on hiring teachers with the right heart rather than just right qualification.
She over sees the functioning with a humanistic approach, understands the problems the teachers might be facing at class and proffers counselling & training to be polite, patient and prioritise the child's feelings. The Edupreneur asserts that the child is the centre of the Kalorex Universe and essentially believes that her schools' agenda lies in building the child's formative years with happiness, confidence, social skills and an 'I Can' attitude. Being highly sensitive to a child's resounding need for affection and understanding their separation anxiety issues, Dr. Manjula affirms that there is a partnership established between the child and the teacher so that the little one feels safe and undergoes a healthy transition.
Being a convent student, Dr. Manjula ensures that the kids at Kalorex are contemporary and futuristic. Preparing them for the future, the founder has devised a Curriculum Framework called the Kalorex
Preschool Taxonomy based on the concept of Glocal learning (Global Knowledge & Exposure with Local Values), that focuses on child's social, emotional, cognitive and linguistic skills, and propagates amongst the teachers to engage in Jenny Mosley's quality circle, enabling the child to think differently that would act as a positive reinforcement in the child's development. While honing the child, she does not downsize on the safety of her students and has taken apt measures by having CCTV cameras installed, deploying child friendly furniture and abiding by NCPCR (National Commission of Protection of Child Rights) guidelines.

Donning Multiple Hats
An honorary of Australian Asian Civil Institute for Leadership, Dr. Manjula does n't resort to a perfect work-life balance and believes in phases when home or work gain alternate priority. She has an active social media presence and is always out there to lend a helping hand to her peers and the parents. She truly believes in every child's right to education and has established Prerna and Visamo Kids for dyslexic and financially challenged children, respectively. One of the parents, Ramya Rangarajan compliments her by stating, "Dr. Manjula Pooja Shroff is a dynamic entrepreneur and an educationist with immense zeal that has made her very successful in the field of education. Furthermore, her philanthropic work in helping marginalised children affected by the Gujarat earth quake is extremely commendable".

Stating herself as a people's person and a visionary team player, Dr. Manjula also points out her impatience with mediocrity and repetitive mistakes that come along with an incessant demand for perfection. Her team, on the other hand, holds her in high regards and considers her to be a very loyal and gutsy leader. A fitness enthusiast, a voracious reader, a marathoner and an ardent believer of 'no shortcuts to hard work', Dr. Manjula beautifully balances her work life and health, and continues to persevere on her path to scale Kalorex to dizzying heights with staunch discipline. She believes that the world is now more acceptable towards womenpreneurs; and with India being under the growth trajectory, it is now easier than ever for women to come up and contribute to the society growth.