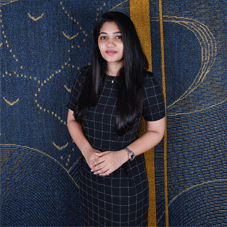 Reassessing the creative output of the organization by developing the ingenious design strategy that defines the company's brand, a Chief Creative Officer crafts a unique image of the firm. A phenomenal persona who fits into the aforesaid portrayal, Nimisha Srinivas, the CCO of Extraweave, ensures the efficient conveyance of distinctive designs to the consumers for creating a transparent brand image of her firm Extraweave. Ensuring superior quality products and contemporarily designed innovations, Extraweave has seamlessly delivered a fine blend of technological advantage for its customers and emerged as a preferred supplier across the globe. With her unique management style which constantly depicts the notion of reaching out to the destined goals along with an urge to create and learn something new, Nimisha is guiding Extraweave as per international standards, by strictly complying with all the statutory and social compliances.
Engaging in an exclusive interaction with CEO In-sights, Nimisha explains the nuances of her journey as a top-notch Creative Officer crafting exceptional solution by the virtue of her prolific experience and expertise.
Please share us about your journey as Chief Creative Officer. What are the challenges you encountered during your professional journey?
The major obstacle for me was to hire a talented team of designers from diverse backgrounds which can give a distinctive outlook to our new collections. As the work culture in Kerala is also quite different to all the other cities I have functioned in, getting everyone to be more systematic and goal-oriented was a challenge I was ready to face. Retaining talent was another big challenge since we are situated in a small city. After a lot of hard work, we finally managed to forge a very motivated and talented team of designers and I always have my eyes out for more.
Can you describe about the roles & responsibilities undertaken by you at Extraweave?
By constantly keeping track of the new design and color trends globally, I try to recognize design gaps/needs in the market which we
could easily integrate into our solutions. At Extraweave, my role is a lot about ideating and creating new out-of-the-box designs. My team is constantly works on creating a new and unique collection of rugs that are out of the world. All our rugs have their unique story telling and unique styles to convey. We work with a lot of natural exotic and sustainable fibers which include Sisal, Wool, Silk, banana, water hyacinth and more. I also work with a lot of freelance designers from all over the world for their design collaborations with our new brand, Neytt.
I try to convey my faith in the ideology of converting Waste to Wealth through the rugs created by my team
How do you develop your design strategy to ensure that it meets the vision and goals of the company?
Embodying sustainability in all our designs and the materials used, we try to keep the wastage as low as possible. My team even converts the waste in the production process to handmade rugs and we are currently working on a big installation for the new Cochin Port Terminal which is made entirely from waste from our production process. I try to convey my faith in the ide-ology of converting Waste to Wealth through the rugs created by my team.
How do you connect new ideas to your business strategy? Can you share a lesson from the last Design launch and how do you measure the success of a new launch?
Our last collection was a design collaboration with a lead Swiss designer, Vanessa Meister Varma which portrayed women from different backgrounds and cultures. Breaking the preconceived ideas and patriarchal stereotypes, it conveyed a strong message that women are strong and beautiful however they are. We have always pushed to be at the forefront of our craft and stay true to our values of equality and social responsibility by placing women at the center. Transforming ourselves as an echo of our time and celebrate their strength, power and resilience because we believe that women and design can change the world. This collection was a big success as we got acknowledgment and positive feedback from some of the top designers in the country.
Tell us about your most challenging projects till now? What are the key strategies you adopted to execute it?
The most challenging project I did was the `sisal collection' of mine which was based on the torrential rains of 2018 that wreaked havoc
and destruction through our state Kerala. I wanted to apprehend and portray the unity of peoples of Kerala who joined hands to overcome it. To enrich this collection, we had to modify our jacquard looms to weave non-repetitive design in sisal with different weaves and textures which was the first of its kind. I also used actual gold-stranded yarn and golden fabric borders in the design which was very difficult to weave and incorporate with the sisal yarn. The golden borders were imperative elements in the design as they conveyed the stories of help and support received from the neighboring states, the government and every individual who raised a helping hand.

Although creating these rugs was a big challenge, it was all worth it as I was nominated for the Elle deco international design award which cemented my identity amongst the top designers in India. This is very motivating for me and my entire team.

What is your approach to understand the customers' requirement? How do you ensure the customers' demands are met with optimum precision?
The phrase `customer is king' is what we follow, and our new venture `Neytt' is all about it. Ensuring much broader options for our customers, we provide them the option to customize rugs completely from material, design, shape and size. To enable our customers with varied options for all their home interior needs, we also have a diverse database of designers from different backgrounds and countries for customers to choose from. Through our innovative and contemporary products which can very well reflect the sense, style and personality of our clients, we are always eager to help our customers decorate their humble abode.

Nimisha Srinivas, Chief Creative Officer, Extraweave
After completing her B.Sc in Visual Communication from Asan Memorial College, Chennai in 2013, Nimisha went ahead for MA in Broadcast Communication from MOP Vaishnav College for Women, Chennai and Advanced Digital Media and Photography from Harvard extension School, Boston, US. She worked as a digital Video producer with Digitally Inspired Media from Aug 2012 to Jan 2015 and a Program producer with Channel Ufx from Jan 2015 to Feb 2016, before resuming the role of a Freelance Photographer and Designer in 2016. She joined Extraweave as a Lead Designer in June 2018 and soon rose to the position of Chief Creative Officer in Nov 2018. Apart from this, Nimisha is also positioned as the Design director of Neytt (The Rug Atelier), which she co-founded in Jan 2021.