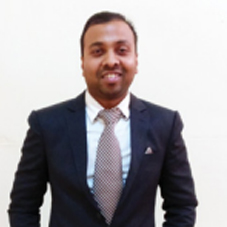 Nepal needs Rs.20.25 trillion worth of investment to reach the UN Sustainability Development goals in a decade (National Planning Commission). While majority of the investment will be in infrastructure and transportation, IT industry taking baby steps is equally important for the growth of the nation and also in attracting foreign investment. However, when Sanjay Saha (Founder & CEO) established Palm Mind in 2010 as an application development company based out of Kathmandu to be the axle of the IT revolution in the nation, he found the country not ready for the innovative digital experiences. Hence, the company remained dormant due to resistance of business in early adoption of cloud. But when the market started opening up, Sanjay put Palm Mind in gears again in 2017.
Today, the company has established a niche for itself in the field of providing innovative tech solutions to its clients, from chatbot, web applications, mobile app, data analytics, and cloud solutions to cloud migration. CEO Insights rendezvous with Sanjay to know more about the company, his journey and the offerings.
You incepted Palm Mind in 2010 and reinstigated it in 2017. Tell us about your experience in between.
Post my engineering from India in 2005, I started my career with Sify, where I worked on web & mobile solutions. I later moved to HCL, where I was part of a core team iterating, evaluating and prototyping architecture components for Next Generation platform. It is here I realized my potential in architecture design and the emergence of cloud across the globe. By then, I was already bitten by the entrepreneurial bug. I returned to Nepal in 2010 to start my journey into the cloud solutions, and thus Palm Mind was born.
But soon, I realized that cloud adoption was quite nascent in
Nepal. I had to shelf the company till the market was open. Between these two phases, I worked with a US startup, Zurelsoft to form their technical division in Nepal, where I experimented with various architectures and delivered quality solutions in different verticals for US clients and revising & devising several cloud based solutions.

How was the experience when you put Palm Mind into gears in 2017?
In 2017, when I decided to revoke the then dormant Palm Mind, I formed a team for a German client who worked on the embedded OS for custom hardware. In early 2018, AI started impacting businesses globally and hence we introduced Chatbot solutions for clients, the pioneer and only one in Nepal to build webbased chatbot solutions. We have developed our own platform encompassing Chatbot and various other components that helps business to enrich the customer experience at various aspects of customer lifecycle, starting from customer awareness, acquisition, to post sales engagement, thus helping business realize growth at every stage of customer lifecycle.

Our solution also encompasses data driven analytics that provides business insights into customer interaction and behavior, thus helping businesses customize and sell what customers want & demand. Overall, it's a single solution that enriches both business and customer.

Our chatbot engine is evolving every day with the experiences and varying business goals. I can proudly say that our chatbot is deployed across eight different verticals in Nepal. Alongside, we also deliver scalable enterprise & cloud applications and help businesses migrate to the cloud.

That's great! But then, how do you keep the quality at check?
We make periodic visits of our clients to understand how our solutions have helped them, are beneficial, and what needs to improve. We also adhere to strict data privacy issues with very limited access to servers where we host. We host our solutions at AWS cloud and provide utmost reliability, scalability and up time, apart from providing instant support for any issues to our clients.

Are there any other challenges that you face and how are you preparing yourself for the same?
Businesses in Nepal are still far
from adopting technology full-fledged, and many still run on traditional ways while finding an online presence (website) enough to be called a tech-enabled company. However, the scene is evolving slowly; but then, clients are still not able to comprehend their issues. Hence, we visit different business verticals to figure-out the problems and pain points of industry and devise a solution to showcase how technology can benefit and transform the business. So it is rather we visiting and making attempts to figureout problems/issues, rather than clients telling us.

This really requires a team having an upper hand in everything they do. Could you throw some light on your team?
Janak Bhattarai (Managing Director) is highly experienced in networking & business development. He joined me in 2018 post he return from UK and is currently responsible for business development of Plam Mind. Our team comprises of experienced professionals from different industries who have worked across multiple outsourcing companies for US and EU clients delivering quality solutions in different verticals. We constantly learn from customer interaction with our solutions and value businesses can drive from those customer data, evolve our platform to reflect it for the next customer we onboard.

How has been the revenue growth?
We broke even very recently during the first quarter of 2020, and aim to go profitable this year with client base of 20+. We also aim to enter the top 20 companies of Nepal by next year and eventually in the top five in a five-year timeframe.

Sanjay Saha, Founder & CEO
An MBA with Computer Engineering background, Sanjay is positively making his mark in the Nepal tech industry through this innovative solutions and first mover advantage.

Quick Facts:
Established: 2017
Office: Kathmandu

Offerings: Chatbot, Web Applications, Mobile Applications, Data Analytics and Cloud Solutions

Industries serving: Eight industries including BFSI, Cable & Internet, Real Estate, Hotel & Hospitality Clientele: Nepal Tourism Board, Laxmi Bank, MEGA, Agricon and many more