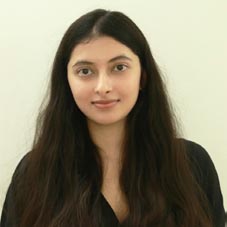 Freakins is a new-age fashion startup that curates a perfect denim collection fostering style with comfort. It is currently one of the fastest growing D2C brands in India. Adding flavour to Freakins designs and creative space, Parthavi Nagarsheth is one of the youngest Chief Creative Officer in the country for a Pan-India D2C brand. The Brand claims, "As stories, generations, and different cultures pass, Freakins mission remains unaltered - to see every female comfortable in whatever she wears no matter what." Under the aegis of the bold and beautiful Parthavi Nagarsheth, the company wants to cater to the needs and aspirations of every woman. Ultimately, making them feel comfortable and confident. This will also make a huge difference in how we are perceived by others, most importantly, reflecting our true personality.
With a graduate degree from NIFT, Gandhinagar, and having worked in denim manufacturing factories, she understood the special place Denim holds in the fashion industry. With sheer love for denim, she pursued a diploma from Jean School, Amsterdam. Following that, Freakins has become a major part of her life.
As a person who is determined to drive change and associate with sustainable businesses, she is encouraging the Gen Z and Younger ones to focus on sustainability. She believes that Eco-Friendly will be the new trend. Following her mission, Parthavi Nagarsheth and Shaan Shah started a brand known as RECLEANIC which renews, repairs and redesigns any of your old denim
products. Emphasizing on the aspect of reducing the carbon footprint through ReUsing. Likewise, she with her team at Freakins is also making ecofriendly products accessible to all at affordable pricing. Recognizing her passion for bringing sustainability and fashion together, CEO Insights engages an exclusive conversation with Parthavi. Below are the excerpts.
Amidst the evolution of women entrepreneurship, share your experience of being a women business person.
Women are the heart of any business as of now, especially in the industry of Fashion. I have observed every female tends to be more organized and articulate in what she does. Being part of a startup, I have noticed that one ends up wearing multiple hats things and in such a situation, I feel a female is much more responsible and adaptive to any type of work.
The Eco-friendly collection of Freakins has trendy products produced with 75 percent fewer chemicals and water
As a Chief Creative Officer, what are your strategies for driving effective solutions?
Pressure and creativity goes hand-in-hand. For me especially, the quickest solution is usually the best solution.
I strongly believe in the wise words, "Alone we can do so little, together we can do so much." I think a stronger team, effective communication between all parties, and collaborative effort is the root of any business's success. With that said, it is all about involving the team from every aspect of the business in the creative process. Knowing that each one matters and being adaptive and adjusting to different perspectives can give you the best outcome.
Highlight that journey of Freakins.
The Brand was ideated by Shaan & Sachin in 2018. Although I joined the
firm later, we tirelessly worked in all aspects to enhance the customer quality, trust, and value of the brand. We are a quality-oriented team of 16 Individuals handling the complete business and sales doing around 800 orders a day, growing at 5 percent MoM

Brief us about the spectrum of apparel & other products that your designing house offers.
Freakins focuses on creating a line of products in three specific categories - Must Have (All the fits available around the world), Be Bold which is all about fashion trendy products, and then finally OUR LIMITED EDITION – A very specific and niche line with just 48 pieces per style. We make sure we don't reproduce and give out unique and extremely intricate designs.

Along with the three, we heavily boast about our eco-friendly collection. With an in-house denim washing unit. We produce regular trendy products with 75 percent fewer chemicals and water and now looking towards more sustainable and ethical ways of producing products.

How has your family supported you in your career so far? Also, how do you manage to balance between your personal & professional life?
My Family is more than just being supportive. I have been always pushed to work more and strive for more growth. Coming from a business family, for me, it has always been about making your mark through dedication, hard work, and being passionate. Personal Life is always in balance and I am lucky to have great colleagues, friends, and family who tend to lighten me up after work.

Parthavi Nagarsheth , Chief Creative Officer, Freakins
What lies ahead in the entrepreneurial journey?
Currently, Parthavi along with the CEO of Freakins is working towards another brand known as RECLEANIC. Which is all about renewing old products and making a Customizable Thrift Store. With this brand, they are looking to reduce global waste by Focusing on reusing old denim product. A brand to RePair, ReDesign and ReNew any denim products.