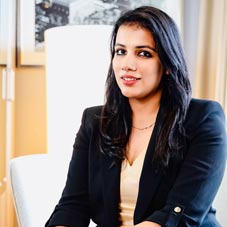 The passionate duo, Rimjhim Hada and Anurag Singh Khangarot ventured Aachho, a new-age fashion brand that brings luxurious ethnic wear - woven spanning the traditions with a modern touch. Aachho has an iconic Handcrafted luxurious ethnic collection from the Royal-Land-Rajasthan for the Indian Contemporary Women. This initiative is to bring all the beautiful Indian ethnic and handcrafted products direct from the artisans all over India. Thereby, unifying the rich diversity in the Indian tradition and culture of clothing. Aachho is a way to discover things you love, therefore, it strives to provide the users with exceptional products. It brings together the traditional craftsmanship with a contemporary twist to recreate the charm of that traditional art for those who wear and admire elegance, class, and culture. The company is enchanted by elegance, find joy in uniqueness and believe in quality.
In the land of festivals, Aachho has incorporated an element of celebration into its designs striking a perfect balance between subtle and statement. Based in Jaipur, it is a creative fashion outlet that offers hand-picked unique and high-quality products. CEO Insights engages an exclusive interview with Rimjhim to know more about this fabulous trend-tradition fuse in fashion.
What inspired you to establish Aachho?
Since childhood I admired my mom's elegant way of style. I love wearing Rajputi poshaks and pure chiffon saris. At my wedding in 2015, my mother gifted me exquisite centuryold gold-zari Rajputi poshak, which I later traced into the new fabric and blended it into fusion. These poshaks were passed from one generation to another. I still kept them intact which are adorned with big peacock motifs with real gold and silver work. During my college time, I
designed ethnic attires from my Mom's bandhej / lehriya Saari collection, making masterpieces of the traditional yet contemporary silhouettes. On the other hand, my partner Anurag always was fascinated with beautiful heritage palaces, forts, memorials, museums, and cultural diversity. He had traveled most of the heritage properties and love to explore forts and palaces.
On the education presence, I am a software engineer from SRM University, Chennai, a coder, and had worked with MNC. Anurag is a Masters's in business management from Pune and digital marketing from XLRI, having vast experience in e-commerce and payments. The combination of both our interest and expertise led to seed the idea of Aachho.
Aachho is the one-stop destination for products that not only make you feel comfortable but confident too
Brief us on the concept of Aachho.
Aachho is our humble attempt to capture the rich cultural diversity of traditional colors & hand block prints on a single platform by bringing beautiful Indian ethnic and handcrafted products. We at Aachho also believe that life should be nothing short of a celebration, and every outfit you wear a reflection of that spirit. That's why you'll find our entire collection to be an elegant amalgamation of both traditional and contemporary designs and colors especially hailing from royal Rajasthan. It is the one-stop destination for products that not only make you feel comfortable but confident too! And after all, nothing would make us happier than to hear your friends and family all say Aachho ("too good" in Rajasthani !) every time you step out in one of our outfits.
Walk us through the journey of the company.
Initially, while doing the research, both of us learned the rich cultural heritage of vibrant and colorful crafts & skills that Rajasthan celebrates with the world. Both came up with the wordmark "Aachho". The terminology reflects the belongingness of Rajasthan. The regional Marwari word means "Too Good". Idea was to take inspiration from the ancient craft of hand block
printing to add an edge to their silhouettes.

In 2018, we launched www.aachho.com. The entire research, inception, and planning related to business, all were done in Mumbai. Later, we shifted the base to Jaipur where we initiated their plan and executed the road map - including business plan, meeting right partners, setting up the manufacturing processes, exploring strength and opportunities, analyzing threads and weakness, developing the website and its related software, initiating strategic partnerships including banks, payments, and logistics partners to drive and fuel growth.

Highlight the milestones that bestowed you with utmost satisfaction.
Over the path of the last 3 years, we have developed the DNA by mixing culture and fashion for the modern community. Inspired by different cities and rooted in traditions, we focus on the fusion of effortless art of eternal Rajasthan's rich prints and patterns into the modern cloth. And, integrate such skillful gems of Rajasthan - blockprinting, hand-painting, Gota Patti, bandejh, lehriya, exclusive embroidery motif, tie/dye, ajrakh, indigo, hand beadwork, vibrant color palettes, and bold designs, floral prints. All marked a signature in every Aachho Jaipur collection!

Today we have a follower's base of 350k on Instagram, and a team of 250-300 full-time and contract-based skilled professionals who are working every day to bring an old gold fashion to the market. We ship Aachho products to 25000+ pin codes in India and also worldwide. Till date, Aachho Jaipur submitted its collections to some renowned celebrities. The heartiest gratitude to them to choose Aachho to wear. We have a worldwide happy customer base who admires themselves for preferring Aachho on their special occasions or events because of the quality and patterns. Recently, Aachho was recognized as BEST RAJASTHAN BRAND 2020 in the world marketing congress and India achievers award for - young entrepreneurs and business leaders.

Rimjhim Hada, Founder, Aachho
Wise Words By Rimjhim
The advice to upcoming stars by them is - "Belief in your vision with consistent work on it, Learn from the mistakes and obstacles as the greater are they, the more glory in overcoming them.