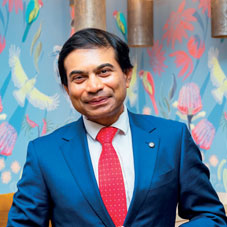 Every year, large corporations spend millions of dollars on cyber security. To counteract threats, they have appointed specialized organizations on expensive budgets. But the case of small & medium businesses which are much more vulnerable, tells a completely different story. Their information is more easily accessible and they just lack the financial resources & technical expertise to mitigate & derisk the cyber threats. iSecure Cyber changes this story, fortunately for SMBs, the wonderful team of iSecure Cyber a part of Transformation plus, is on a mission to facilitate world class services to this underserved segment. Transformation plus offers the flagship platform of iSecure Cyber and their Secureplus services that can assist them in this difficult journey to become Cyber resilient and compliant.
Prabir Saha(Founder & Executive Director, Transformationplus) believes that every individual has ideas that, if realized, will make us better versions of our selves and eventually touch the lives of people around us. He today is busy creating a linked world for SMEs with a connected ecosystem through technology solutions and an innovative product line through Transformationplus. In an exclusive conversation with CEO Insights, Prabir spoke about his journey as an entrepreneur and how he overcame the major challenges to flourish as an industry leader.
When you first started working, did you foresee that this is where you would be at this point? What was your inspiration to start this venture?
I moved to Australia in early 2003 and began working for large corporations primarily in the telecom and government sectors, building software solutions, leading huge teams, while my most recent work in the corporate world was
with a multinational in telecom domain.
During my corporate career, I realized that I was getting older I realized that trading my time was a low leverage venture that wouldn't advance me any further, and at the time, I was going through a significant financial difficulty, so I drew back. I registered my company in 2008, but I didn't do anything with it since I lacked courage and the ecosystem of mentors and guides that could assist me. I began working on a verified exit plan in 2016, and by June of 2018, I was up and running. So we chose cyber security as our focus because I realized that the two most important domains that will emerge from a lot of proven research are data and cyber security. And cyber security is a profession where the entry level barrier is high, and only a few people are aware that it is a very niche field.
Thinking within the box is bondage, thinking outside the box is a choice, breaking the box is innovation and knowing there was never a box is freedom. Hence, break free
What different roles have you been undertaking at Transformation plus? What's your mantra while multitasking?
The term 'CEO' signifies 'Chief Everything Officer' to me. One of the most important things, and I am very fortunate to have many good mentors in my life, thanks to Tony Robbins, Christopher Howard, and Sadhguru Ji. My mentors told me that time management is a poor people skill, and I wondered why. So, when it comes to time management, they claim that in a day, there are just 24 units of one hour. There's not a lot of fun in managing 24 units, but attention is limitless, and I believe that if you develop good attention management skills, you won't need to depend on time management skills. I am excellent at managing my concentration and am seductively focused on whatever I am doing. I don't multitask, but I do pay attention to what I'm doing. That's one of the most important aspect to become productive.
You have global experience in different verticals. How does
it help you shape business strategies for the company?
My experiences have significantly helped. The best thing I teach people is to meet people,and because of COVID, we don't meet people, have apprehensions about meeting people and often try to hide behind our devices. As a result, that is not a place where people may achieve great success in their lives. I meet people with open arms the more people I encounter, the richer my experiences become everyone has some thing to teach. Someone will teach you what to do, but there are many more who will teach you what not to do. Your ability to meet others openly is the only obstacle you face in this world. Most people only form optional bonds with and are hesitant to speak to others, which prevents them from growing and learning. The best method to learn is to meet new people and engage in meaningful conversation.

What are the differentials factors of your organization that separate it from others in the Australian market? Explain your USP.
In today's world of cyber security products, for example, you might think that this is a game for big companies because we created a product that can be run by a nontechnical person. Most cyber security products require highly skilled individuals to run, and small & medium businesses don't have that money or that skill set. Our objective is to break this stigma because no one has ever worked in a small or medium business. After all, the products that are now available in the market are expensive and sporadic for small & medium firms.

What will be your advice for other international leaders who aspire to expand their area of operation to Australia?
Everyone has a dream, and there are dozens of them. As an entrepreneur, the best thing you can do is convert that goal into a plan that has been verified by people who have traversed the path you chose to travel before and who have succeeded before you. My mentors taught me that if a dream is valid, it should be translated into a viable plan and strategy.

Prabir Saha, Founder & Executive Director, Transformationplus
An exceptional leader who is on a mission to serve underserved SMEs segment in the arena of Cybersecurity, Prabir is keen on innovation and product development.