Neelesh Mehta: A Visionary Leader Influencing Sustainability & Impact In India Through Investments From Australia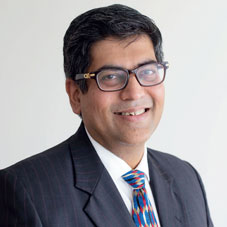 Considered as one of the rapidly growing economies in the world, India is ascending newer heights in terms of investments and funds management to the levels of developing nations. Owing to his prolific professional background in India in building a large brokerage house as well as assisting asset managers to design products for their clients, Neelesh Mehta collaborated with his friends to lay the foundations of Jaipur Asset Management an Australian based, specialist asset management firm. Neelesh co-founded the company to facilitate investments in India and Australia. Under the guidance of Neelesh and his team of industry stalwarts, Jaipur Asset Management is seamlessly engaged in addressing the existing gaps in the investment scenario prevailing in the Australian and Indian markets, meanwhile contributing a significant share of its profits towards the education of the girl child.
Below is an excerpt of Neelesh's interview with CEO Insights.
According to you, how is Jaipur Asset Management (JAM) positioned in the market? What are the factors that make your company stand out different from the competitors in this industry?
JAM is positioned as a credible market leader in the segment it operates in. We see it as our responsibility to introduce appropriate possibilities presented by India to the Australian market.
We have deliberately chosen an unconventional pathway, one that over the years has successfully delivered proof of concept to the market. Australia has one of the largest pools of capital globally and establishing success where other Indian Fund managers have yet to, speaks for itself.
Our purpose and commitment to the education of the girl child is very close to our hearts and is something that sets us apart. Also, JAM established the first Australian ESG fund focused totally on India. This has an enviable track record and
fulfills what we see as our obligation towards meaningful impact where it matters most.
Tell us about the challenges you are currently witnessing in this domain. What new strategies are you implementing in order to address them?
I think the biggest challenge is educating people about India and the immense opportunity it presents. Access to Indian markets is complicated and exciting, but currently, there is just not enough information around it.
India remains one of the few markets globally that has the potential to witness multi decade exponential growth. It is underpinned by not just its demographic dividend but the spirit of innovation and entrepreneurship that is imbibed in its psyche
India does not highlight its achievements enough despite being a leader in so many diverse domains. For example, in its markets, the processes are as or far more robust than many developed countries, including T+1 settlements, governance reporting, and mandatory quarterly financial reporting, amongst many others. This kind of information is something we offer our fund manager partners from India have been highly supportive.
It is intriguing that the world's fifth largest economy with a ranking in the top 10 stock markets globally in terms of capitalization and transactions has a representation of only circa 10 percent in the MSCI Emerging Markets Index and hardly there in the MSCI World Index clearly an anomaly. A step we see as necessary here is the increased reporting of India's market information by the local media, similar to the situation for China and other countries.
The financial services industry has invariably been associated with hubris and ego, further fueled by rapid deadlines and the urge to grab the next best deal. JAM's founders' principles are rooted in the philosophy that we can touch the lives of others via humility, compassion and love despite being in an industry where these qualities are greatly valued but not easy to find.
As an entrepreneur, what is the market behavior that you anticipate in the upcoming days? And what are the opportunities you foresee for your company?
We are seeing seismic shifts in markets where it is becoming increasingly complex to earn returns with the same risk weighting. Simultaneously, China's apparent stance towards greater equality vs. growth may imply a different view on the returns there. This rethink will impact allocation and movement of capital.

Our growth is proportional to our under standing of the market of Australia, which is one of the world's largest pools of capital. We believe strategic investors controlling pools of capital in Australia will progressively need to seek exposure to India. Australia has suffered from decades of a single minded focus towards China and exposure diversification risks are apparent with many advisers already seeking alternatives. Our ability to transition this investment to India by focusing on what we do is also driving us with an increased result on this front.

A major benefit is having a great potential to impact the world, with the ESG reporting and changes occurring presenting a massive opportunity for the future, one that cannot be overlooked, particularly as India leapfrogs its growth and builds infrastructure and industries.

What are your future goals and how do you plan to achieve those goals?
Our goal remains to be the trusted medium to facilitate large capital flows into India, a market that we understand well and see significant opportunities in. Our selection of India's largest and best Fund Managers as our partners allows us to facilitate innovative products tailored to meet the market needs with them.

Providing an education to girls in both countries as a pathway to opportunities that the children would not otherwise have access to, is what drives us.

Personally, I see my role as an entrepreneur, where I influence the use of capital to encourage the pursuit of value based businesses that respect this beautiful world that we are privileged to be custodians of.

Neelesh Mehta, Co-Founder & Managing Director, Jaipur Asset Management Melbourne
Neelesh possesses strong, varied experience in Financial Services, Retail and Wholesale of Consumer Products across Australia, India,NZ, and South Africa.