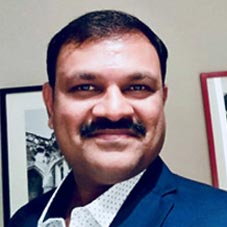 In an exclusive interview with CEO INSIGHTS, Prashanth talks in detail about his professional journey and SEDOTS Info Technologies.
Tell us about SEDOTS Info Technologies and its operations?
During our professional journey, me and the co-founder of our company found out that many of the ERPs and CRMs that were very popular back in 2009 still had some gaps when it comes to their implementation. We cater to logistics and infrastructure companies and their operations are spread across various sites and the management happens in the central office. These prevalent ERP software were not able to capture the exact details and information regarding their field works.
We identified that as an opportunity and we developed our ERP and CRM which can capture the information and transaction that are happening in remote areas using a last-mile connectivity technology. We have been one of the first companies in India to develop an ERP called iPalm ERP & iAgroGeoTagSoftwares which is generally for the agriculture and
plantation operations and we are a market leader in these segments. We are also the first company in India to develop an ERP for seed development corporations known as SEEDSGROW ERP & FIR(Field Inspection Report) Mobile Applications and through this, we are catering to more than 25 lakh farmers.
We have a flagship infra ERP called 'iBuild Prime Suite" with components of 'iInfra PMS Software& LOCATE Asset & VTS Management' and these are very popular across India and in this segment, all top infra companies are our clients. We have been serving most of our companies for nearly a decade and this shows our customer satisfaction and the quality of our services. We are also an ISO 9001:2015 as well as ISO 14001 certified company.
One has to work very passionately on the business idea that they have and if they are not passionate & focussed on that idea, One would never be successful now or in the future
Another major vertical that we are very strong in is the healthcare industry and in this stratum, most of the pharma companies have their operations and employees spread across the country and they do various operations on a day-to-day basis. Earlier, these pharma companies were not able to capture these transactions in an efficient manner. Through our software, we were able to develop these CRMs and we have done one of the best patient-doctor engagement programs, clinical management programs and a top-notch medicine tracking system for our clients. As of now, almost all the top 10 pharma companies in India are our clients. Also, one of our tracking solutions called 'Locate' has been selected as the top 10 tracking solutions in India.
What were the challenges that you faced during your professional journey?
We started the company in the height of the recession and after
more than 10 years, we are now in another tough situation owing to the covid19 pandemic. The pandemic has hit almost all the industry verticals and businesses. So, we try to bring in some value-edition to our client's operations through our products. We are aiming to re-invent ourselves and we have put all our effort to grow in a more resilient way. Even though we are not able to go and meet our clients in person, we are still constantly in touch with all of them. We are doing a topdown approach and all our employees have a clear understanding about the client's requirements.

What are the latest technologies and innovations that you want to implement in the coming years?
We have been constant advocates of open-source technologies from day one and that means 95 software that we have developed are open sources. This allows us to offer our products at a comparatively affordable price to our clients. Also, now we are completely developing on mobile infrastructure platforms and we are also using device-independent platforms so that the products that we offer will work on multiple platforms. Along with that all the products are SMAC (Social Media, Mobility, Analytics & Cloud) platforms enabled, gives us niche advantage with the competition to stay ahead.

What advice would you like to give to the young entrepreneurs of India?
One has to work very passionately on the business idea that they have and if they are not passionate about that idea, it won't be successful in the future. There is also no shortcut to success and unless you are ready to reinvent yourself and overcome the challenges that you will be facing in the industry, you will not be able to be succeed.

Prashanth Bairy, MD, SEDOTS Info Technologies
Prashanth is an alumnus of both IIM Bangalore and JNT University and he has held respectable positions in multiple reputed companies. He is also a member of many Professional OrganisationsTiE Hyderabad, IFCCI and has been invited by IIM Bangalore as a guest faculty to give a lecture on entrepreneurship and innovation. Under his guidance, SEDOTS in 2017/18 financial year has crossed 100 million in turnover.