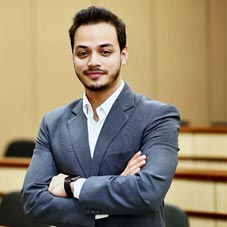 "Do not follow where the path may lead. Go instead where there is no path and leave a trail." When Ralph Waldo Emerson - a champion of individualism, propounded these wise words, embraced them with two hands was the young leader of today, Nirjhar Negi. While youngsters prefer to host down 'own path', they deny joining family businesses. At the dawn of the new generation, Nirjhar realized the need for him to join his family business and lift Tradeimpex Polymers. Founded by Shailendra Negi, a man of rich experience and Six Sigma Green belt holder, Tradeimpex had set up its own standards in the market. However, the company lacked in meeting the new-age approaches to climb the ladder. Nirjhar as an engineer knew the importance of making technology as part of the company's life. With several strategies in mind to make the brand top the chart as one of the most preferred destinations in the sector, he joined Tradeimpex in the year 2013.
With a persistently promoted entrepreneurial spirit, laser-focus, ambition, sheer will, and the willingness to take calculated risks, he grabbed the opportunity and today is listed among the Top Leaders in India. In an exclusive conversation with Nirjhar, the CEO Insights' team traces his journey of becoming a pilot of success.
Kindly throw some light on your background that helps in transforming the company.
Well, I am a chemical engineer from the Vellore Institute of Technology. This proved to be a definitive choice of education as our business was into Polymer Sciences. A technical degree was very beneficial in understanding the core issues of the business and as would be I progressed from handling technical matters to managerial functions and decision making. Here I realized that I needed to acquire new skills to achieve my goal set and decided to pursue an education in Management Sciences and joined the Indian Institute of Business School to further my competence in a meaningful managerial role in the
business. This course proved to be immensely beneficial in acquiring the necessary tools to improve upon my objective to take our business to scale new heights.
I firmly believe that education is a prime factor in bettering yourself and learning is a never-ending process. Even now, I am always on the lookout to learn new ideas, concepts and methods that can help me in my professional journey.
Brief us about your journey with Tradeimpex Polymers.
A family business is not a safe shelter, it is more of a responsibility and I had to earn the position I am in today. I began the journey with the company at the starting level of technical sales operations. My dad is my boss and we never bring any father son relationship in the office. He made it abundantly clear that it would be my performance and my ability to deliver the goals in the best possible manner that would be the only yardstick for my role and position in the company. I too was adamant to prove my potential. I joined the company with a lot of eagerness to learn and work like any other employee and worked hard to become a valuable and dependable staff member. Later, I was promoted to product development, managerial functions and financial decision making as well.
Today, Tradeimpex is a go-to destination catering to OE accounts of Kia, Honda, Tata, Toyota, VW, TVS, Maruti, Bajaj Auto, Hero, Hyundai & Mahindra
Tell us about your responsibilities. How did you steer evolution into the operations of the company?
There is a perfect balance in my duties from meeting the customers to making financial decisions. Initially when I started working my father had his own team and they had their set way of working. As a millennial, I had a lot of ideas that could be implemented for the better but changing the style of working was my biggest challenge.
I understood that the process of change is slow but is important at the same time. We wanted a change for growth and for this I built a small team and through them I was able to set examples. Doing things in a professional way by incorporating technology helped us improve productivity and efficiency. The strategies were accepted and I grew more confident to bring my ideas
and intentions into effect which prompted a vital shift in our operations.

Emphasize distinct factors that propel Tradeimpex ahead of the competition.
We are a sales & distribution company under the stewardship of dynamic and ingenious professionals. We established an adequate infrastructure for the maintenance and delivery of goods at right time and in the right way. Today, Tradeimpex is a go-to destination catering to OE accounts of Kia, Honda, Tata, Toyota, VW, TVS, Maruti, Bajaj Auto, Hero, Hyundai & Mahindra. Started in 2003, our aim was to differentiate in this market space with value addition to the customers. In this process, we created our own credibility and brand image as a long term business associate to major tier1 brands.

We have always been a company looking for improvements. We pride ourselves as a brand that observes consistent growth. The pandemic never affected our operations, because we were technically well-aware in all the aspects and everything was inline. We are technically strong, preparing to launch an eCommerce platform for plastic trade, which is the first of its kind in India.

We are a professional company that is always prepared and transparent with customers and suppliers. These attributes make us retain our customers.

Nirjhar Negi, Managing Director, Tradeimpex Polymers India
Equipped with a Master's in Business Applications and core chemical engineering skills, Nirjhar has led Tradeimpex's journey as a market leader since 2013. The astute business leader leverages his extensive business knowledge to lend impeccable growth to the organization

Achievements
• Steering the business turnover to more than 4X with sheer hardwork and brilliant strategies
• Initiated overseas exports
• Maintained CGAR of 20-25 percent
Vision
Achieving Target of Turn Over 500 Crore (INR)

Hack for Success
• Don't get blind sighted by the market size but focus on Momentum, Margin & Material
• Stay updated about Time, Money, and People. If all these are in place, growth will never be laid back.
• Balance both professional and personal life