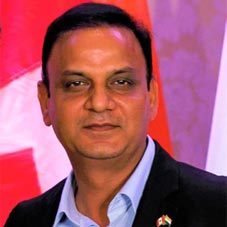 It takes immense determination and fortitude for one to pursue their passion and not settle for what's fate. Not many are courageous enough to take the leap for their dream and achieve their aspiration. But Krishan Atri stands as an epitome of perseverance and inspiration to the one who wants to shine. Right from the time he was pursuing mechanical engineering and MBA, leadership & mettle was deep routed within him. Making the ends meet, the aspirant turned to be a CEO and market leader at a very young age. From the start establishing companies like Comau, A Italian MNC & KUKA Systems, A German MNC and today outshining as a well-versed business leader by conceptualizing Valiant TMS Indian Operations, Atri always proved to be the best.
Atri is a well-known Icon in the field of Production Automation Systems of the Automobile & Aerospace Cluster. Leveraging professional skills & potential, he worked his way up and became the winner of the "Young Entrepreneur of the Year Award - 2018" at the Indian Achievers Conference. CEO Insights engages an exclusive interaction with Krishan Atri to explore his inspirational journey.
What inspired you to bring the Valiant Group's operation in India as 'Valiant TMS Systems'? Tell us more about your company.
It's rare for a Canadian company to set up manufacturing operations in India. It's my passion to establish new MNC's in India to develop new technologies and create job opportunities for young talent. I was always keen to shrug off regulatory and custom irritants-issues foreign investors in India often complain about. The Valiant-TMS Systems began the Indian operation to serve the entire Asia Pacific region with Production Automation systems. Today, Valiant TMS is a Turnkey Global Supplier of automated welding and joining systems. The Indian operation began in the year 2010 with marginal capital investment. The journey of the company kick-started on a good note of an order placed by General Motors for its India and Thailand operations.
Elaborate on your leadership style. Tell about the strategies that go into transforming the team?
Intelligent Automation is our Tag line and we are driven by Innovation and work on Industry 4.0. My guiding principles are based on the values of Entrepreneurship, Excellence Trust, Integrity, Respect & care. As a Project-based company, we are committed to timing, delivery & quality. Work ethics, transparency, and commitment are the key factors of our growth, which a leader leads with examples. We are a young team and I believe that the young generation can do miracles. I always advise my team to believe in yourself, build a long term vision, and work towards it consistently. I have developed Laser Hardening of Car Components Hemming beds & Aluminium Casting Checking Jigs first time in India in 2017.
Intelligent Automation is our Tag line and we are driven by Innovation and work on Industry 4.0. My guiding principles are based on the values of Entrepreneurship Excellence Trust, Integrity Respect & care
Share the milestones that bestowed utmost satisfaction to the success under your guidance?
The recent achievement for Valiant TMS India a huge Turnkey order acquisition from Daimler AG for Mercedes Benz New Models BIW Line Installation in 5 countries. Sensed the corona pandemic situation due to which the world market will go under recession, and just before that, on 31st Jan'20 we grabbed the order at low cost but converted it into a sustainable cost formula by optimizing the process & Equipment. Our team of Design Engineers & Project Management is doing a great job. We are working at 100 percent strength in this pandemic situation, with all necessary Govt. Guidelines.
Your professional journey soars as a muse to people at Valiant and the budding entrepreneurs. How do you share your insight with them and support their growth?
I love the vibe of teaching young students. So, I go to Engineering and Management colleges to give lectures on Robotic & Automation Systems and Technologies. We share our experiences with them and have open chats. I Attend CII, SIAM Conference time-to-time, and
give speeches at CXO, CEO Circle Conferences.

In regards to the Technology Development and Social Responsibility, Valiant TMS India has sponsored IIT Roorkee Formula Student Race in Australia, which got world-rank three by supplying them with Aluminium parts to build the Electric Racing Car. We also Sponsored Volkswagen Vento Cup-2015 held at Greater Noida Formula One Race Track.

Grooming Young Leaders Faster and Better, I suggest the budding leaders stay balanced and keep reinventing themselves every day. Think out of the box, have a clear purpose, and take failure in their stride. Be passionate about the aim, and don't get tired unless you achieve it.

Take us through the growth of Valiant TMS Systems India.
Headquartered in Canada, we have 25 Facilities in 14 countries. The group, on the whole, observed turnover of more than $ 700 Mio.

In specific to the Indian operation, we started innovative manufacturing solutions for our customers-from large MNCs to small local companies. The growth of Valiant TMS has been consistent ever since it came into being in India. At present, we are well-positioned to facilitate and accelerate India's continued economic growth. We are nothing less than what we expected. With sheer commitment, we are poised at as No. 1 brand in the field of BIW Automation. With a substantial growth from 1 employee to 180, we reached the revenue line of $ 35 Mio.

Krishan Atri, Managing Director & CEO, Valiant TMS Asia Pacific & South Africa
Atri is a passionate leader, engineer, business professional, motivational speaker, and sports & travel enthusiast who ensures to resolve global trade problems by inspiring people
• Being a part of the Indo-Canadian Bi-lateral Trade Mission since 2011 to boost Canadian companies' Trade in India. Hosting Mr. Edward Fast, Minister of International Trade of Canadian Government visit to Valiant TMS India Facility in this regard.
• Receiving Fastest Growing Company Award in our Domain in 2017.
• Getting Best Supplier Award from Honda Cars India in 2017.
• Meeting with Mr. Justin Trudeau, Honourable Prime Minister of Canada for Canadian Companies CEO round Table and reception at Taj Palace Mumbai on 20th Feb'2018. Milestones