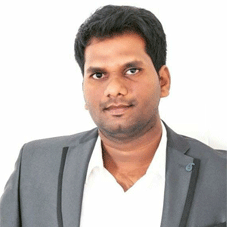 From being a person having no business knowledge to someone who is running four businesses successfully, Raja Chellan, CEO of Rankraze has come across many highs and lows in his professional journey. Leveraging his industry expertise, Raja has also been able to guide Rankraze towards sustained success in the industry, as of now, the company has been able to become an established name as a digital marketing agency, digital marketing training institute, co-working space provider, and company registration consultancy firm.
In an exclusive interview with CEO INSIGHTS, Raja talks more about his professional journey and the operations of Rankraze.
Give us a brief detail about your educational and professional background prior to Rankraze and what motivated you to establish the firm?
I completed B.E. in Computer Science and Engineering from Anna University and then I did post-graduation in software system management. I also have pursued a Bachelor of Legislative Law and established a company in my 3rd year of college but I failed to make it big in the industry because of the lack of promotional activities. That's when I understood the importance of marketing, be it for any business. In the meantime, I got placed in Infosys, Mysore and I worked there for a period and got an onsite opportunity to go to Sydney. I went there and explored working there. I got fascinated by the field of data science but then decided to quit working for someone since I acquired an entrepreneurial drive and became venturesome.
This combined with my lack of knowledge in marketing is what inspired me to establish Rankraze. Initially, I learnt website development, with that skill I offered this service to a few people. Thankfully, I had a number of friends
who are from the marketing domain. They taught my employees how to rank no. 1 on Google using the search engine optimization technique. From there on, I employed a few members to learn every aspect of digital marketing from them and implement the same for our clients. And that's how rankraze.com for digital marketing services and other sister concerns namely cowrkz.in for coworking space services, justicetriumphs.com for company registration services, learnfella.com for digital marketing training institute were born.
I consider myself as a student for life. The shift of this mindset has made me learn so much and this also helps me stay humble
How has been your entrepreneurial journey so far?
During my beginning entrepreneurial phase, I didn't know a thing about marketing strategies to take up the business forward. But as time prevailed, I learned the ins and outs of what it takes to run a business successfully. And in the due course, we scaled our company into a one-stop solution for all the business needs. From company registration service, coworking spaces to digital marketing services there are plenty of things we offer to enhance businesses of all scales now.
What was the most comprehensive marketing strategy you created and executed? Also, describe your best scaling strategies?
I consider personalization to be the key to any marketing success. That way we have outperformed our competitors and at the same time advanced our customer relationship. In the recent past, we campaigned for Mojarto for a photography contest and that was a tremendous success from our side. Visionary is our management style. We are clear about our goals. Hence, we frame a strategic plan to achieve them empower, encourage our employees to work for the same by providing all the essential resources at an organizational, team and individual levels.
We scale our campaigns and data and replicate the same. Our marketing goals are SMART. In the digital marketing industry, this acronym is very popular as well. It stands for Specific, Measurable, Attainable, Realistic, and Time-
bound. This in itself will make any marketing goal a successful outcome. Although the techniques followed to attain any marketing goals are the same, we have to go through a trial-and-error process to see which campaign performs best and optimize the strategies accordingly. I believe that run, measure and optimize is the mantra to be followed for any marketing success. Because we never know which one will work and which wouldn't. The result thus far has been seamlessly good for almost all of our customers' business' success.

Tell us about the achievements that bestowed you utmost satisfaction?
We have a client retention rate of about 89%. This is the milestone that has given me the utmost satisfaction so far. We are striving day after day to better all of our services. Apart from our current offerings, there are also three other ventures at their beginning stage. Those are meant for influencer marketing service, event management service and online news update platform. If everything goes well, I will start to establish these as well.

5. Who do you look up to for inspiration or mentorship and how do you continue to grow and develop as a leader?
There are many business leaders who have made it to history. Legends like Steve Jobs, Elon Musk and Jack Ma have been my all-time favorites'. I hate to be within my comfort zone. Every now and then I challenge myself to learn and be within the zone where I'm completely new in the context of the subject. I consider myself as a student for life. The shift of this mindset has made me learn so much and this also helps me stay humble.

What are some of the successful mantras that can you recommend on leadership for upcoming entrepreneurs?
Empathy, integrity and the ability to delegate are the most crucial attributes of a leader according to me. Leadership is not about displaying authority but empowering others. Leadership is all about being willing to improve the team, the world by the impact made and oneself.

Raja Chellan, CEO, Rankraze
Even in the face of overwhelming challenges, Raja have been able to keep his composure and take result-oriented business decisions which has been a primary catalyst behind the success of Rankraze.