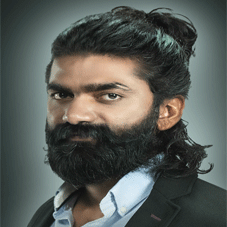 The Covid-19 pandemic has created several conditions, few businesses have witnessed downfall wherein some have emerged during the period of lockdown. One such individual who utilized this period very well is Govind Sekhar, the Founder and CEO of Madhatters Media, he analyzed the need for effective marketing strategies. Conducted extensive research and managed to set up a team of individuals, who holds a wide experience in their respective fields. CEO Insights interviewed Govind Sekhar, where he described the process that was carried out to set up Madhatters Media and their accomplishments.
Tell us the major facets & achievements of your professional journey so far.
I consider the several facets of the growth of our small start-up against so many uncertainties as a significant accomplishment of my career in 2020, but it would have been difficult to make an impact across the country during a global recession without a team as outstanding as ours. My team astonishes me with what they bring to the table every day, despite having to work remotely for almost a year and never actually saw each other in real life. This is an accomplishment that makes me think, 'Wow, we really have outdone ourselves!'
What inspired you to establish Madhatters? How has your company's journey been so far and what challenges did you encounter during this journey?
Honestly, the silver lining that came with these recent months of lockdown has been my business. Madhatters is a vision that I have had for a long time, but I never got around until lockdown, when some of us were blessed with the time, money and privilege to step beyond our comfort zone. Besides, there's always room for plat-forms that shake up the standards. I wanted Madhatters to be the space
everyone wants when they were tired of working a 9-5 company job, and had stories and ideas that we're deserving of being made big.
The Marketing leader of a company undertakes various roles such as Growth Driver, Innovation Catalyst, Chief Storyteller, Capability Builder and Customer Champion. What different roles have you been undertaking at Madhatters? How has your journey been at this organization so far?
At Madhatters, we throw hierarchy out of the window. As a CEO and the Visionary behind the Brand, I re-mind myself to trust my creative leaders and the personal experiences they bring to the table. Every one of us has responsibilities in which we are impeccable and some we learn from each other. My journey at the company has taught me not to lead from the front or behind, but simply to lead with, apart from brain-storming and developing new ideas & solutions with the team.
As a CEO and the visionary behind the brand, i remind myself to trust my creative leaders and the personal experiences they bring to the table
What were the initial challenges that taught you the basic lessons of managing the marketing & advertising functions of the organizations? Also, how did you manage to achieve the success that you had in the later phase?
Without face-to-face encounters, having to kick-start a full-fledged brand, all while the economy was plunging into an all-time low was, needless to say, the biggest challenge I have faced as a boss, and one of its kind. Also, basic tasks had to be re-learned, re-wired and executed differently. Effective 2020 brands, I guess, were those who realized that unprecedented issues needed exceptional solutions-and that vigorous improvisation and adaptation go a long way!
As a marketing leader, describe your best scaling strategies and how you combined various marketing functions to deliver on the goals. Have you ever had to overhaul your strategy in light of new business conditions? How did you do it? What was the result?
Since our team is spread all over the world, alongside back-end operations, the most productive scaling approach has been to participate in business growth in each location. With each team managing potential customers in their respective city/state, we were able to branch out very quickly and make our mark nationwide.

How do you ensure to update yourself with the latest trends and technologies across the marketing & advertising industry so that you could always steer your organization towards the zenith?
Learn, research and discuss! At Madhatters, every individual, whether by interactions, social media or other validated outlets, is encouraged to be aware of current trends & affairs and to shape individual opinions on them. This way the team is motivated to learn and practice in bits each day, both individually and pro-fessionally, in addition to coming up with marketing strategies to ride the surge.

In your professional journey so far, which are the milestones that bestowed your utmost satisfaction - both as an individual and as a founder?
The success of Madhatters ratcheted beyond expectations within only the first 6 months. We built a team of 25 and an impressive customer base in less than a year of 25+ well-known national and foreign companies from various industries and vertical sectors such as Malls, Entertainment, Retail, F&B, Hospitality, Health & Wellness, Education, and FCMG. Our continuity & success by itself has been a landmark.

Govind Sekhar, Founder & CEO, Madhatters Media
Right after completing his graduation, Govind Sekhar began his professional journey with Flipkart. Eventually following his desire to explore more sectors, he joined as On-Premise Manager at Redbull India and then to Country Manager at Dini. Post that, being Marketing Director at an agency, individual projects in Production & Advertisement and 3-4 years as Consultant all gave him wonderful opportunities to fine-tune the passion. Working with various teams, at different locations and amongst different cultures hasn't only helped Govind diversify and pick up 7+ languages on the side, but also build one of his strongest assets of today: the network.

Location: Kerala