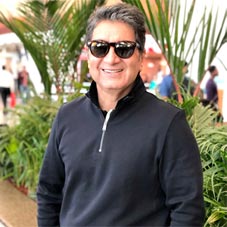 Vinar Overseas, the brainchild of Rajeev Vyas is one of the leading and most reputed trading houses in India that focuses on steel and metals. This experienced professional sculpted the foundation of Vinar with sheer determination and commitment to succeed in the highly competitive global steel business. Today, he is outshining as a well-versed business leader by transforming Vinar from a small company to a brand that deals with thousands and million tons of wide range of products starting from raw material, semis to finished steel products, non-ferrous metals, steel plant machinery, consumables, and spares.
CEO Insights engages an exclusive interaction with Rajeev to explore more about his inspirational journey.
Brief us on The Transformational Journey of Your Brainchild.
Since the inception in 1994, Vinar Overseas Pvt Ltd. has been at the forefront of the steel business for importing critical steel items for commercial, engineering, automotive, and other highend application. The journey has seen many shifts in terms of product portfolio or geographical resources, or business composition. One major achievement is keeping in line with the rapidly changing market scenario, Vinar has emerged as a very nimble and adaptable business unit. Finding appropriate raw material and finished products for our valued clients and also developing an export market for Indian steel producers. Consistency, Reliability, Transparency, and Trust are the hallmark for the last 25 years and Vinar is known as the most trusted partner for some of the major steel consuming and steel making giants in India and abroad.
Enumerate Your Educational and Professional Background.
Having a Post Graduate degree in Economics and Diploma in Management Studies, the twin qualifications gave me a lot of clarity in leading my company and deciding short term, medium-term
and long term goals to explore newer markets, newer areas, and new avenues from time-to-time. Being an Economics student, helps me analyze the emerging trends as to where steel will move, how steel will be consumed and gives me an upper hand in planning our next move. Our vision remains to deliver steel at the most competitive price from the most appropriate source to our clients and our mission is to cater to the clients' needs howsoever small or big it may be. Vinar Overseas prides itself in its tagline "Steel Is Us".
What Different Roles Have You Been Undertaking at Vinar Overseas?
As the Managing Director, I have to wear the hats of a visionary and have to lead the team from the front, keeping them motivated, focused and help them achieve individual goals. As a leader, I have to often insist upon maintaining the business values of Transparency and Trust as the first stepping stone and that has ensured that the team works as per the leader's guidance and vision and do not try and find any shortcuts to success. I can also proudly mention that in the last 25 years of the journey, barring a few, there have been no separations or attrition in the company.
Vinar Overseas moves a million tonnes of steel and raw material in addition to machinery, non-ferrous metals & consumables. It has also spread its wings to more than 50 countries across the globe
Enlighten Us About The Various Products That You Offer.
Steel is a dynamic commodity and the product portfolio has been changing very rapidly. In the current decade, we have been more or less focused on high-end value-added steel for the oil and gas industry which is very critical and difficult to find, and some other automotive grade steel. Both these grades are not produced in India as yet. Besides our regular portfolio of commercial-grade steel that we normally do, today our value-added grade has much more share in our revenue and turnover. Vinar has its major presence in the oil and gas industry and has emerged as an important link for API grade of steel not only in India but all over the world.
Highlight the Milestones that
Bestowed you with Utmost Satisfaction.
25 years in an industry is a long period but I feel that I am still learning and evolving as an individual and professional. I cannot attribute a single event as a milestone but recognition of our company as a trusted partner by steel mills and steel consumers and our ability to improve on the same with our fair play and transparent dealings gives me immense satisfaction. One milestone worth mentioning is our entry into Oil & Gas quality steel in 2008 - 2009 and emerging a market leader thereafter in less than a couple of years.

How Has Been The Support & Inspiration From Your Family In Your Journey So Far?
My immediate family and my elder brother have been extremely supportive and instrumental in achieving my dreams and goals at Vinar Overseas. They gave me complete freedom to work and operate, travel and trade and allowed me to treat the company's work as priority and taken care of the family engagements and social obligations in my absence.

For any professional, it is a delicate balance to create between personal and professional life and I have been pretty successful in doing so because I do not carry my office to home and vice versa. Once I am with the family at home, that time solely belongs to the family and the same thing applies when I am at work in the office or when I am traveling overseas on a business tour.

Are You Engaged in Any Programs Outside Your Organization?
A couple of years ago, I assumed charge as Vice President of SUFI (Steel User's Federation of India) and I have been instrumental in bringing SUFI as a frontline organization for steel users, traders as well as steel mills. Currently we are working in SUFI to launch Steel Futures at Bombay Stock Exchange (BSE).

Rajeev Vyas, Managing Director, Vinar Overseas
Highlights On The Personal Front
Apart from being a successful international steel trader, Rajeev is an avid musician and singer. He regularly performs for charity on different stages in and around Mumbai as well as outside. He has few albums to his credit and currently working on 4 - 5 cover songs which should be released on digital platform later this year. An international steel trader by profession, Singer / Musician by Choice and a Quintessential family man.