Dr.Soumya Ranjan Samal: A Leading Turnkey Service Provider Navigating The Indian Metals And Mining Sector Through Challenges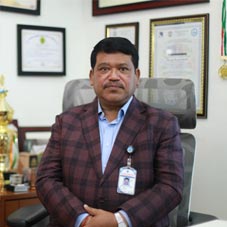 Often termed as the backbone of our economy, the metals and mining industry plays a pragmatic role in strategically leveraging the resources of our country at a relatively confined level. This ascendancy to the pinnacle of success is majorly due to the paramount guidance and assistance of the few industry stalwarts who have managed to navigate the Indian metals and mining sector through challenges and adversities. One such person is Dr. Soumya Ranjan Samal who explored the immense possibilities in the field of infrastructure development and mining with technical know-how, administrative capabilities, experiments and experiences in business. Under his impeccable guidance, his firm Kalinga Commercial Corporation (KCCL) has emerged as a premier and eminent mining organization, executing novel infrastructure development works (civil) contracts by simultaneously winning the confidence and complacence of key clients in the mining sector
Engaging in an insightful interaction with the CEO Insights, Dr. Soumya Ranjan Samal, Managing Director, Kalinga Commercial Corporation Ltd shares about his professional journey.
Give us brief details about your educational and professional background. How do you leverage those learning to lead your organization?
I started my professional journey in 1991 as a businessman with a proprietorship firm. Although I was the only person from my family to enter into business, I drew inspiration from my father who being a Government servant at the veterinary Department, Odisha, who was closely associated with a Marwari businessman Late Madanlal Kataruka. After completion of my ISC in 1978, I wanted to pursue engineering in mechanical stream but ended up pursuing graduation in geology at Khalikhote College of Berhampur University.
When I was pursuing my graduation at Berhampur University, I also used to do a part-time job with Madanalal Kataruka, where my father was working. Madanlal Kataruka had
called me to join his business as a Managing partner of Orissa Order Suppliers which was a partnership firm. I still remember his words, while working with him, he advised me not to be upset for not getting this engineering degree. He told me to mark his words that there will be a time when hundreds of engineers are going to work for me in the future. KCC as a proprietorship firm was started from the year 1991 along with a transport and logistics business. I have started the mining business in association with Jyoti Construction, Barbil, after which we submitted the first individual mining tender by Kurmitar Iron Ore Mines in Khandadharin 2005under OMC, which is a Gold Category State PSU, where this company is working till date.
I am thankful to my KCCL team consisting of 7500+ employees who are giving their 100 percent dedication day and night for achieving my goal.
Tell us about the journey so far and what are the challenges that you encountered and how did you overcome them?
The journey started from 2005 onwards in the mining sector and soon I was awarded big mines called Gandhamardhan Hill Top Quarry from the year 2006 and in the year 2009 the KCC converted in to a limited company The graph raised every year, production and target drastically went up till 2011. After the SAHA commission (a committee formed by the Supreme Court of India) started an investigation in Odisha, where they imposed restrictions on production. So, the company turnover and profit went down from the year 2011 to Oct 2014. But during this crucial period, the company never underwent any loss. The company's golden period started from 2014 onwards as marked 40 percent growth every financial year. This company has also entered into mining of chromite and coal. This year we are aiming for INR 1000 Crores turnover as compared to INR 716.78 Crores of last year. I am thankful to my KCCL team consisting of 7500+ employees who are giving their 100 percent dedication day and night for achieving my goal.
What were the initial challenges that taught you some crucial lessons in company operations?
During the initial phase, we faced immense challenges starting from mining in remote areas where I had to build infrastructure to execute the mining activities at Kurmitar mines, to working in the Naxalite areas. But after observing the performance and ethical practices of the
company along with our looking into the welfare of the local people, they have accepted our continuation of mining for the last 16 years. In my first BOT project at Daitari mines, it was risky to modify a 36-year-old crushing and conveyor system with huge investments without much experience in this area, but we could complete it within the time schedule. Struggling with various restrictions in mining due to mining scamscausing delay of 3 years in commencement of operations and sustaining with heavy loan burdens, we have survived and grown exponentially.

In your professional journey so far, which are the milestones that bestowed you with utmost satisfaction?
The first milestone was the enhancement of capacity from 0.2 to 2.0 Million Tonnes Per Annum (MTPA) within 5 years at Kurmitar mines (2005-2010). The next was overcoming the major bottleneck at Daitari Iron ore mines (OMC) by revamping the Ore Handling Plant (OHP) to enhance production to 3.0 MTPA against the target of 2.0 MTPA, when 0.5 MTPA could not be achieved before the BOT project. In another project at Hilltop Iron Mines, Gandhamardan Block- B (OMC), the target was also achieved in the first year. Production and dispatch of target quantity at Kalta Iron Ore Mines of Steel Authority of India Limited (SAIL) in the first year itself is an record achievement which was not achieved earlier in the life of the mine.

Dr. Soumya Ranjan Samal, Managing Director, Kalinga Commercial Corporation Ltd
Dr. Soumya Ranjan Samalis the only person in his family to enter into business. After completing his graduation from Berhampur University he got into the business of transportation and order supply with different govt. and private sector organisations. He started Kalinga Commercial Corporation as a proprietorship entity in the year 1991. During the period of 2003-04 it diversified to mining sector with mechanized operation of mines of Odisha Mining Corporation Ltd (OMC). Thereafter it has grown considerably with expertise in mining and operating in different sites for raising and transport of Ores and minerals including mechanized ore handling and conveying systems. In the year 2009, it became a Limited company as Kalinga Commercial Corporation Limited (KCCL).

Under his able guidance, the firm has successfully undertaken and completed various contracts in the mining and infrastructure sector like excavation and raising of minerals, construction of roads, buildings and other civil structure in the mining pockets. The dynamism, dedication, determination and charisma of his business skills has plummeted him and the firm to new heights.