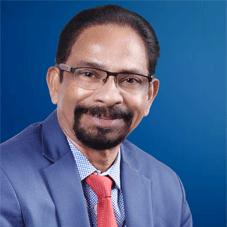 Thousands of miles, countless hours of hard work, extreme determination, and togetherness ­ these four aspects describe the journey of Rajendra Babu from Kerala to Kuwait. His humble and never give-up attitude has laid a foundation for his leadership journey. Today, he is leading one of the renowned names in travel and tourism (Al Waseet Travel & Tourism Services) and playing a significant role in creating this world of possibilities for himself and the organization as a Director.
Below are the excerpts from a conversation between Rajendra and CEO Insights.
Highlight your educational and professional background.
I am a graduate of English Literature from The University of Kerala. My professional career began at Arora Plastics, Mumbai, in the capacity of Executive Secretary to the Managing Director in the year 1973. From there, I moved to Bahrain, Kuwait, Dubai, Cochin, Trivandrum, and came back to Kuwait in 2004.
In 1982, I was given an opportunity by my General Manager in Bahrain to work under him in Kuwait. Later, I was directly promoted to the position of Sales Office Manager, skipping the Superintendent position, in appreciation of my efforts in enhancing the profile of Cathay Pacific Airways in Kuwait, and worked until the Iraq Invasion of Kuwait in 1990.
Moving and exploring in the same field in other countries, finally, I returned to Kuwait in 2004, joining Al Shamel Travel in their US Military travel facilitation unit. Thereafter, I initiated and operated startup travel agency units like Al Shamel Travel Fahaheel Branch, Horizon Travel Kuwait City, Kapico Travel & Tours Fahaheel Branch, Jumbo Travel Fahaheel Branch, and finally landed-up in Al Waseet Travel & Tourism Services in April 2012.
What roles have you been undertaking at Al Waseet Travel & Tourism Services? Enunciate your leadership style.
I have no hesitation to pass on the
credit to my elegant Sales Team and Travel Coordinators of Al Waseet Travel & Tourism Services, popularly known as WTTS, who wholeheartedly accepted my leadership. Simultaneously, I should gratefully acknowledge the generosity and appreciation of our CEO Taher Mohammed, who supported me by all means.
I have been always empathetic to my colleagues irrespective of their designation as Messenger, Clerk, Coordinator, or Manager and motivated them whenever they exercise their efficiency. My journey with WTTS hitherto has been flowing smoothly and that is why I could proudly proclaim that WTTS is my first organization with whom I am a few months away to complete 10 years of continuous service!
My quality of grooming the team without bias and handling problematic situations with a cool head and patience is my `Success Mantra'
What are the strategies/methods that you have created and executed at Al Waseet Travel & Tourism service to bring the business to this level and reach the ladder of success?
I am always at the forefront for any corporate meeting along with my team of professionals, irrespective of the extreme climatic condition in Kuwait, and never ever sit back, relax and enjoy the coolness of my cabin. My presence with the team motivates and enhances their confidence level to achieve even more and better results and at the same time, corporate clients also feel honored by the presence of the Director of the Travel Management company who could suggest suitable and economical solutions to their travel requirements.
To be in the limelight and not hiding behind the curtain will make one a good leader and accepted, loved, and respected by all. This method of sales calls has proved worthy and successful so far.
How do you motivate and keep inspiring the team to get productive results in the business? What is your success mantra?
United we stand, divided we fall! This applies to Sales and Marketing operations also. As a team, we are bonded together without any hierarchy egos. Being the torchbearer, I am always accessible and approachable by ways of mail, direct calls, social media, and physical presence. Every day, at
least once we sit together and discuss our daily programs, give a patient hearing to their suggestions & complaints and find amicable solutions immediately. I am very particular about taking instant decisions on any matter rather than prolonging it for days and weeks together.

I do not like to shout, scold, threaten or abuse my colleagues for any mistakes they make and instead make them understand in a friendly manner as to what mistake they committed and suggest corrective measures so that the same mistake will never be repeated by them. My quality of grooming the team without bias and handling problematic situations with a cool head and patience is my `Success Mantra'.

Tell us the major facets & achievements of your professional journey.
Born and brought-up in a different part of the world, we all will have certain inborn attitudes. It is our mingling, give and take with different nationalities, which shape-up our outlook and approach. As a person, the contribution of my scholar father in my early stages helped me a lot to create empathy towards my fellow countrymen and creatures.

From my high school time itself, I had been groomed to be a free thinker by my Higher Secondary School Teachers who cultivated a type of inquisitiveness and insight in me to probe on every day-to-day matter. This enabled me to be positive in my attitude and approach and never allowed negative energy to emanate from me. The word `impossible' is not at all included in my life dictionary! Sincerity, dedication, empathy, motivation, vision & implementation on time, and feeling of togetherness without egoistic hierarchy are the major facets of my hitherto achievements.

Mr. Rajendra Babu, Director, Al Waseet Travel Tourism Services
Words of Gratitude
I am extremely glad to humbly dedicate this coveted award from CEO Insights magazine to my CEO, Taher Mohammed, who identified my capabilities and motivated me then, thereby providing me with unconditional support and freehand as well as ample opportunities in multilevel operations, which enabled me to prove my worthiness. Also, I do gratefully acknowledge and appreciate the tremendous cooperation extended to me by the entire elegant team members of WTTS, right from the Managing Director to the Messengers, who encouraged me by all means during my expedition with Al Waseet Travel and Tourism Services.