Prashant Sasidharan: Creating Unique Business Models To Transform Eagleye Ventures Into A Modern-Day Centre Of Excellence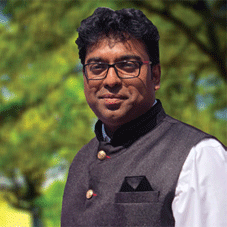 In an exclusive interview with CEO INSIGHTS, Prashant talks more about his professional journey and how he has been able to guide Eagleye Ventures towards sustained success in the industry.
1. Give us a brief detail about professional background prior to Eagleye Ventures
I started my career working in US Technology Park in Trivandrum and then in WIPRO in Chennai as a network engineer before I moved to Kuwait in 2003. But business was my passion from the day I was in college. I worked first in a company called United Agencies, as a Project Coordinator in handling his projects (from construction to project management to procurement). And the CEO of the company Mr. Sabu Joseph was my mentor and it's in his footsteps I learned about business, and the wisdom he shared with me helped me to be what I am today. It's from him I learned the foundations of successful entrepreneurship.
After he left Kuwait, I worked for Theodor Wille Intertrade (TWI) which was a PRIME vendor for US Army around the globe and provides premier end-to-end supply chain solutions for Government & Industrial sector customers worldwide. I was heading the Sales of Middle East and Southern Iraq with the US Army. This job gave me immense knowledge in Sales and Supply Chain and made my network much wider.
Then I started various businesses with business partners and all my businesses did very well but I was victimized on various occasions by my partners and I learned the hard way that a bad business partner can affect your success in all the wrong ways ­ and it's not always obvious when your partner is bad for business. And I learned that bad business partners come in all shapes and sizes, from complainers to reluctant communicators to outright liars and I went through very bad phases when my businesses collapsed due to bad partners but due to God's blessing and my persistence to see success, my business soared. In this phase, I learned how to judge people and their characteristics.
I am glad to say that I have established a reputation for Eagleye Ventures with efficiency in managing our operations and a right corporate culture for our people
It was my wife Mrs. Shweta Prashant, who stood by me during my financial crisis which I had to face due to business cheating, and I literally got wiped out in business. I was initially hit by dark depression, it was with my wife's support, and it was she who encouraged me to restart everything from scratch and to rebuild the business - and She said to me 'just believe in yourself, you have done this before, you can make it back'.
So, we started Oregan Global in Kuwait and we did tremendous business from Global Sourcing to Construction to Technical Services and we expanded all across the globe. As we were going Global, we formed Eagleye Ventures which is a Holding company and all other companies are under this. Now Eagleye Ventures is spread across China, India, Philippines, UAE, Kuwait, Ghana, UK and USA. I had a gut instinct that if I dared to dream with a Futuristic outlook, indomitable will and a burning passion I will surely succeed. I always believed as long as you're willing to work hard and take necessary risks, nothing can stop you from succeeding.
2. A Great leader often possesses a combination of various leadership qualities like creativity, motivation, vision, and empathy. What different roles have you been undertaking at Eagleye Ventures? How has your journey been at this organization so far?
My main quality is I have good leadership skills, I am also a good
communicator and I never forget to thank and practice more gratitude in my workplace or in my business.I am always far-sighted and driven and inspired by where my company is going, also I do not hold back to take risks and take unconventional decisions to see success in my business. I always motivate my employees and boost their morale when needed.

In Eagleye Ventures I handle responsibilities such as creating business plans, arranging financing, reviewing sales of my team, develop marketing strategies, overseeing daily activities, and identifying business opportunities. My journey so far is full of adventure and also was a personal growth challenge like nothing you'll ever experience.

3. Over 15 years of experience in procurement, operation and contracts? What's your success mantra in business and with your vast experience how do you align your organization with your vision and mission and bring value to the company?
My years of experience in procurement, operations and contracts helped me to have a holistic view of the end-to-end supply chain, diagnose the key issues within it, prioritize key improvement initiatives and give specialist advice to my team. My main success mantra is not to get distracted looking at others, always be attentive and alert, open to ideas, be a good listener, don't hesitate to express something, never shy to admit what you are not aware about or what you don't know. I believe that we should distinguish the difference between the Greater Good and the lesser personal good in our dealings.

4. How has been the evolution of Eagleye Ventures and what is the future roadmap of the company?
I have handled my business with integrity and have managed the company with wisdom. I have been kind in my dealings with people and bold in embarking on new adventures. I am glad to say that I have established a reputation for Eagleye Ventures with efficiency in managing our operations and the right corporate culture for our people. At the end, our goal is to become the world's No. 1 company and as of now, we are present in almost all continents and soon we are planning to start our operations in Canada and Australia and thus we will have a presence in all the continents of the world.

Prashant Sasidharan, CEO, Eagleye Ventures
Prashant strives to ensure that he is always up to date with the latest trends in the industry and this has helped him to guide Eagleye Ventures towards sustained business growth.