Munawar Mohammed: A Visionary That Aims To Prioritize On New Age Businesses To Achieve Success In The Industry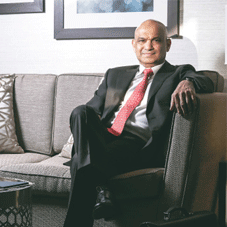 Munawar Mohammed is a Proactive, result oriented and focused Chief Financial Officer with proven competencies in strategic financial planning and operations management. He fosters productive partnerships with internal stakeholders and clients, resulting in the attainment of corporate goals and shareholders value in the most efficient manner. Under his guidance, National Technology Enterprises Company aspires to develop into a market leader in the corporate realm and increase their market presence across the globe.
At the company, Munawar holds the office of Group Financial Director and he is recognized by his peers, subordinates and senior leadership for tenacity and the ability to gracefully handle the dynamics of a rapidly changing business environment. He is focused on values, corporate objectives and strategic planning to directly impact the success, growth and profit of a business and he strives to ensure that he remains current in the industry by constantly updating himself with the latest industry trends.
In an exclusive interview with CEO Insights, Munawar talks more about his profession and how he has been able to achieve sustained success in the industry.
Can you tell us more about your educational and professional background?
I am a finance graduate and for the last 15 years, I am working as a Chief Financial Officer. Apart from this, I have been working in the finance space for over 25 years now as well. The expertise and experience that I garnered during my professional journey have helped
me to have a drive to improve consistently face the challenges head on. During my journey, I have also had the opportunity to work on both investments as well as operations and that has helped to acquire valuable knowledge. I have also been able to work in both the national and international markets, which has given me a clear picture about the Indian and international markets.
How has your expertise allowed you to separate yourself from the rest in the industry?
I have worked for different companies and I have been exposed to the different facets of the industry and this gives me a unique advantage. Facing various challenges in the industry over the years has also given me the skill to make the right business decisions at the right time. This has also helped me to push myself and improve my capabilities and remain relevant in the industry.
Overall, I view my ability to constantly update and re-invent myself as the primary reason behind all my success
I also work with the top management of the organization for increasing the profit and ensuring the sustained success of the organization. I also always keep in mind how I can grow the business in such a way that it will help our shareholders and I build a good rapport with my team and I work with them to realize our business objectives. Even during the pandemic scenario, I made sure that I constantly communicate with my team and get the works done within the stipulated time.
Can you mention some of the strategies that you have implemented at the company?
We have successfully implemented the ERP system and have been using robotic process automation for some time now. Both these have helped us to improve the efficiency of our operations. We have also been able to standardize policies, functions and procedures that have also helped us to improve our operations and understand the
business inside out. I have also been able to grow the annual turnover of the company drastically, as well as increase the number of our direct subsidiaries and investments portfolio. We have our operations across the globe and I have also been able to improve our business from a global perspective as well. I have also made sure that we work as the partners of our clients by understanding their requirements.

How do you update yourself with the changing trends of the industry?
We are a technology-oriented company and that means that we constantly stay updated with the latest trends in the industry. We also innovate from our side itself and this has also helped us to always stay on top of our game. We are investing aggressively in new technologies and have a number of new projects in water purification, and oil and gas industries that are coming up as well. We are also working on the world's largest green hydrogen plant among many other initiatives. We want to be a front runner when it comes to innovation and we are huge into alternate energy, human science, and ICT among many other industries.

What are the various milestones that have bestowed you utmost satisfaction?
Being able to work in leading financial positions in top organizations is something that I am very proud of. My holistic knowledge when it comes to business operations and management has also helped me to help the organizations that I have worked for in a plethora of different facets as well. Overall, I view my ability to constantly update and re-invent myself as the primary reason behind all my success.

Munawar Mohammed, Group Financial Director, National Technology Enterprises Company
Munawar's core expertise is in strategic and financial planning, budgeting, forecasting and organization re-engineering, to name a few. Using his vast industry expertise and business acumen, Munawar has also been able to be an expert when it comes to turning around business organizations for the better and take start-ups to the next level.