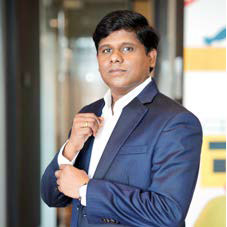 While profit is always a driving force in business, it shouldn't be the only factor. Instead, a business must be built on the principle that it gives back more than it takes. Ramu Arivuvel started Inypay with a similar ideology. He is uncovering his purpose and aligning it with the core mission of his business to make a significant difference in building a life that is impactful and meaningful for the people of Southeast Asia.
An accomplished industry leader with over two decades of experience in the tech industry, Ramu has led digital transformation programs for banks across South East Asia, the Middle East, and North America. He has spearheaded projects with DBS, UOB, Maybank, OCBC, Axis Bank, Citi India, Union Bank, China Bank, Bank Danamon, MAB, and NDB. He has been the mastermind (Technology brain) behind Tonik Digital Bank, which is the Philippines' first Neo Bank. During his association with Tonik, he was responsible for concept and implementation, managing both the group and local banking entities and enabling Tonik's growth to more than a billion dollars through modern banking platforms.
Through Inypay, Ramu is reflecting on his illustrious experiences, and channelizing that into building a legendary financial institution to address the challenges faced by Asia's blue-collar workers, foreign domestic workers, and micro SMEs in SEA and serving the underserved like never before. Let's hear it from him.
Give us an idea about Inypay. Tell us about its flagship offerings.
Inypay is Asia's first pure-play modern financial experience platform. As a bank with a futuristic approach, we intend to deliver cutting-edge technology while adopting evolving business models and keeping customers at the center of every strategy. It is a Singapore
based Indian company whose targeted customer base is underserved people in Asia. It is seen that in Singapore, out of 5.6 million residents, 2.1 million people come under the underserved category, which means their annual income is less than 30000 dollars which makes them not eligible for Credit Cards or loans from any financial institution here. So, most people in times of emergency go to unlicensed money lenders who in the name of helping people exploit them and take advantage of their situation. To save people from going into the wrong hands, we have built a modern banking system and uniquely created digital products whose purpose is to create better lives for underserved people and provide them with opportunities to grow.
Our actions must strive to create an impact in the lives of underserved groups by building financially inclusive products & services that are aimed to protect and secure their lives & build a sustainable future
Our Study Now Pay Later, an educational credit allows blue collar workers to afford education in reputed institutions and upgrade themselves to a better salary, better future, and better life. Our second product, Emergency Cash, an earned wage access product, allows lower or irregular income groups to avail cash in times of emergency. Under our Payment & Remittance services, we provide instant credit/debit between domestic/overseas accounts and digital wallets. Our Micro insurance services support low-income groups who have limited or no access to financial services.
What are your beliefs as a leader?
Real leaders are the ones who work towards building a better world and build purpose-driven businesses. Our actions must strive to create an impact in the lives of under served groups by building financially inclusive products & services that are aimed to protect and secure their lives and build a sustainable future. I firmly believe that without eradicating poverty in Southeast Asia, one cannot be an Asian leader.
What other kinds of digitally innovative products you are planning to invest in to transform the lives of under served people?
We are planning to add a lot more innovation to our product portfolio. We are all set to bring new products which include investments from customers as low as 10 dollars. They can save it in virtual gold as a retail wealth management product, bringing their wallet with the open loop card to move the money or spend the money in their time of need. This is our initiative to create a purpose-driven, personalized saving product and a way to generate wealth for people of the under served group. We further plan to take out digital products to other regions of Asia, starting with the Philippines. We are targeting to launch a Neobank in December 2023. It will generate 200 million dollars in revenue by 2026 with an eight million customer base and a two billion valuation.

What is your advice to upcoming industry leaders who are striving to create benchmarks in this domain?
The entrepreneurial journey is extremely tough. There will be times when you will feel like giving up. Your ability to hold your dream despite challenges will determine your success. As a leader in this segment, you must strive to build digital services that transform people's lives and create a powerful impact in their lives while making them a part of this inclusive economy, inclusive finance, and inclusive society.

Ramu Arivuvel, Founder, Inypay
A Neo Banker, innovator, and purpose-driven entrepreneur, Ramu is leveraging 20+ years of exponential experience to build a reliable place for blue collar workers of SEA to save and access their money, quickly send money to a loved one in their home country, get emergency cash in real time, access reliable insurance and working capital, and invoice financing for Micro SMEs.

•Hobbies:Reading, Spending quality time with family
•Favorite Travel Destination: Malaysia, Indonesia, and the Philippines.
•Favorite Cuisine: Masala Dosa (pure vegetarian)
•Awards & Recognition:Best programmer of the year awarded by Infor in 2004 and then 2 dozen CIO awards from various organizations including the Global CIO Forum.