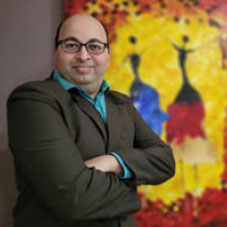 what 'leadership' is and what it is not, is a highly discussed topic today. Whether it is in life or business, leading is a learned skill that comes from experience. Well, being a true leader is a calling that one pursues to accomplish the greatest. Either you're a great one, or you're not. Leadership quality was significantly challenged in the past few years with COVID-19 hitting the world and businesses being disrupted, but as strong leadership is key, many proved their efficiency by spearheading organizations and processes dynamically. And, one of those who deserves to be lauded for his exemplary leadership stint is Girish Naik, Global Mobility Director, Vialto Partners.
We recently got in touch with this amazing personality, who walks us through his journey, Vialto Partners' latest endeavour and much more through an exclusive interview.
Give a brief account of your professional background and experiences.
I qualified as a Chartered Accountant in 1995 (and secured an all India Rank of 12 in my CA intermediate examinations). I am also a qualified Cost Accountant and a Company Secretary. I started my professional journey with Arthur Andersen, in Mumbai, India, in International Tax Consulting where I rose to a Manager position by 2001. I left India for Singapore in September 2001 to pursue an opportunity in International Mobility & Tax Consulting with Price water house coopers (PWC) Singapore and rose to the position of Tax Director there. In that role, I led a consulting team, focused on solving complex client problems in the global mobility space, especially around Management incentives and Compensation arrangements. I moved to Vialto Partners in April 2022, as part of a global sellout of the PWC global mobility business to a private equity firm, Clayton, Dubilier & Rice (CD&R).
How would you define Vialto Partners as an organization and its current position in the market?Tell us about your flagship offerings and what value additions customers can expect from your solutions.
Vialto Partners is a leading independent provider of services supporting cross border employee mobility. It combines the global scale and deep expertise of PWC's mobility experts, with the agility, energy, and resources of a new global set up. Vialto Partners has a 50-year history of helping clients manage global talent mobility, with a relationship-driven and client focused approach. The new setup boasts of nearly 6,000 immigration, tax, HR, and technology professionals globally (with around 100 Singapore based professionals). We are a market leader providing globally integrated solutions supporting global workforce mobility, including immigration, tax, managed services, and digital solutions. We aspire to solve complex, cross border workforce mobility challenges to ensure that clients and their employees have a consistent & compliant global mobility experience.

Elaborate about the technology framework built within the company's solutions and which are the latest technology trends that the company is planning to adopt?
The bedrock of our technology offering is the proprietary and innovative 'my Mobility suite', which provides convenient, real time updates on client engagements, along with status tracking and a managed services workflow for all our client's employees. In addition, this suite also offers end-toend business travel/remote working solutions, which ensures not only the client's employees have the right permissions to work across the world, but also monitors and analyzes data, tracks, and assesses travel risks & prevents setbacks, from a tax, social security, and compliance perspective thus providing the turbulence free experience my clients deserve.

Could you reflect on some of the toughest challenges you have encountered in your journey so far? How did you overcome them and what did you learn from them?
Every day at work presents a new challenge. As some one who leads the consulting team at Vialto Partners, Singapore, I enjoy solving complex business problems and challenges my clients face, as they move their key executives and talent around the globe. One of my toughest challenges arose not too long ago when the COVID-19 pandemic was at its peak. A significant number of my clients' executives were stuck in their non work locations, leading to significant tax, immigration, and social security exposures. With the assistance of my close knit network of Vialto professionals, technology, and negotiations with tax authorities, I was able to help our clients track
their employees, provide bespoke support & solutions to address their tax and immigration issues and apply for tax concessions in their temporary host locations. This approach reinforced some of our global key values of 'Creativity through Curiosity' as well as 'Together as One', showcasing our true one global firm concept and finally, 'Focus on Quality' which helped create the best experience for my clients.

What is the future destination you are heading towards?
My focus in professional life has always been to create a positive experience for my clients as well as the people I work with and work for. I always gauge my success not merely based on how high up the professional ladder I have climbed, but how I can build more business leaders and help my clients solve their important global mobility problems. In my view, the success of a leader is not how high he flies, but how many more he has nurtured to fly higher.

I see my future role as a steward to help mold some of my young team members into future business leaders and be recognized by my clients as a 'top-notch consultant'.

Girish Naik, Global Mobility Director, Vialto Partners
A CA, Cost Accountant, and Company Secretary, Girish has held diverse top leadership positions over two decades of professional experience and specializes in expatriate tax consulting, regional expatriate tax management, remuneration structuring, and all aspects of management incentive plan design and consulting.

Hobbies: As my IG handle says, I love to explore different cultures, heritage, food, and of late, street art hunting.
Favorite Cuisine: Mexican
Favorite Book:The Mahabharata (not yet read the Sanskrit version though)
Favorite Travel Destination:
I love visiting all heritage destinations Angkor Wat and Borobudur are my favorites thus far, but I still haven't visited many Indian heritage destinations so this may change.

Awards & Recognition:
•Secured an all India Rank 12 in Chartered Accountancy Intermediate Examinations ((1993-94)
•Accredited Tax Advisor Singapore Chartered Tax Professionals
•Have authored several articles and thought leadership pieces that have been featured in Business Times and Straits Times, Singapore on topics related to Singapore Budget expectations, Tax changes, and Tax proposals.