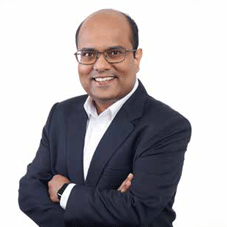 Tokio Marine Asset Management International (TMAMI), based in Singapore, is one of the leading asset management firms in Asia.
Sudip Biswas, a dynamic individual, joined TMAMI in 2019 and has been leading the investment function in the capacity of Lead Portfolio Manager/ Deputy CIO since 2021. With a deep love and fascination for Asia and enjoying the rich diversity this region offers, Sudip is instilled with great inspiration every day which helps him conquer the multitudes of opportunities that the region presents. Having learned immensely from the markets, Sudip has honed his skills in portfolio management and fundamental analysis over the years which have molded him into a leading investment and asset manager of choice.
Here are some highlights from our interaction with him, let's read.
Could you give a brief account of your professional background and experiences? What is the motivation that fuels your daily routines?
'Asia ex-Japan equity markets' encompass my 16 years of experience in both long only and longshort strategies. I worked as a portfolio manager for Korea Investment Holdings' hedge fund, Kiara Advisors, prior to joining TMAMI. Preceding that, I held investment analyst and portfolio manager positions at Lazard Asset Management, Aviva Investors, and Arjava Capital, where I was a key contributor to the development of investment strategies, processes and portfolio design. In 2007, I began my investment and asset management career at Alliance Bernstein. Before this, upon graduation, I started as an executive engineer at Larsen & Toubro and then decided to enroll in Business School.
Being the trusted asset manager of choice for our distinguished clients is my fiduciary duty.I spend most of
my time evaluating potential investment candidates and constructing portfolios. I interact with clients constantly to learn about their needs. I am always looking to generate new ideas, strategies and products to deliver bespoke, tailored and customized client solutions. One such project was the establishment of the India Owners' Fund for Japanese investors which was highly successful.
My Success Motto Is To Always Pick Up New Skills & Expand My Knowledge So That I Can Stay Relevant
You possess over two decades of experience. How has been your path to success and what is your success mantra?
I've had the good fortune to learn about several investment philosophies and strategies from the market. The knowledge gained from experiencing whole economic cycles is especially advantageous since, as the proverb goes, 'History never repeats itself, but it does frequently rhyme'.
With the introduction of passive investments and the growing popularity of other asset classes, the equities asset management business has undergone significant changes. My success motto is to always pick up new skills and expand my knowledge so that I can stay relevant.
How would you define Tokio Marine Asset Management International as an organization and its current position in the market? What is the unique proposition that your organization offers to clients?
TMAMI is the Asia headquarters of Tokyo based Tokio Marine Asset Management (TMAM). Our parent, Tokio Marine Holdings (Tokyo Stock Exchange: 8766 JP), is one of the oldest and largest insurance company in Japan.
With more than $65 billion in assets under management (as of end-March 2023), TMAM is a reputable and successful institutional asset manager in Japan. TMAMI is the Asia investment specialist to our group and affiliates.Our goal is to be the Japanese asset manager of choice to both retail and institutional clients in Japan, Asia and globally.
Could you tell me about the sustainable practices that Tokio Marine Asset Management
International has adopted in its operations and the company's visions towards a sustainable future?
TMAMI takes its obligations as an investor extremely seriously as a premier Japanese and Asian investment manager. Our goal to promote a prosperous economy and foster economic growth through ethical asset management and investment is ingrained in our management philosophy.

At TMAMI, we actively examine environmental, social, and governance risks and controversies as a major aspect of our investment strategy, in addition to financial parameters.

Going forward, what are the changes in market behavior that you anticipate and what are the opportunities that you foresee?
The past three years have seen a tremendous transition in the global macroeconomic environment as we dealt with the COVID pandemic, geopolitical unrest, inflation shock, and the conclusion of the long running easy monetary policy. The paradigm shift is forcing investors and clients to reassess their strategy. We are eager to seize the potential that this change affords for new company models and investment strategies.

In the light of your strong experience within the industry, what advice would you give to the budding industry leaders?
The way investment management operates in Asia has changed due to accessibility of information, incorporation of technology, and a wider investor base actively following the markets. My recommendation is to continually upskill and retool focusing on the incremental value that one is bringing to the table and staying in frequent contact with the clients to stay on top of their needs.

Sudip Biswas, Deputy Chief Investment Officer, Tokio Marine Asset Management International
Sudip Biswas is the Deputy Chief Investment Officer at Tokio Marine Asset Management International (TMAMI), based in Singapore, and the lead portfolio manager for all Asia ex Japan Equity strategies managed by the Tokio Marine Asset Management (TMAM) group. Sudip joined the investment industry in 2006. Sudip holds a B. Tech. in Mechanical Engineering from the Indian Institute of Technology(IIT) in Madras and is a management graduate from the Indian Institute of Management(IIM)in Ahmedabad.