Ranish Haran & Viji Swaminathan: Synchronizing Energy & Experience For Organization's Learning & Development Transformation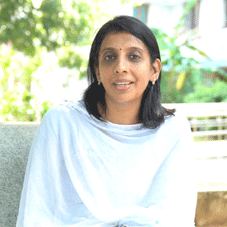 Coming from a business family background, Viji Swaminathan was always passionate about setting up her own business. She started selling furniture from her garage, which today has grown to be impeccably flourishing the business with 3 outlets. Although Viji is still the director of her furniture venture is known as Woodpecker Furniture, she is not pragmatically involved in the business, has subsequently shifted her focus to Training and Development. After spending a year and a half enhancing her skills to set up a Training firm along with her good friend Ranish Haran, Viji Swaminathan is now addressing the nuances of Training, Development and Self-Growth. The duo has a prolific understanding and the comfortability despite a remarkable age gap, which further cemented their expedition as new-age entrepreneurs. Both are marathoners and have their own event company through which they host one of the tops 5 marathons of India called Madras Inner Strength Half Marathon, which has just completed the 5th Edition. Intending to give back to society, they have set up the Inner Strength Trust which is 80G approved and helps children who have Cerebral Palsy.
Engaging in vivid interaction with the team of CEO Insights, Viji Swaminathan & Ranish Haran highlight the exclusivity of their journey as premium Corporate Leaders from Chennai who are determined to refurbish the domain of Learning and Development.
As the Directors of Exxelo Training, what different roles & responsibilities have you been undertaking at Exxelo Training?
Ranish:
In terms of different roles and responsibilities, we take unique rules as the directors, but at the end of the day the success of the organization is what matters. There are certain areas that Viji has taken up very well, like Networking which includes connecting with people and Client Acquisition. Once the client contact happens, I come into the picture and take care of understanding the Clients' Requirements, Customizing Modules, Content Development, and Finance.
What were the initial challenges that you faced during your leadership journey and how did you manage to achieve success in thelater phase?
Viji:
When I started the Exxelo along with Ranish, people saw me more as the director of Woodpecker furniture rather than a leader of Facilitation or Training. It took some time to convince people that both of these ventures are different and deals with different domains. Secondly, spending on Soft/Essential Skills and Training is generally not given much importance because every company feels that the people should be technically qualified. Most organizations give importance to technical skills rather than the Power Skills of the candidate. This has been one of the key challenges faced by us since our inception as organizations are not aware of the importance of these power skills and hence hesitate to invest in them.
Ranish:
Apart from that, another challenge is getting a breakthrough in any corporate which has become difficult because of their setups and connections. They do not want to give chance to new age companies. However, we addressed both the
issues coherently and started reaching out to the smaller companies, where a quick transformation can be seen. We started initiating these transformations by giving them capsule trainings which comprises of 2-3 hours. And not just capsule training programs but we also ensured dual trainers to be the part of a training program. With two trainers our audiences are completely focused as simultaneously they are interacting and checking the responses of the learners which ensures more effective learning. So, when the clients come back for more, we sign up for yearly training contracts with them concerning the different areas and topics which can competently change the culture of the organization.

What are the differential factors that set your corporate training a class apart from your competitors'? Please explain your USP.
Viji: As we mentioned earlier, our specifically designed capsule programs are one of our few USPs. Along with these highly effective training programs, we also work on creating effectiveness reports, which are based on the responses of our audiences. We believe in less or no PPT training to ensure experiential-based outcome-oriented sessions with various tasks, although we do implement auditory with visuals in our training programs. As Ranish said earlier, we provide two Facilitator led Sessions to ensure the combination of Energy & Experience for our learners. So, while one trainer will be highly energetic, another will be highly experienced ascertaining a perfect learning podium. No organization in India assures these kinds of facilities and these factors have certainly given us a unique outlook in the market. Now, we are well-acknowledged within the industry with a distinctive client base comprising of Chola MS, MRF, Voltas, Allison Transmission, Illumine Industries, Jasmin Infotech, NRP Projects, POTHYS, Planys Technologies, Convastay Hospitality and many more.

Can you elaborate on the different corporate training that you provide at Exxelo? How do you evaluate the quality & efficaciousness of the training that you render?
Viji: We have kept pretty simple three-layer programs, which cater to corporates. The first layer is Entry-Level Programs, which encompasses essential skills to build a strong foundation while joining any organization. Right from the basics, we would deal with Communication, Confidence Building, Creative Thinking, Time Management, and all other skills which are necessary for these new joiners in a Corporate arena. In second comes the Mid-Level Programs, which is highly Organizational Goal-Oriented Training and generally focused on the Managers, Mid-Managers, Senior-level Managers. This layer is organization oriented and as each organization needs a different outcome, we help corporates build an exceptional set of distinct employees via this 2nd layer. The third layer is the Senior Level Programs, which enables the Senior Executives to emerge as Empathetic Leaders by making them understand the importance of Emotions, Psychology along with Volatility, Ambiguity, Complexity and Uncertainty that comes as a part of heading the Organization.

Ranish: While providing this Corporate Leadership Training, we evaluate the Quality and Efficaciousness of the training through multi-layer report collection by interacting with the companies regularly. We analyze the data retrieved to know their progress and carry on accordingly.

As the directors of Exxelo Training, what strategies do you follow to overcome various challenges of customers and meet their requirements? How did you make
space for yourself in the industry?
Ranish:
In the last five to 10 years, training has become an important part and parcel of our life as people have realized that we all need to be trained to become a better version of ourselves. When such a great mindset has come within the people, we ensure that we make our space within the industry. For that, we promote 'Active Listening' and 'Art of Asking Right Questions', which helps us in understanding the 'WHY' of training. And once we are aware of the 'WHY', we develop and customized modules to deliver the 'WHAT' outcome the client is looking for.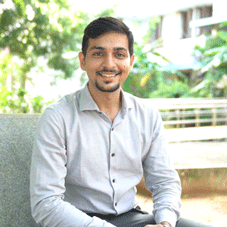 Ranish Haran, Director
Viji:
We deal with HR and believe in spending quality time with our clients to understand their requirements. We consistently communicate with them and ask them whether we are on track or some change is necessary, so that we can be prepared. We don't go with the mindset that the trainer knows everything. So, in case there's something to be handled there on spot also, we are ready to take it as we are very flexible. We don't stick on to saying that we are going to deliver something as earlier promised. We go with the flow and whenever changes appear to enhance the program or make it different, we do it. This has been our success point in making our space in this industry.
Viji Swaminathan, Director, Exxelo Training and Development Solutions
A transformational Trainer and Coach. Viji Swaminathan is also widely known for her Entrepreneurial and Fitness Motivation Skills. Having 20 years of Entrepreneurial experience in the Retail Sector, she was born to be a Trainer and has diligently completed many training courses to equip herself with the proficiencies necessary for imparting the right thing to the right person. Apart from achieving this feat, she started Chennai's one of the top leading furniture chain stores called Woodpecker Furniture. An adherent Marathoner, Viji Swaminathan has been featured on one of the Netflix documentaries – 'Limitless', which speaks about women with a zeal for running despite all the other challenges and hardships they go through. Visit www.vijiswaminathan.in to know more about her.
Awards:
Women Entrepreneurship Award by Saveetha University In 2020
Trail Blazer Award by Vijaya Hospital and RMD Trust in 2021
Glass Ceiling Award in 2021 by Women's League Foundation
Ranish Haran, Director, Exxelo Training and Development Solutions
A passionate Facilitator and Entrepreneur, Ranish holds experience in handling corporate strategies to ensure excellence in employee work culture. High energy and intensive sessions are his mantra to bring the momentum in Mid-level and Entry-level Management. In the last 8 years, he has touched and transformed life of 1 Lakh individuals by helping them adapt and adopt necessary skills pertaining to Behavior, Emotional, Soft-Skills, Technical skills. Ranish has been a Race Director since the last five years conducting the Madras Inner Strength Half Marathon and played a major role in making the event one of the top 5 events of the country (according to the survey collected by MRR Race Rating.