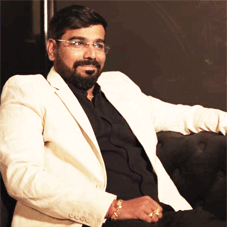 The Indian animation and VFX industry is an often-overlooked market segment and with limited support from allied government bodies, it is becoming harder for the businesses operating in the segment to expand their horizons and realize their true potential. Even in the face of overwhelming odds, one company that has been able to make a name for themselves at the national level is Spice Media. Starting their operations in 2013, the company has been able to make commendable growth in the Indian and international animation and VFX space in seven years and the quality of their production and services has helped Spice Media to carve out a niche in the Indian market.
Even amidst the rising competition from both the Indian and international players, Spice Media has been able to hold their own and increase their market presence steadily. The company is headed by PonraviGunavel who was passionate to create a pioneering Indian animation and VFX company that will be at level pegging with the top global leaders in the industry. Apart from just operating for the monetary benefits, Ponravi wants to leave a lasting impact in the global animation and VFX market realm.
In an exclusive interview with CEO INSIGHTS, Ponravi talks more about his professional journey, as well as, the operations and aspirations of Spice Media.
Can you tell us more about your educational and professional background?
I did my B.com from Kamaraj College in Thuthukudi and my MBA
from IGNOU. And I have also completed my program in cost accounting. I have worked with a plethora of top-tier companies before me and my two brothers decided to start a business of our own. Our operations are mainly in logistics, exports and imports and we are holding major shares in India and Maldives today. During all this time, I also had a keen interest in graphic design and VFX services and that is why I established Spice Media. My passion for this profession was the key driving factor that has helped me to not only create but also run the company in an optimal manner.
Elaborate more on the operations of Spice Media and the services that you offer?
We are into complete 3D animation and we have got specific artists and animators that take care of particular things in the best possible way. Apart from that, we also provide a plethora of VFX services. We have our teams in Mumbai and Chennai. In Mumbai, we work for various Hollywood and Bollywood productions and in both these locations, we have supervisors and various processes at place that ensures the quality of the services that we offer.
We will soon receive our TTN certificate and this allows us to convert ourselves into an international level studio
We also make sure that we incorporate the latest technologies and software in our company that will help us to increase the quality of our outputs. The expertise and experience of our team as well as the quality of the output that we produce are our USP. Also, the services that we offer are at a competitive price and we also design and create AR and VR 360-degree models. We have worked with multiple medical colleges and incorporated this technology to help the students better understand the anatomy of the human body.
We will soon receive our TTN certificate and this allows us to convert ourselves into an international level studio. In India, we are also working with government organizations and help them with their education. We have also partnered with the government of Tamil Nadu to create animators and provide them employment. In our company itself, we are aiming to hire 1500 animators and other artists. This course that we are going to provide will be completely free and we are requesting funding from the government and our aim is to get more people from the rural side and provide them development.

Can you tell us more about your role as a founder in the operations of Spice Media?
I am responsible for each and every activity in the company and I have always prioritized on strategic planning to take the company forward. We are planning to invest more in the company and the need for content has dramatically increased during the covid19. Right now, we are providing our services to other companies but in the near future itself, we are aiming to come up with our own content.

What are the future plans that you have laid out for Spice Media?
We want to hire and recruit more people from both inside and outside India. We are also planning to be a public limited company and list ourselves in the national and New York stock exchange. We have a subsidiary company in Singapore to get more international projects and going forward, we are going to give more emphasis on onboard more overseas clients. Also, we want to be a standard-bearer in the animation industry at a global level and take the Indian animation industry to global standards.

Ponravi Gunavel, Chairman, Spice Media
Starting from scratch, he has been able to develop Spice Media into a reputed business organization that stands for perfection and excellence. With him spearheading their growth, Spice Media is aiming to reach for greater heights in the global animation and VFX industry.