Ravi Venkata Oruganti: Understanding And Appreciating The Different Skill Sets, Personality Types And Communicational Styles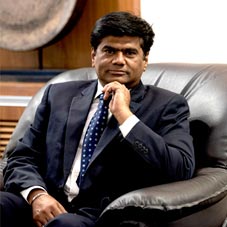 The global business climate is rapidly evolving and today's Chief Legal Officers (CLO) have to be swift to embrace the changing strategy of their company as well as being very diligent in ensuring that their company is safe from reputational and financial risks brought on by the increasing number of regulations and data protection issues.
Ravi Venkata Oruganti, Group Head- Legal & Compliance, Muthoot Pappachan Group, journeyed down his memory lane along with CEO Insights and shed some light on his professional expedition so far.
What were the initial challenges that taught you the basic lessons of developing, implementing and managing the compliance issues for large organizations and how did those help you achieve the success that you had in the later phase?
To be honest, I did not know the realistic approach to my legal and compliance subject matter and the primary reason to aspire for the expertise and mature as a professional was this confusion within me. The business world has influenced and sharpened my personality. I understand that what I studied as a student helped me to succeed in my academics, but the difficulties I faced and the topics I learnt from my seniors helped me pass the LIFE exam. I owe it to all my seniors, supporters, friends, and my team also, there are many events and encounters and it would be hard to bring them down in writing.
But one episode that taught me was very impactful and still lasting, the meaning of 'Customer' to a company. I was attending a work interview and the CEO asked me about the rationale decision on a product launch taken by my then boss and I was unable to justify and the worst part was that it was a management decision, I conveniently said. He asked me if I was justified in allowing it, what the job of a Compliance Officer is, that was an eye- opener; I realized a
Compliance Officer's independent and impartial position.

In your journey so far, which are the milestones that bestowed your utmost satisfaction - both as an individual and a CLO?
Involved in a corporate funding project and as a young professional conducting due diligence and facilitating meetings to achieve financial closure, I was able to obtain SEBI's FII license approval. Approval for the launch of the Mutual Fund Scheme was successfully obtained. Completed a company's corporate takeover action, aided in a cross-border deal, and Managed to draft a petition and supervise the Court's capital reduction programme procedure. Drafted the plan and received the mandate of the EPFO for the management of its assets. I appreciated the moments at a personal level when I managed to persuade the regulator to enact policy reform, offering colleagues solutions on several occasions to address the complicated situation on product proposal, GTM and operational problems.

Inside an organization, monitoring and handling legal & regulatory problems brings a lot of stress and implies rich skills & time. How do you manage to reconcile your personal life with your professional life?
The voyage has been smooth sailing so far. I overindulged when I look back in time, but at the same time, I suppose, if I had not taken the leap to see the broader range of the canvas, life would be dull and little to cherish. At the right time, I was in the right place. I was there when IT was in vogue; when the focus was financial services (investment) I was in the Mutual Funds Industry, I was there with Airtel Money when digital payments were picking up; Now I am associated with Muthoot Pappachan Group companies where the higher purpose is 'To transform the life of the common man by improving their financial wellbeing'. My professional career milestones have come at regular intervals and have also helped in my personal life. There was still a work-life balance, and my family was my pillar of support.

What are some of the latest technologies deployed in the management of regulatory compliances to benefit the organizations?
Muthoot Pappachan Group, is in the midst of digital transformation in the IT Infra, core loan product application to CRM, covering all facets of the industry. At MPG, we have also introduced a compliance automation platform. MPG has four
Reserve Bank of India (RBI) regulated NBFCs with a wide retail client base, making it imperative for us to track and monitor Compliances and mitigate risks. Technology is complex and one needs to be up to date with the latest changes. It's the motto. I have had the ability to incorporate automation tools and apps in the past, including AML software and applications for litigation management.

Explain the Digital Blue project in collaboration with UST Global and also, about the #MuthootBlue pitch briefing.
Muthoot Pappachan Group, popularly known as Muthoot Blue, a diversified conglomerate in the financial services industry, announced kickstart of an end to end Digital Transformation of its Financial Services business, as a significant part of group wide business transformation exercise. This Transformational journey, aptly branded as Digital Blue, is in partnership with UST Global, a reputed global information technology solutions and services company. As a comprehensive and complete techled Transformation, Digital Blue is an intensive & extensive three-year long journey with the ultimate objective to add wings to Muthoot Blue's Purpose, 'To Transform the Life of the Common-man by improving their Financial Well-being'.

Our #MuthootBlue Vision is to be at the doorstep of the common man as the most trusted financial service provider, fulfilling him instantly with simple and convenient products. And the mission is to provide millions of ordinary people with timely, small credit, and also provide them with easy options to save their hard earnings. In addition to this the Group's values are that we will do anything to win and retain the trust of all stakeholders and do nothing to lose their trust.

Ravi Venkata Oruganti, Group Head - Legal & Compliance, Muthoot Pappachan Group
Being an expert in his profession, Ravi is a qualified Lawyer from the University of Madras, Associate Company Secretary from ICSI and have passed the Insolvency Resolution professional exams under IBBI. Before joining Muthoot Pappachan Group (MPG), Ravi had valuable stints which are worth mentioning, such as Bharti Airtel Ltd, Kotak Mahindra, HSBC Global Asset Management, and Reliance Mutual Funds, New Vernon Private Equity Fund and MphasiS BFL Ltd. In each of the above stints, he had something unique to learn and contribute.