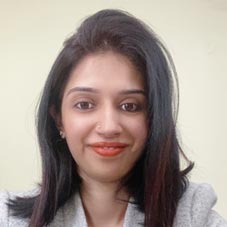 The world of business is facing tremendous technological, political, legal, social, and commercial changes. The winners will be those who are nimble, ingenious and stay in sync with the upcoming industry trends, alongside nevertheless overlook the legal & regulatory issues. However, confiding in the legalities many firms today have appointed Chief Legal officers to govern the firm's legal department, lead in-house attorney, handle major legal & regulatory issues, and conclusively work on minimizing legal risks. Ridima Bhargava (Head Legal and Strategy, Gameberry Labs), is one such maestro leader who being collaborative is instrumental in balancing the legal and regulatory concerns at Gameberry Labs.
Engaging in an interactive interview with CEO Insights, Ridima dictates about her professional peregrination. Here are the excerpts:
Delineate about your educational and professional journey to becoming a CLO at Gameberry Labs.
I did my schooling from Modern School, Delhi and graduated out of DES Law College (Fergusson), Pune, in 2009. I then spent five years practicing corporate law (private equity, M&A and advisory) in a number of law firms, including Vaish Associates and Dua Associates, Bangalore. I received a big break fairly early in my career. In 2015, the sixth year of my profession, I was offered Head – Legal role at Ola, one of India's largest ride hailing companies. During my time there, Ola diversified its business & offerings, spanned from payment systems and financial credit to hyper-local & food delivery, many of which are regulated sectors and required a "ground-up" approach to how business could go about implementing their plans. Given the intense competition in the ride hailing space, I was also tasked with running bigticket litigations, including anti-trust investigations.
At Gameberry Labs in Head - Legal & Global Strategy role, I continued to face challenging legal issues, across gaming, privacy laws and intellectual property. The key
difference though was at Gameberry Labs, I had a global profile and had to deal with multiple jurisdictions, including Europe & Middle East.

What were the initial challenges that taught you the basic lessons of developing, implementing and managing the compliance issues for large organizations and how did those help you achieve the success that you had in the later phase?
There is always some place that you haven't looked yet! Ours is a fairly regulated system, and most businesses have multiple periodic compliance issues that need attention and follow-up.

Often, business proposals would wade into territory that was either unclear or open to interpretational risks, given much of what we were doing had not been "tested" in the market. Taking those calls was often a challenge, given especially that businesses I worked for were majorly institutionowned. New-age start-ups look for hyper-growth and unlock legal challenges, which were not built or designed for digital first economy. My role was often not just limited to wearing the legal hat, but to make business decisions for management, bearing in mind the resources and time constraints.

As we know, the barriers to progress for women are many in our society. As woman CLO, how crucial has your industry experience been in shaping your professional journeys? Do mention the milestones that bestowed you utmost satisfaction - both as an individual and a CLO?
Thankfully, by the time I entered the profession, the glass ceiling (gender discrimination) had been shattered. This is not to say there isn't a long way to go, but as a fact, this profession has grown by leaps and bounds when it comes to women lawyers.

To me personally, my engagement with Ola during their expansion was very rewarding. Much of Ola's expansion into new geographies and businesses today was conceived or implemented during my time there. I was their first legal hire and was tasked to create an entire legal function, which was as high as forty, by the time I had left. At such an early stage of my career, that experience was both challenging and enriching at the same time. I would count that opportunity as extraordinary. And, at Gameberry, I was their first hire. The journey of growing the company to over fifty million active users a month was fulfilling.

Overseeing and managing Legal & Compliance issues within an organization brings lot of stress and implies rich skills & time. How do you manage to balance between
your personal & professional life?
I would say I always like looking out. Also early on, I realized there were real benefits to intelligent delegation and follow-up, without necessarily having to micro-manage colleagues. This has resulted in a culture where people take ownership for what they do, and are proud about what they ultimately deliver. One of the perks to that approach is that one does free up some time on the calendar that would not have otherwise been possible.

My parents and my brother have been my inspiration and supported me always. Fortunately, I met my partner at work – he is very much part of the start-up world and understands what this takes. It also helps to have somebody to brainstorm on various business ideas. So, there's never been an issue to managing my personal or professional life.

Are you engaged in any sort of mentorship programs outside your organization? And, how do you update yourself with the latest industry trends and technologies?
I take some time off to read-up on recent developments, but have found it often easier to track industry trends and technologies with one ear-to-the-ground.

I am also actively involved in investing and advising early-stage start-ups like Cropin, Azah and Beyond the Bar (e-learning platform for young graduates out of law schools), and few more.

Are you a gadget-savvy person? Which are the apps that take most of your screen time?
It is probably hard to define 'gadget-savvy' in today's world, but I would consider myself one. I stick to a basic set of apps to get by, and prefer that my phone is not cluttered. Outside emails and my WhatsApp messages, I would turn to YouTube for much of the time I spend online.

Ridima Bhargava, Head Legal and Strategy, Gameberry Labs
Leading the company towards sustained success in the diversifying business landscape by guiding along with the major legal & regulatory issues, and consecutively working on minimizing legal risks
A Law graduate from DES Law College (Fergusson), Pune, Ridima is a passionate corporate law professional endeavouring to help businesses grow by handling their legal and regulatory issues.

interests: I spend much of my time outside work writing and travelling. I have published a book "Five summers in Pune".
Cuisines: Simple Indian food.
Travel Destinations: Gstaad (a fairytale village in Europe)