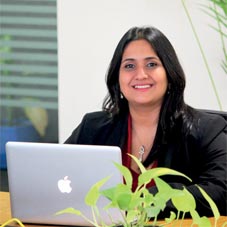 Netflix, the household name, has become our go-to channel for entertainment. The multi-billion-dollar brand has offices in more than seven countries and acquired 203.67 million subscribers from all around the world. Most importantly, the company has onboarded around 9400 strategic and creative minds. The stats as per Q4 of 2020 looks huge and beyond. And, leading such great companies is not a calk walk. Especially the legalities, compliance, and regulations at such large organizations is a dire and brainstorming responsibility. With that said, Netflix has appointed Sheetal Sawhney Kapur as the Director- legal, recognizing her as a perfect strategist to help them sustain both the internal and external market atrocities. Featuring her as one of the most influential Legal Officers, CEO Insights had an exclusive conversation with Sheetal Sawhney Kapur of Netflix.
Brief us on your educational and professional background
After completing my LLB from ILS Law College in Pune, I went to Australia for my Masters in Public and International Law from the University of Melbourne. At that time, my family was in Canada, and I wanted to be closer to them, so my husband and I moved to Canada, where I worked at Fasken Martineau LLP - one of the top law firms in Toronto. We then moved back to India in 2011. I joined J Sagar and Associates in Gurgaon. Towards the beginning of 2013, an interesting opportunity came along at PayU Payments - a leader in the nascent payments industry in India. This was one of the most rewarding experiences for me and I rose to the position of Vice President, Head of Legal. In 2017, I joined Google to lead their Next Billion Users initiative and led the launch of Google Pay. Post this, I joined Netflix in 2019.
Highlight few interesting aspects of your professional journey.
My journey in the legal profession has been largely defined by the areas of work that I feel passionate about. In my career, I have had the opportunity to work on several
games changing projects. Many of these opportunities have been a result of sheer hard work, and some have occurred because I have been in the right place at the right time. I left J Sagar and Associates, one of the finest law firms in the country to join PayU Payments, which was at the time, a startup. At PayU, I acquired multiple business-critical licenses for the company such as a PPI license, a BBPOU license, and the acquisition of an NBFC license. I was also a part of the PayU-Ibibo demerger and PayU's acquisition of Citrus Pay. Perhaps, the most enriching experience was being part of the senior management team and getting to decide the strategic direction of the company.
Sheetal designed and launched recurring subscription payments for Netflix, initiative that aids in customer retention and prevents revenue leakage
At Google, my biggest achievement was spearheading the design and launch of Google Pay. GPay has become synonymous with payments in India. At launch, it was the first multi-bank app developed by a multinational brand and also the first MNC app to get permissions from NPCI and the Reserve Bank of India. I was also instrumental in launching YouTube subscription payments. In my current role at Netflix, I have led the company's partnership with Jio. This is the largest such deal in the OTT industry and is a major customer acquisition engine for Netflix in India. I have also designed and launched recurring subscription payments for Netflix, an initiative that aids in customer retention and prevents revenue leakage.
What were the initial challenges that taught you the basic lessons of developing, implementing, and managing the compliance issues for large organizations?
At the beginning of my career, I did struggle with helping businesses understand the importance of compliance while at the same time increasing my risk appetite. For businesses especially a start-up, compliance is synonymous with roadblocks. Therefore, understanding that business does not always want to know what the laws say but want to know how and what they can and should do; my team led the creation of a compliance tool based on operating process notes that catered to the business in a language that
business understands. The system merges compliances in the day to day working of the teams and organization. Also, we ensured that we provide solutions within the regulatory and compliance framework instead of just red-flagging issues. This approach helped me throughout my career. Most importantly, it formed in me a deep-rooted view that in-house lawyers can be great assets to companies when they take a problem-solving view by keeping the business requirements paramount.

What are some of the latest technologies deployed in the management of regulatory compliances to benefit the organizations?
My first in-house role was at PayU Payments. When I had joined, a majority of the legal and compliance processes were manual. This led to the loss of efficiency and opened up the organization to multiple risks. My first solution was to create an in-house solution for document management and contract tracking. As the business grew, we implemented a third-party CRM that increased our efficiency exponentially. Besides, I also implemented an online agreement process with e-Stamping and e-signatures along with a unique KYC collection process.

As I moved to Google and then on to Netflix, many of these processes were automated because these companies are technology giants. While there are still areas of improvement, my prior experience has taught me how to be innovative in solving such problems. There are several third-party solutions available these days, but I feel the larger challenge is to get the legal community to embrace these technologies.

How do you manage to balance between your personal & professional life?
To be honest, the battle with work-life balance is an ongoing one. There are times when work can get extremely hectic and therefore family and personal engagements must take a back seat. On the flip side, every chance I get to spend quality time with my family and friends is a blessing. I have learned that a good guiding principle is to prioritize which aspect of my life deserves the most time. I don't get it right always, but I continue to try!

Sheetal Sawhney Kapur, Director - Legal, Netflix
Personal Front
I am an avid movie buff and must watch new releases on the first day. My other passion is to travel and apart from the poles, I have visited all the continents.