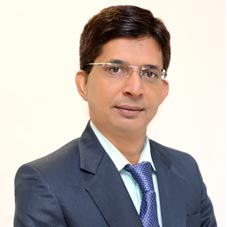 Much more than legalities, compliance, and regulations, it is important for a legal officer to have the necessary arsenal like far-sighted strategic thinking to survive the internal and market atrocities. From sketching risk management strategies to designing effective policies, the CLOs help a company experience stability and success in a risk-prone environment. One such versatile CLO, who is the spine for business security, safety, and balance is Suresh Savaliya - Head Legal, Company Secretary and Compliance Officer at EPL Limited (formerly, Essel Propack Limited) head quarter in Mumbai, a global packaging company and a Blackstone Group portfolio entity.
With over 20 years of versatile experience in the field of inter alia corporate laws, company secretarial, statutory compliance, regulatory affairs, drafting agreements, and legal matters, he is a visionary and enabler at EPL. He carries the experience of working with giants like Reliance Industries, Nitco, Kalpataru Group, Jindal Group, and Bharti Group. At present, he is associated with EPL Limited as a Head Legal & Company Secretary, handling domestic & international corporate affairs, legal, statutory compliance, merger, and acquisitions. CEO Insights engages in an exclusive interview with this determinant leader to explore the endeavors in his journey.
Highlight interesting facts about your professional and educational journey.
Apart from my two decades of experience with various top-notch corporates including EPL, I am a speaker on corporate laws at ICSI knowledge centre and conducted seminars. I have participated in panel discussions, seminars, and received a prize at the "Speaker's Forum" at Ahmedabad Management Association (AMA).
In terms of education, I hold a Master degree of law (LL.M.) in Commercial Laws, LL.B. in Taxation, and LL.B. (Spl.) from Gujarat University. I have done B.Com in accounts and audits and passed Diploma in Cyber Laws from Asian School of Laws. Back then, I achieved 1st Rank in 'Economics' and 9th university rank of Bhavnagar University in B.Com. My articles are published in the monthly journal "Chartered Secretary" by ICSI, New Delhi, 'The Chartered Accountant Journal' by ICAI, New Delhi, journal "SEBI & Corporate Laws", Taxmann publication. I have also received a prize from the Gujarat Law Society for College First in LL.B.
Global and diversified experience of Suresh includes dealing with overseas corporate laws viz. UAE, Mauritius, Singapore, Hong Kong, UK, Netherlands, Germany, USA, African Countries and others
As the Head (Legal & CS) of EPL, what are the key drivers that you deploy to ensure that the company's regulatory compliance are used appropriately to meet its short/long-term needs?
It's always my efforts to keep myself updated in terms of amendments in law and keeping a tab of the changes in regulatory frameworks and advice on the same. Practically, the compliance function will gain importance during the storm, however fundamental of the Compliance function is not to get into the storm or protect the organization from wasting of time, money, and energy due to series of consequences of non-compliance.
What are some of the latest technologies deployed in the management of regulatory compliances to benefit the organization?
We have set up an online software based robust system for seven factories and other offices to ensure statutory compliance. Implemented e-Board or paperless board meetings and software-based Board performance evaluation. I was instrumental in designing and implementing software or IT platform for agreements management and automation. We standardized major agreements, PO and SO.
What opportunities do you foresee in the current packaging industry, and what are your strategies to add for the next year's role as the Head - Legal & CS as things are changing dramatically?
Sustainability will be the key driver in the plastic and packaging industries. At EPL, we have been committed to making packaging greener every day. I believe that "plastic" is a wonderful and natural creation on this planet, however, it is cursed unnecessarily and without understanding. Who helped most in fighting against the Covid19 virus? It is plastic. Plastic is not the problem but a lack of discipline of the public is the problem. A dearth of feasible & innovative framework, infrastructure for plastic waste collection, and management will be a challenge for the plastic and packaging sector. Environmental laws have been stringent globally day by day and it would be imperative in the future for organizations to count sustainability and the environment as an important factor to sustain. The role of a legal officer would be challenging in terms of striking a balance between the new regulatory regimes vis-à-vis sustainable business growth.

In your journey so far, which are the milestones that bestowed you utmost satisfaction?
Having worked with diverse industries and a different set of organizations gave me the satisfaction of dealing with challenges and learning. Especially handling merger and acquisition gives me thrill, pressure, and satisfaction of dealing with challenges and mitigating them.

Overseeing and managing Legal & Compliance issues within an organization brings a lot of stress and implies rich skills & time. How do you manage to balance your personal & professional life?
It's all about time management. Time management is a learnable skill. Impliedly, how to deal with people is an important part of time management. Legal and compliance are knowledge-driven professions where knowledge is wealth and pride too. To gain knowledge, one has to read regularly and thrive to learn every day. Knowledge and time should be of paramount importance for a lawyer.

Suresh CS Savaliya, CS & Legal Counsel, Essel Propack
Suresh loves Reading books and writing poetry. He is a spiritual person, keen to learn with a challenging getting-done attitude.