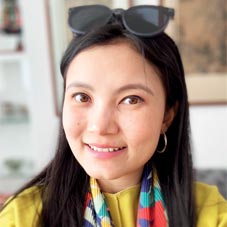 Standing beneath a load of responsibilities, legal officers ensure the smooth sail of the organization by monitoring and leveraging various legal affairs related to business, compliances, and regulations. One such phenomenon is Disket Angmo who is a rising star in the legal domain owing to her proficiency, knowledge and experience. Being a woman, she refused to succumb to the norms of the patriarchal society and emerged as a role model for younger generations through her sheer will and dedication. Currently working as Head - Legal & VP – Strategy for Purple Style Labs, the biggest Luxury Fashion House in India, Disket is acknowledged as one of the distinguished legal officers of the country.
CEO Insights engages in an exclusive interaction with Disket Angmo to explore more about her and her professional journey as a paragon of legal domain.
Give us a brief detail about your professional journey before joining Purple Style Labs.
After securing a campus placement at Khaitan & Co, Mumbai, I spent the initial 2 years of my professional career working with their Corporate, Intellectual Property and Litigation teams. Later I chose to move out with one of the Partners of the firm, Vaishali Sharma, who then founded a boutique law firm, Agram Legal. At Agram, we focused on filling gaps in the industry and within a year of its existence, Agram was leading in league tables and turning heads across the industry. After taking a sabbatical to spend time with family and to explore the world, I joined a young intellectual property firm, Anand & Anand and Khimani (AAK), to kickstart their corporate practice. After over a year at AAK, I ventured out to focus on interests outside the legal profession when an ex-client approached me with an offer that would allow me to stay connected to the profession while also working on other aspects of business in an industry, I have always been
personally invested in. That's when Purple Style Labs happened.
What are some of the latest technologies deployed in the management of regulatory compliances to benefit the organizations?
Several software providers will customize products for you, to help you manage compliances and deadlines in a way that works for your organization; such as PowerDesk, Agile, Capgemini, Complinity, and more. At Purple Style Labs, technology has always played a big role. We have a big team of tech experts in-house and pride ourselves in being an organization that's using technology in every aspect of our functioning, which isn't yet very common in the industry that we operate in. A lot of our tech solutions are developed in-house and we rely on tech solutions for our core business operations, our HR management and compliances as well as all other compliance and management systems.
I'm positive that a few years down the line, interviewers won't find the need to question women about barriers
Being a woman CLO, how crucial has your industry experience been in shaping your professional journeys?
First and foremost, I was lucky to start my career in a city like Mumbai and work with mentors that always pushed me forward. Yes, there were people (even women) who tried to pull me down, but life isn't a bed of roses and I've grown up being taught to stand right back up. One construct that I think ended up working to my advantage was that when you grow up being surrounded by a lot of men in power, it doesn't jolt you anymore. Over the years, I've seen a wave of change and I'm positive that a few years down the line, interviewers won't find the need to question women about barriers.
In your journey so far, which are the milestones that bestowed you with utmost satisfaction?
A couple of years ago, I was negotiating a deal involving a leading multinational conglomerate when the applicability of a specific provision of company law came up. The Partner of the firm on the opposite side took an interpretation opposite to the one I believed was
correct. Everyone in the industry seemed to agree with my opposing counsel but I wasn't convinced, and my interpretation helped my client so I couldn't back down until I had exhausted every possible recourse. So, I wrote an email to the Ministry of Corporate Affairs (MCA) and to my surprise and everyone's shock, MCA responded and confirmed my interpretation.

Another such memorable deal was a strategic investment in the retail space with one of the Mahindra Group companies, Mahindra First Choice Wheels, which drew a lot of eyeballs. I was working at the start-up law firm, Agram Legal at that time and Mr. Nagendra Palle, CEO, Mahindra First Choice Wheels said in the India Business Law Review 2016 edition, "I commend associate Disket Angmo for having successfully navigated and negotiated the agreement with all parties".

Similarly, another deal that helped earn a lot of goodwill was the Gammon group divestment in nine projects worth over 6000 crores which was the first of its kind in the country and the biggest sale in one go in the infra sector. It helped kickstart our infra practice at that time and will always be very close to my heart.

Disket Angmo, Head - Legal& VP – Strategy, Purple Style Labs
A member of Inter Pacific Bar Association and Advocate at Bar Council of Maharashtra & Goa, Disket Angmois an alumnus of the National Law School at Hyderabad, NALSAR University of Law. Throughout her professional journey, she has been fortunate to have worked on very marquee deals, even from an early stage of her career, some of which allowed her to work very closely with many senior leaders across industries. At the age of 26, Disket Angmo was selected as a Scholar in the 'Young Lawyers under 35' category of the Inter-Pacific Bar Association Scholarships. She was the youngest scholar that year and the eight Indian scholar, in 25 years of existence of the scholarship. This achievement highlighted her overall personality and not merely her professional achievements.

Favourite Cuisine: North Indian, Thai, Korean, Bhutanese and Italian
Hobbies: Plants, crocheting, designing outfits for myself, working on home décor projects, and dancing
Travel Destination: Ladakh, Bhutan, South Korea