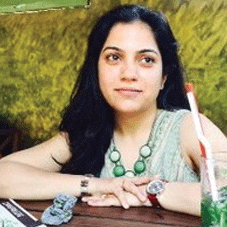 Very few children know what they want to do when they grow up. Richa Arora, for one had that clarity. She was a natural storyteller, gravitating organically to books, theatre and her grandma's timeless tales. She knew she wanted to join the media industry and therefore studied History Honours from Lady Sri Ram College for Women. Her first job was working as a filmmaker with TERI (The Energy and Resources Institute (TERI), a global think tank on climate change and sustainable development.
From TERI to now co-founding Metapixel Studios, Richa, in a candid chat with CEO Insights, gives us a refreshing account of her journey, her tryst with storytelling, and how if you have the passion and talent, no dream is far fetched.
Q. Tell us about your journey from TERI to Metapixel.
A. It's quite a ride! And I have just started! While working with TERI, I travelled to the remotest parts of India working on stories of empowerment, gender equality and social change. The five years of wondering around the Indian sub continent taught me much more than film making. They taught me resilience, cultural nuances and most importantly respect for rural women. After five years, I joined NDTV and practically learnt everything there, news, lifestyle and later content, promotions and even sales. I left the company as the Group Head, Promotions and Marketing for the entire network. Under my watch, the promos team had won over 30 national and international awards. This wide spectrum of experience laid the ground for launching my own content company in 2018 with my Partner in Crime Aneesha Grover.
Q. Tell us about Metapixel.
A. Before I do so, let me explain you about the dynamic changes in global marketing. Traditional marketing has taken a backseat. Today the audience is mostly present online and has a mind of her
own. Further with the advent of Jio, the game hascompletely changed. Cheap internet access means the target audience is present not only in metros but in tier II and III cities, and even own the content. They are the decision makers. Hence it is of immense important to choose a way to reach out to these smart millennial audiences.
We have a strong under standing of the language of story telling, which is key to reaching out and making a connection with the audience
This is where Metapixel Studios comes in. We are content strategists and work with various brands startups, enterprise and big brands, and design their content marketing strategies. From planning, execution to amplification, we do it all! We launched Metapixel to bridge the huge existing gap in the market, where digital marketing agencies, advertising agencies, and production companies do not cater to startups much. On the contrary, startups cannot afford an ad agency and a media agency or production house don't deliver the required content services. Hence Metapixel a content marketing company. We work backwards and on a content strategy based on the client's requirement.
Metapixel works on a three word formula – HOW (how to help audience by building content around DIY, listicles, blogs, articles and thought leadership to improve their life), WOW (through viral videos, concept videos, share aspirational videos that are life changing), and NOW (to help audience now with the idea to create some kind of enthusiasm around the brand by creating TOPICAL content which resonates with the audience). Our specialization is content marketing that includes designing content campaigns, strategies, design, videos, digital content thought leadership and social media marketing.
Q. How is Metapixel different from any other digital marketing agency?
A. Consumer is the King today and his/her experience builds the entire story line. We design and customize this individual experience through our end-to-end content marketing solutions for brands. We are neither an ad agency nor a digital marketing agency. We are a mix of both as we cover creative content and ideation
along with execution and numbers. We have a strong understanding of the language of story telling, which is key to reaching out and making a connection with the audience. Digital Marketing then just becomes a tool to achieve the end goal.

Q. Tell us about the partnerships and training modules that Metapixel offers.
A. We are fortunate to partner with Promax Asia, a Singapore-based company who hosts Asia's biggest Creative Honours and Awards, for creating content, curating award shows, workshops and bootcamps specifically related to content. We also have a special training module for startups and enterprise brands, which is quite popular due to the vast area we cover, from blog writing, social media stories, and content strategy for the brand to engagement metrics.

Q.For any individual to become successful, family plays a pivotal role. Tell us how your family acted as the backbone of your success story.
A. If a job was crazy to handle, then entrepreneurship is not for the faint hearted. But if you are passionate about what you do and if you love what you do, then everything falls in place. Luckily, my family has had my back always. There were times when I left my children to go for outdoor shoots for days at end, and missed several PTMs as some important meetings came up. Sometimes I was too busy to ask them how they are feeling. But that's where my husband has taken over. There is no perfect recipe and there will never be one, but finding your own balance is the key to move forward.

On the other hand, my mom pretty much acts like my personalmanager. She has literally brought up my kids whenI was busy climbing up the corporate ladder. And the values that she has instilled in the children are priceless.

Key Management:
Richa Arora, Co-Founder
Holding a PG Diploma in Radio and TV Journalism from IIMC, New Delhi and another Journalism course as a Chevening scholar from the Cardiff University, UK, Richa is transforming the world of content marketing through her innovative approach.

Favourites:
•Hobbies-Books, Watching Shows, Movies, Music & Yoga
•Cuisines- Thai, Italian and Indian
•Travel Destination- Bali, Edinburgh, Cape Town & Tokyo