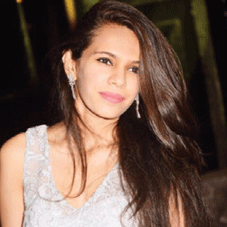 Life comes with many twists and turns, but our lessons come from the journey and not the destination. In fact, it is the culmination of events in the journey that actually contribute to a person's development, both personally and professionally. This statement aptly resonates with the story of Riddhi Chhabria (Founder & CEO, All Stars Digital). Be it in terms of education or profession, life always had different plans for her as opposed to her dreams. But one aspect that stayed consistent all along her journey was her strong penchant for marketing. Harnessing the best might of all marketing experiences and stints across her journey, Riddhi unveiled her own digital marketing agency ­ All Stars Digital, which stands at an unbeatable position in the market today.
To know more, delve into the following excerpts of an exclusive interaction between Riddhi and CEO Insights.
When did you actually realize that marketing was at the kernel of your interests and how did your life pan out after that?
It all started during fests and extra curricular activities at Thadomal Shahani Engineering College, where I used to invest myself in marketing. Post my graduation I joined Viacom 18's Voot across the brand management sector, wherein every single aspect in branding intrigued me. That's when I realized marketing, especially brand management was my cup of tea and moved-on to study Masters in Integrated Marketing from NYU School of Professional Studies. I was planning to specialize in brand management, but destiny had other plans for me.
My first internship at US involved monitoring and optimizing analytics using all social media platforms for New York Minute Magazine. The next one was at Republic TV in India, wherein I handled their digital launch and YouTube page. These wonderful experiences bestowed me with my first job at Tier One Advertising Agency(T1) where I was
promoted to Operations Manager from a part time Marketing Associate in just six months. During this stint, I was engaged in handlingsocial media platforms, SEO, and clients Akon and many US-based models, while I mastered multiple hacks & tips in digital marketing. I was also free lancing for a few other companies and eventually learnt volumes about every field of digital marketing & branding and almost all social platforms.
Right from hiring my first employee, acquiring my first client, few clients questioning our expertise, others recognizing our works to one of them funding my firm's two new branches every milestone made a difference
Brief us on the excellence of All Stars Digital.
The name 'All Stars' was derived from the name of my final year project (Masters) for an influencer marketing company. Little did I know back then that I'd be overseeing my own digital marketing company with 25+ people and 80+ clients (100 very soon), including behemoths in e-Commerce F&B, architecture, real estate and other sectors. Today, I'm proud to be enlisted among India's Top 10 Women in Digital Marketing, while my team at All Stars Digital strongly believes that I'd always come up with a solution for any problem. What started as an influencer marketing agency in Mumbai is now a full-fledged digital marketing firm that deploys the best power of digital to convert every follower into a customer. Being a one-stop-solution for every thing digital, we concoct unique and agile digital marketing solutions for our clients.
Here, I handle end-to-end operations right from finance, sales, hiring, contributing with campaigns to managing people (team & clients), while acting as a consultant to my clients. I personally stay abreast by reading marketing blogs, following international marketers and connecting with industry experts. More over, as a team, we participate in campaign meetings wherein we brainstorm ideas, devise good concepts, analyze different strategies, and eventually make our brands shine.
Share some of your biggest milestones .
Right from hiring my first employee, acquiring my first client few clients questioning our expertise, others recognizing our works, to one of them funding my firm's two new branches, every milestone made a difference. Our growth is evident from Tennis Premier League approaching us based on word-of-mouth publicity, and one of my friends asking me to handle his six year old company's digital marketing activities after being satisfied with our positive reviews.

How has your family supported you so far?
My parents (Nagesh & Nisha Chhabria) were extremely supportive, understanding and considerate throughout my education as well as profession, while my dad insisted me to establish my own company despite bagging a full time job. My younger brother(Sumukh Chhabria) has always supported and helped me in every possible way.

What future plans do you have for your firm?
To establish four branches in India, expand internationally, and be a one-stop-shop for all marketing needs by 2020!

Riddhi Chhabria
Founder & CEO, All Stars Digital
An ambitious entrepreneur who believes that marketing is not about the products/ services that you deliver but about the stories you recite to the world.

Hobbies:Travelling, watching Bollywood movies reading thriller & fiction books and spending time with
her dogs - Euro & Yen

Awards & Recognition:
•Chatrapati Shivaji Award 'Excellence in the field of digital marketing' in 2019
•Featured in Hindustan Times' Digiperform & Social Samosa
•Invited by Thadomal Shahani Engineering College(alma mater)to motivate young girls in an entrepreneur cell to establish their own startups

For the Budding Marketers:
"Your skills play a major role in your career than a degree. Everyone wants a job to either make money or to gain experience to get something better but the people who try out new lines or work to learn more, to be better andwith the urge to progress, are the true winners. In today's world, it is of utmost importance to be a jack of all trades, else you'll lag and watch everyone over take you".