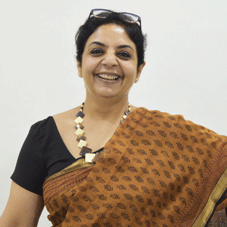 Very few women get the opportunity to follow their heart when it comes to their career and only a handful of them cementtheir reputation as the thought leaders of their respective industry. Seema Sood (Co-Founder & CEO, QiCom Brand Solutions a result focused integrated communication solutions organisation) is one such versatile leader, who has been breaking new grounds in the event panorama of the country with her innovative spirit.
The drive to accomplish meaningful work coupled with her gregarious nature that has enabled QiCom to positively touch the lives of over 85 million people country wide through a network that covers towns & villages across 25 states. Being on the Board of Directors of Prerana, an Anti Trafficking Centre for the past 15 years and her previous experience as the COO of Salam Bombay Foundation, enables QiCom to engage with more NGOs and create strategic & costefficient programs for brands to support causes. However, conducting unique MICE events PAN India is QiCom's bread & butter. Seema,in an exclusive conversation with CEO Insights looks back on her journey. Here are the excerpts:
Kindly tell us about the spark that lit your entrepreneurial blaze.
I have an unfortunate tendency of getting bored too easily and yearn to overcome challenges. Hence, the thought of owning a little piece of the world, shaping it up with unconventional ideas and accomplishing meaningful work inspired me to establish QiCom. For instance, we build a personalized impact through our unique Network Grid Creation service by identifying a certain community(consumer clusters, influencers or retailers) interested in our client's offering, performing trials with them and
helping them understand & adopt the brand.
Tell us about the challenges you have surmounted to fill QiCom's client basket with an impressive list.
No matter how fantastic your ideas are, clients expect a humungous team & a vast portfolio. Especially, large enterprises hesitate to work with fly by night operators and rightly so. Hence we put in a lot of energy, time & effort to prove that we're here to stay. We still prefer to hire people during the execution phase & outsource the non core activities, since keeping a lean team has always enabled us to be smart, nimble & aggressive in achieving our goals. The people we hired five years back & put through rigorous training are still with us. It's this training & sustenance that facilitates us to impress clients by delivering both the quality & quantity.
The thought of owning a little piece of the world, shaping it up with unconventional ideas and accomplishing meaningful work inspired me to establish QiCom
Please take us through the milestones in your professional journey.
Due to my husband's work nature, we used to move around a lot, which was a dream come true for the Gypsy character in me. This also made my career a pleasant roller coaster ride, where I got to be the denizen of various fields from being a journalist for leading newspapers and a teacher in my alma mater in Punjab to doing pro bono social work & mentoring under privileged children via NGOs. My journalism background & writing skills came to the fore, when I first forayed into the advertising world in Delhi to handle the corporate communication sector at Muthra Advertising Agency. I even started my own company from home way back in 1999 when we moved to Mumbai and ran it profitably with a couple of clients.
My tenure at the Salam Bombay Foundation bestowed me with the opportunity of conceptualizing &
managing the 14th World Conference on Tobacco or Health the world's biggest conference where hundreds of countries participated. This is where the bug of event management got to me. However, it is during my decade-long stint at Leo Burnet that I garnered extensive experience across PR, Events(ran GoaFest event for five consecutive years as the company's Director of Events & PR), Project Management, Advertising & so forth that paved the way to establish QiCom.

Although I've reached many career heights, my biggest achievement would be not allowing my gender to be a roadblock in my journey. In fact, it has provided me with a springboard that earned me respect & dignity in the market. Furthermore, the fact that I work on myself to be more than a mere executioner of ideas has earned me the reputation as a thought leader.

How has been your family's support in these endeavours?
There has never been any role distinction between my husband & I in managing the family. He is my biggest supporter ever and so have I been for him. We take decisions as a team to go towards what interested us. Little things like discussing my career with my children even when they were young and waking them up for school no matter which corner of the world I was in have created a strong bond between us.

Key Management:
Seema Sood, Co-Founder& CEO
A versatile & gregarious leader with a multifaceted career renowned for her innovative spirit & thought leadership.

Advice for Budding Entrepreneurs:
Give ample free space to your people to think, interact & react freely. Stepping out of your comfort zone & exposing your selves to the perspective of different people from other fields & countries (be it spirituality, books or cinema) would help you to unfurl the unlimited potential lying inside you.

Hobbies:Reading books, watching crime serials & world movies with family, listening to old songs & practicing Bharatanatyam

Destinations:Spain, Munnar and Coorg

Food: Punjabi cuisine