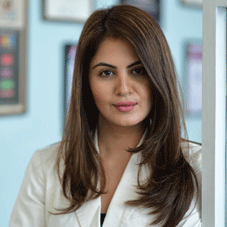 Dalai Lama once echoed, "It is not enough to be compassionate. You must act". Not many people truly understand the significance of actions as opposed to mere words and turn their dreams into reality. Standing tall amidst this crowd is Sherina Kapany(Founder, sunSTRATEGIC) who is indubitably a resilient woman of action and substance. Despite encountering a horde of personal& professional struggles, Sherina successfully managed to empower multiple women especially from under privileged backgrounds across her firm sunSTRATEGIC. Today, she owns an all-women management team encompassing women with stories of gender discrimination, abuse, violence and a lot other affronts, yet succeeding with sheer determination and talent.
To know more about her inspirational story, peruse the following excerpts of an exclusive colloquy between Sherina and CEO Insights.
Brief us on your entrepreneurial story.
There were two aspects that actually propelled me into the world of entrepreneurship the strong inclination to sell content in India and the social motive to educate and support under privileged women and make them live independent. Besides, working for behemoths like Ernst & Young Capgemini, Estee Lauder, Warner Brothers and many more across four different continents has bestowed me with excellent management skills and consulting acumen. Moreover, my family has always been supporting and motivating me to go to work every day, even during the hard times. All of these collectively made me into what I'm today!
What demarcates sunSTRATEGIC from other digital marketing companies in the market?
The very foundation of sunSTRATEGIC was laid with the motto of providing high quality services and not to function as a vanilla digital marketing agency. While employing men and women with genuine talent from under
privileged backgrounds, I ensure that they learn volumes and acquire good business from our clients. That's how sunSTRATEGIC was formed. It started-off as an HR consulting company, quickly turned into a creative shop and later into a digital marketing firm.
Today, we stand out as a leading ORM company that churns out customized yet intellectual content for our prestigious clients from UK, Middle East & US, to enhance their ROI. We have been doing this since a longtime via instant conversations with our clients and generating business for them, but never based on analytics of social platforms. I also take pride in running the company single handedly without any partner and not raising any funds till date,despite a couple of VCs approaching us.
While employing men and women with genuine talent from under privileged backgrounds, I ensure that they learn volumes and acquire good business from our clients
What were the biggest challenges that you overcame? Also, tell us about your current struggles.
Acquiring working & human capital for sunSTRATEGIC! I overcame the working capital challenge by associating with clients who required services on or before stipulated time. For human capital, we ensured to follow a stringent hiring process that gave opportunity to everyone, but recruited only the best. Post hiring, we assure to take care of their wellness and provide them work from home option if required. Today, we outshine as one of the best agencies to work for, while we train our employees in such a way that they succeed in their lives even after leaving our firm. In fact, I personally mentor each employee right from paying for their education to training them and helping with their personal issues. We instill the right discipline to become an ethical professional in each one of them. We are also extremely happy that our company holds high ratings on Google with regards to staff reviews, while most of our ex-employees have rejoined.
Currently, we are grappling to acquire the right customers who understand our values, while building our team with legitimate content producers, writers and editors. We are also focused on expanding sunSTRATEGIC across
international waters.

Cast some light on sunSTRATEGIC's roster of awards & recognition.
I'm extremely proud to say that all the awards & recognition that sunSTRATEGIC has bagged so far were purely based on merit. Some of them are 'Best Bootstrapped Digital Startup' by Drivers of Digital Awards 2018, 'Best Content in a BTL Marketing Campaign' for Cipla 'I Pledge 2020' by Masters of Modern Marketing Awards 2018, and 'Best Content in a BTL Marketing Campaign' for Airtel by India Content Leadership Awards 2018.

How do you stay updated and also strike the perfect work life balance?
Pertaining to work, I always stay updated by following a lot of industry related blogs and also diverse industry leaders from across the globe. I also find my own mentors. At times of burnouts, I disconnect and take short breaks or holidays.

Do you have any suggestions for companies to protect their digital assets?
I feel that the current marketing segment in India is deplorable wherein most companies are focused only on gaining ROI via less expensive marketing approaches and inexperienced manpower. Well, I have three suggestions for these companies. Firstly, it is important who you hire because recycling ideas and giving mandates merely based on relationships is disastrous. Secondly, connect with audiences personally over social media to build your brand's reputation instead of organizing clichéd campaigns. Thirdly, build your marketing team with people holding international exposure and not those who confine to Indian market.

Key Management:
Sherina Kapany, Founder
Sherina is currently an accomplished entrepreneur, professor at three esteemed universities, and also a distinguished member of Rotary Club India and Bombay Chamber of Commerce.

Favourites:
•Hobbies:
Looking after Animals, Travelling & Playing Chess
•Cuisines:
Mexican & Italian
•Travel Destinations:
Italy, Paris & Los Angeles

For the Budding Marketers:
Look at the global scene as opposed to what's happening in India in order to gain a better perspective. Remember, not every business that gets funding is actually successful. Hence, look at profitability as opposed to evaluation.